Yesterday after the market close QEP Resources (NYSE:QEP) announced a $1.38 billion asset acquisition in the Williston Basin ("the Bakken"). QEP is purchasing approximately 27,600 net acres with current net production of 10,500 Boe per day. The properties are primarily comprised of a contiguous block of acreage located in Williams and McKenzie counties of North Dakota, approximately 12 miles west of QEP's existing operations. 90% of the acreage is operated (currently by privately owned Helis Oil & Gas Company LLC). The average royalty burden is 20%.
The acreage is prospective for both the Bakken and Three Forks formations. Based on the slide presentation posted on QEP's website, the properties are largely held by production, fully delineated and characterized by strong well results. Average EURs for recent long-lateral wells are 1,160 MBoe for the Bakken wells and 990 MBoe for the Three Forks wells.
QEP sees 146 net undeveloped drilling locations on the property (implies 320-acre spacing for both the Bakken and Three Forks intervals).
Assuming valuation of $600-$750 million for proved developed reserves (I am using a $90 WTI price deck), undeveloped acreage is being purchased for approximately $27,000-$33,000 an acre. Assuming a four-rig program, similar to the one currently operated by Helis Oil & Gas, the full development on 320-acre spacing will take 5 years. This implies an effective cost of $5.5-$7.0 million per undeveloped location (which includes the cost of carry at 10%). QEP's current drilling and completion cost per well is approximately $11 million. Based on these metrics, the acquisition is definitely not inexpensive, even if well results continue to be very strong. Assuming $90/barrel WTI, the implied returns are acceptable, in a 20% range in my estimate, but are not high enough to justify the many execution risks.
Having said that, the transaction does make economic sense once potential upsides are factored in:
Given the strong productivity, particularly in the Bakken, the indicated 146 drilling locations count may be conservative
Better cost management would drive returns higher
There may be some upside to EURs which tend to be conservative before a longer production history is accumulated
Deeper Three Forks benches may offer multiple additional locations
It appears that QEP is paying a full price for a highly contested property. Strategically, the transaction should give QEP a broader opportunity set in oil and help redirect capital away from the low-return natural gas drilling. From that perspective, the acquisition is a positive development albeit at a high price.
QEP increased its capital investment guidance for the fourth quarter (the first quarter that includes the acquisition) by $50 million. This implies that at least some capital will be redirected from other areas into the Williston, as a four-rig plan would require over $100 million drilling and completion spending per quarter.
Financing alternatives for the transaction will likely be a concern for the market. The company expects to fund the acquisition with proceeds from its revolving credit facility and cash on hand. A permanent financing will likely need to be put in place soon. While QEP has a large portfolio with multiple assets that can be rationalized, the gas price environment is not favorable for divestitures for the time being. The "crown jewel" midstream business may command a high price, but without it QEP will find itself at a strong economic disadvantage in the Rockies. QEP will likely provide clarifications with regard to its financing plan during the conference call.
The acquisition's hefty valuation has a positive read-through to Williston-focused stocks such as Kodiak Oil & Gas (NYSE:KOG), Whiting Petroleum (NYSE:WLL), Continental Resources (NYSE:CLR), Oasis Petroleum (NYSE:OAS), and others (although the announcement is probably not enough of a news to move prices). For example, the transaction is priced at a tangible premium to current Kodiak's stock price.
QEP scheduled a conference call to discuss the acquisition today, August 24, 2012 at 8:30 a.m. Eastern Time.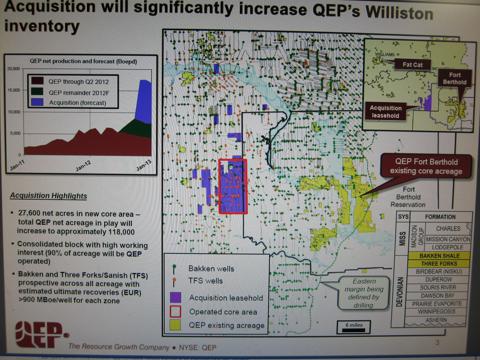 (Source: QEP Resources August 23, 2012 Slide Presentation)
Disclosure: I have no positions in any stocks mentioned, and no plans to initiate any positions within the next 72 hours. I wrote this article myself, and it expresses my own opinions. I am not receiving compensation for it (other than from Seeking Alpha). I have no business relationship with any company whose stock is mentioned in this article.