Over the years, The Coca-Cola Company (NYSE:KO) has had great success in splitting its stock. For instance, had one bought 100 shares in 1977, they would be sitting on nearly 10,000 shares today. In 1977, Coca-Cola did a 2-for-1 stock split, and has since done five more, the most recent on July 27 of this year. Coca-Cola has made shareholders a lot of money over the last century, and there's no reason to believe it will not continue to do so for this generation.
Click to enlarge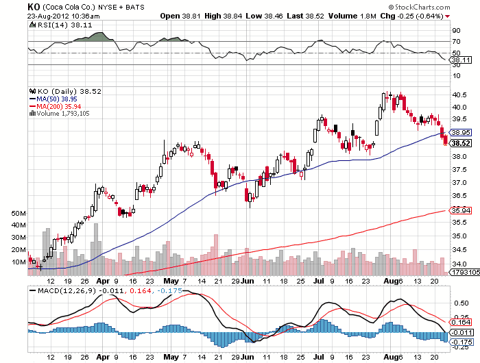 Year-to-date chart of Coca-Cola, courtesy of Stockcharts.com

In the chart above, one can see the year-to-date strength of Coke, although recently breaking below its 50-day simple moving average presents concern. With equities swarming near recent four-year highs, I have been waiting for a pull back to establish long positions in several names. Along with quality, high-yielding dividend stocks, Coke is a name I have been waiting for. Coke has been on fire this year, going over $80 a share before the split. I am looking for a pull back to the 200-day simple moving average, where Coke will likely find strong support. Should shares be available for purchase at $36, near the current 200-day simple moving average, I will be a buyer.
Coke is a very sound company fundamentally. Its always been one of those "buy and hide" stocks where investors didn't need to worry too much about them. Coke pays a quarterly dividend of $.255 per share, yielding just over 2.6% annually. In fact, over the last ten years Coke has not only maintained paying out a dividend each quarter, but hasn't cut it either. Every March, when the first dividend is typically paid out each year, Coke has raised it, every year, for the last ten years.
There are some drawbacks however. A purchase at $36 would not be a full position for me. There are several reasons for this. Even with a slight retreat in price, Coke still trades with a P/E multiple of approximately 20, so it does trade a little rich compared to other names. If equities take a turn for the worse, as volatility comes back along with trading volume, we could see Coke's share price dwindle further. After all, it has had a large run as of late.
Also, with a beta of 0.5, I would not expect Coke's price action to be violent. Beta, is defined as "the covariance of a stock or portfolio in relation to the rest of the stock market. The S&P 500 has a beta coefficient of 1," (source: Barron's Dictionary of Financial and Investment Terms). Essentially what this means is that a beta greater than 1 would signal a more volatile asset, and a beta measurement that is less than 1 would signal a less volatile asset than the broader market.
In the end, Coke is a fundamentally safe investment for the longer-term investor. I think adding or starting a position is warranted at or near $36. Though I must caution that I would not create a full position at that level. I may use LEAPs or outright stock to form my long position, or a combination of both.
Disclosure: I have no positions in any stocks mentioned, but may initiate a long position in KO over the next 72 hours. I wrote this article myself, and it expresses my own opinions. I am not receiving compensation for it (other than from Seeking Alpha). I have no business relationship with any company whose stock is mentioned in this article.