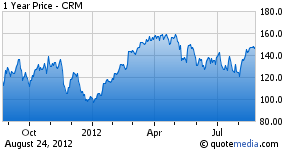 I have a question. Why did the stock price of Salesforce.com (NYSE:CRM) go down by over 7% in the last quarter when it already surged by 11.38%, against the S&P500 average of 2.38%, in the last six months to date? What's wrong here?
Is the dwindling operating income margin negatively affecting the confidence and loyalty of the investors? It might, very well, be the reason. If you look at the enterprise multiple (EM), which is a better modified version of the P/E ratio, Salesforce.com's EM stands at 192.15x compared to 8.76x of Oracle (NYSE:ORCL) and 11.41x of SAP AG (NYSE:SAP). As my Alpha colleague, Kevin Quon, eloquently wrote:
"The inability for the company to yield more meaningful earnings to date, the arrival of well-founded competition into a market space with limited barriers to entry, and the increasing need to spend more on acquisitions to remain competitive all stand as reasons investors should remain cautious on this seemingly well played-out growth story."
Even when the year-over-year sales revenue seems to be ratcheting up, why do you think the operating margin is tanking down over time?
It's because of the rising costs of production and operational expenses nonetheless. If I remember what I studied in my Economics class, scale does matter a lot when it comes to production costs and operational expenditure. When you are competing with big giants, the likes of SAP AG and Oracle, it sure takes a lot of guts and money to snag that piece of market share away. That certainly shows in the income statement of Salesforce.com.
The big doubt is how long the company will be able to sustain if it keeps on incurring losses in operating income quarter after quarter. If this goes on, this will seriously affect the market viability of the company, and it just might end up in another acquisition. Maybe that's the reason why analysts estimate Salesforce.com's PEG ratio at 3.64, much higher than industry average of 1.29 and sector average of 1.01.
But numbers doesn't tell the whole story, do they? What is Marc Benioff (CEO, chairman and co-founder of Salesforce.com) going to do about all this? You can't just write off the wisdom and knowledge of a man who has been in the industry for almost three decades now and has already served one of his biggest competitors, Oracle Corp. What does he say about the second quarter of FY2013?
"Our second quarter revenue growth was outstanding at 34% in dollars and 37% in constant currency," said Marc Benioff, Chairman and CEO, salesforce.com. "Salesforce.com's social enterprise strategy is enabling companies to connect with customers, partners, and employees in completely new ways - and it's creating new opportunities for their growth and ours."
One thing that strikes me is the number of acquisitions completed since last year.
On January 3

,

2011, Salesforce.com completed its acquisition of Heroku, the privately held cloud platform for coding Ruby-based applications. The acquisition positions Salesforce.com to take a greater share of the public cloud services market, projected by IDC to reach $55.5 billion in 2014.
On January 6, 2011, Salesforce.com bought Dimdim for approximate $31mn. Salesforce.com will use the acquisition to bring new real-time communication capabilities to the Chatter collaboration platform, mirroring the proven Facebook model of combining collaboration and communication into an integrated service.
On May 2, 2011, Salesforce.com bought Radian6, the industry-leading social media monitoring platform used by more than half of FORTUNE 100 companies. With Radian6, Salesforce.com will add the ability to monitor and join in these public conversations across its products, bringing the heart of the public social web to customers' business.
On September 21, 2011, Salesforce.com acquired Assistly, an instant customer-service help desk built for the cloud. With Assistly, companies can manage service cases and engage with customers in real time over a range of channels - including Facebook, Twitter, Web chats, e-mail and phone - all from one, easy-to-use interface. Needless to say, Assistly is already being utilized by Instagram, Klout, One Kings Lane, Spotify and Square.
On August 13, 2012, Salesforce.com acquired Buddy Media, the world's leading social media marketing platform. As per the press release, "Buddy Media currently has nearly 1,000 customers, including major global brands like Ford, Hewlett Packard, and L'Oreal and the world's largest marketing agency groups such as IPG (Interpublic Group), Omnicom, Publicis and WPP. Buddy Media is the only company to be named a charter Facebook Preferred Marketing Developer, Google Engagement Solutions partner and LinkedIn Certified Developer."
So you mean to say that all these acquisitions are going to waste and you should sell your Salesforce.com stocks as soon as you can? It beats my common sense. Even Intuit Inc. (NASDAQ:INTU) acquired Demandforce for $423.5mn with a view to expanding into high-value software-as-a-service products for small and medium-sized businesses. In addition to the above acquisitions, Salesforce.com has already entered into global strategic alliance with Twitter and has also displayed eagerness to enter into the public sector with its new government cloud. Two-thirds of U.S. federal Cabinet-level agencies and governments in more than 80 percent of U.S. states trust Salesforce.com to power their social enterprises.
Online marketing is all about market presence, and with the line-up of acquisitions and alliances coming every other day, Salesforce.com just increases its so-needed presence in the online world. With proper monetization methods, nothing can stop it from making money.
Having said that, I agree with Kim that investors ought to be cautious about every move made by Salesforce.com, but as it goes, HOLD at the moment.
Disclosure: I have no positions in any stocks mentioned, and no plans to initiate any positions within the next 72 hours. I wrote this article myself, and it expresses my own opinions. I am not receiving compensation for it (other than from Seeking Alpha). I have no business relationship with any company whose stock is mentioned in this article.