Biotechnology and drug stocks offer some of the best potential for big gains in the market. The flip side of that proverbial coin, of course, is a great deal of risk. In this arena it is not enough to pick the right companies, we have to be nimble and opportunistic picking good entry points on the right companies. Here are five good companies who's stocks look to be giving us good entry points right now:
1) Antares Pharma Inc (NASDAQ:ATRS)
Back on July 16, we said of Antares:
Humongous potential here with the idea of delivering drugs with injections and gels rather than pills. This has shown advantages in user preference, economics (less drug is needed), accuracy of dose (the digestive system does not destroy it), and less liver damage. The company is making money now or close to it, has diverse products (hormone delivery, arthritis, contraception...), and long term nestragel and male contraceptives could be really huge (women preferred their contraceptive gel to a pill 3-1).

It has run a lot but there are two possible near term catalysts that make me recommend it here. They are likely about to breach $5 and after a couple weeks the mutual funds will be able to move in, but also there is arthritis drug Vibex MTX. They were originally scheduled to file application this Summer but pushed it back to the end of the year. Management has a history of building in extra time and under-promising so there is reason to believe they will file for Vibex MTX by the original time of the end of the Summer.
The business story is as good as ever. The stock, however, has had a setback. On July 30, CNBC's Jim Cramer, on his show Mad Money said that the stock had already run and profits should be taken. What we got is not a case of Cramer knowing that the stock would get throttled, but making it get throttled, as his hundreds of thousands of nightly viewers overwhelmed the small stock.

That is unnecessarily painful for the shareholders of Antares. For those that had missed their chance to get in originally, however, this is an unmitigated gift. The business case is intact, the stock is just on sale. This looks like a really good entry point.
2) MannKind Corporation (NASDAQ:MNKD)
This is one our very favorite stocks in the market, and it is on sale. Recall that founder and CEO Alfred Mann just shelled out $77 million to accumulate even more shares: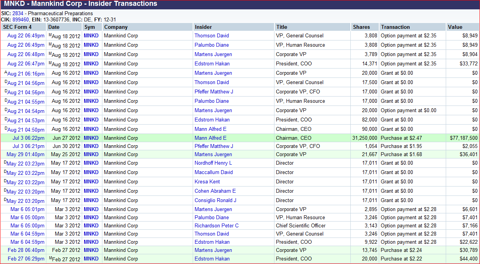 MannKind last closed at $2.45, 2 cents under where the 390th richest man in the world bought all those shares. This looks like a great time to buy. Read our bullish piece on MannKind to get the whole story and get familiar with the challenges, but this company has a truly enormous upside, and we love it right here.
3) Obagi Medical Products, Inc. (NASDAQ:OMPI)
Here we have a solid company that has a chance for a near-term leap.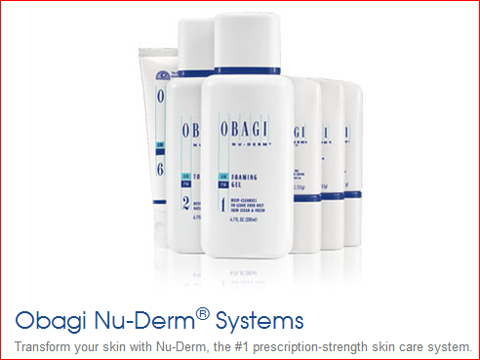 Obagi is a profitable and fast-growing business. Their prescription grade skin care products are gaining the notice of women across the country as Scott Matusow notes:
I liken Obagi's gaining market acceptance as to when Apple first started to really gain traction with its products - by word of mouth. No matter what industry a company is in, when it has hot products people want - in this case women, revenues and earnings will increase - as it has over time with Apple...
And as Mr. Matusow has noted:
...I believe the company will be acquired soon
The company is a solid buy by itself right here, and with that comes a call option of sorts on a tender offer. From a risk vs. reward perspective, we think OMPI looks great right here.
4) Questcor Pharmaceuticals, Inc. (QCOR)
Questcor, like Supernus Pharmaceuticals (NASDAQ:SUPN), treats diseases of the central nervous system. Poor Questcor got slammed in July after a piece of negative research by Citron, which many felt was unfair and some even suggested was illegal. Like with Antares, this unnecessary pain could make for a great entry point, and the charts are saying buy.
Have a look at the Money Flow Index and MACD for QCOR. The MFI and MACD are measures of momentum and can be leading indicators of share price. Here they are suggesting that there are motivated buyers in the market:
The MFI takes into account whether more shares are bought on the uptick or downtick. For example, a stock could open at $1, then 100 shares trade hands at $1.01, then 10 shares trade at $1 again. The price is flat but the MFI would show positive momentum because more shares were bought on the uptick suggesting motivated buyers.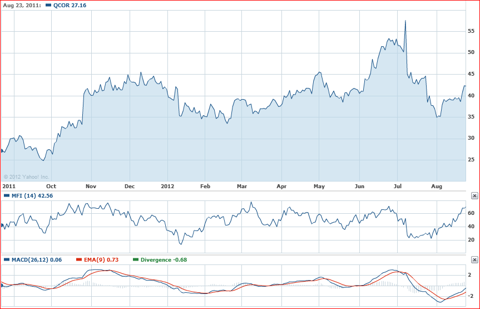 Not only is the MFI saying this rally is for real, but the MACD is showing a bullish crossover. Investopedia (linked above):
when the MACD rises above the signal line, the indicator gives a bullish signal, which suggests that the price of the asset is likely to experience upward momentum
QCOR's rally looks like a bona-fide winner and we think this is a great entry point right here.
5) Arena Pharmaceuticals, Inc. (NASDAQ:ARNA)
Arena and Vivus (NASDAQ:VVUS) have had quite a Summer, they ran up mightily as their weight loss drugs were coming up for approval, and then promptly sold off after they were approved. While we think Vivus is a sell, we like Arena right here.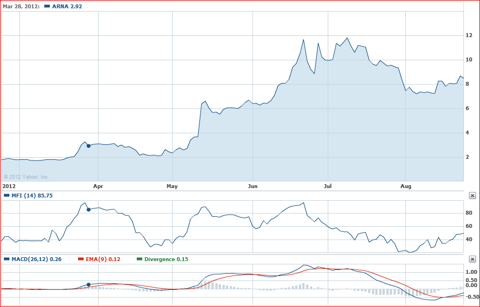 In addition to Arena's Belviq having huge potential for out-sized profits, the chart looks good too. The money flow is trending higher and the MACD has just had a bullish cross-over. Arena looks like a good buy right here.
Disclosure: I have no positions in any stocks mentioned, but may initiate a long position in OMPI over the next 72 hours. I wrote this article myself, and it expresses my own opinions. I am not receiving compensation for it (other than from Seeking Alpha). I have no business relationship with any company whose stock is mentioned in this article.