Baidu Inc (NASDAQ:BIDU) is the leading Chinese language internet search provider. It controls over 78% of the market in China. Despite all its attempts, Google (NASDAQ:GOOG) was unable to make significant inroads and dethrone homegrown favorite Baidu. It trails at a distant second, with only 15.7% market share in computer-based searches.
Qhioo 360 (NYSE:QIHU), on the other hand, could pose a threat as they market the most popular browser in China. They could easily embed their newly launched search engine into their browser and attempt to dethrone Baidu, the way Microsoft (NASDAQ:MSFT) dethroned Netscape. The key word to keep in mind is could or might as they is no guarantee that Qhioo 360 will succeed in its bid to seize significant market share from Baidu. Keep in mind Google with boat loads of cash and personnel tried and failed.
Potential areas of concern
Qhioo 360's new search engine is gaining traction. It diverted more traffic to websites than Sohu.com Inc (NASDAQ:SOHU), the third largest search engine in China. The fact that Qhioo's browser is the most-used browser in China also gives it a further advantage as it can now embed its newly launched search engine into its browser. Henry Guo, an analyst at ThinkEquity Partners LLC, feels that Qhioo's sales for the second quarter will come in at the top end of their guidance. Back In May, management stated that they expected 2nd quarter sales to increase by as much as 108% to $73 million.
According to the average estimate of eight analysts compiled by Bloomberg Qhioo's third quarter sales may rise 64% to $77.8 million from the same period one year ago.
Tian X. Hou, the founder of T.H. Capital LLC in China, noted that:
QIHU can easily convert its browser users into search engine users. The expansion into the search area could be a strong positive for the company's growth in the foreseeable future.
Baidu still controls roughly 78% of the market. Google on the hand controls 15.7% of the market, which is rather impressive given that its service does not work all the time. For now, it appears that Qhioo is taking market share away from Sohu Com Inc which is the third largest search engine player in China.
In the computer based searches, Baidu does not have to worry about Google too much, at least for now, as they are a distant second. However Google is the dominant player in the mobile ads segment. Application developers and corporations are turning to Google's AdMob unit to reach smart phone users. This is one area that Baidu needs to start paying more attention to.
Since 2010, Google has been trying many things to keep its presence in China," said Steven Chang, chief executive officer of ZenithOptimedia's China division, which buys advertising from Google and Baidu. "AdMob now has quite a significant share of the market.
There are still many reasons to be bullish on Baidu and some of them are listed below:
Net income rose from $218 million in 2009 to $1.02 billion in 201
Annual EPS before NRI increased from $0.25 in 2007 to $3.02 in 2011
Sales increased from $652 billion in 2009 to $2.35 billion in 2011
It has a 5 year average growth income rate of 86% compared to the industry standard of 26.6%
Net income for the 2nd quarter came in at $436 million and if Baidu maintains this rate, it could exceed the $1.2 billion mark for the year.
It sports strong quarterly revenue growth rate of 59%
A 5 year sales growth rate of 64%
A low long term debt to equity ratio of 0.11
An impressive 5 year EPS growth rate of 73%
Sales vs 1 year ago of 91%
A projected 3-5 year EPS growth rate of 45%
A splendid current and quick ratio of 4.7 and 4.5 respectively
Some highlights from the second quarter
Total revenues surged to $858 million up 59% year over year
Operating profits came in at $414 million an increase of 51.5% year over year
Net income jumped to $436 million an increase of 69.6% from the corresponding period in 2011
Management expects total revenues for the 3rd quarter to come in between $983 million to $1.009 billion, an increase of 49.6% to 53.5% year over year.
Technical outlook
Baidu is in a corrective phase right and has broken through short term support at $120. We would wait for a pullback to the $90-$95ranges before jumping in. Alternatively, investors can wait for a test of the $95 range and then consider selling puts with strikes at $95 or $90. If the shares are assigned to your account, your entry price will be much lower than someone who decided to put in a limit order at $95 or $90, depending at what strike you sold the puts at.
Company: Baidu Inc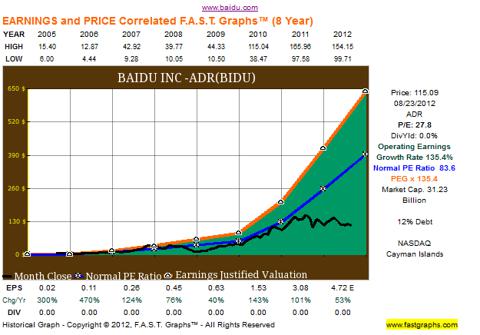 Basic overview
52 week change = -17%
Quarterly revenue growth = 59%
Quarterly earnings growth rate = 69%
Profit margins = 46%
Operating margins = 51%
Beta = 1.85
Gross margins = 72%
Long term debt to equity = 0.11
Sales vs 1 year ago = 91%
5 year sales growth rate = 64%
5 year EPS growth rate = 73%
Long term debt to equity = 0.11
Growth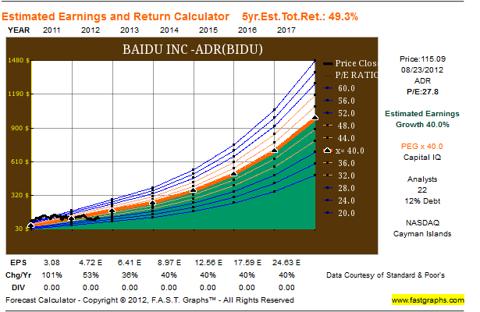 Net Income ($mil) 12/2011 = 1026
Net Income ($mil) 12/2010 = 522
Net Income ($mil) 12/2009 = 218
EBITDA ($mil) 12/2010 = 668
EBITDA ($mil) 12/2009 = 293
Cash Flow ($/share) 12/2010 = 2.35
Cash Flow ($/share) 12/2009 = 1.01
Sales ($mil) 12/2011 = 2304
Sales ($mil) 12/2010 = 1202
Sales ($mil) 12/2009 = 652
Annual EPS before NRI 12/2007 = 0.25
Annual EPS before NRI 12/2008 = 0.44
Annual EPS before NRI 12/2009 = 0.63
Annual EPS before NRI 12/2010 = 1.53
Annual EPS before NRI 12/2011 = 3.02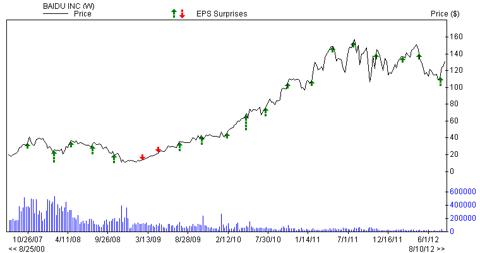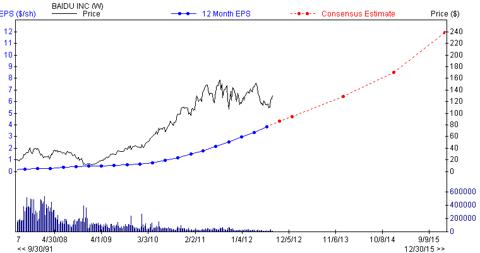 Performance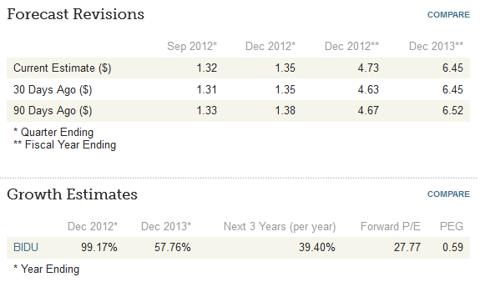 Next 3-5 Year Estimate EPS Growth rate = 45.35
ROE 5 Year Average = 41.72
Return on Investment = 47.92
Debt/Total Cap 5 Year Average = 3.35
Current Ratio = 4.7
Current Ratio 5 Year Average = 3.43
Quick Ratio = 4.5
Cash Ratio = 3.46
Conclusion
Internet companies continually have to deal with threats from new competition but that does not mean the dominant players are just going to fade away. Take Google, for example, it faced multi-billion dollar threats for years and still no company has managed to erode its overwhelming and almost monopolistic hold on Worldwide English language searches. Qihoo 360 is certainly a viable threat and investors should keep a close eye on the situation, but to knock out a heavy weight like Baidu is not going to be an easy task. It will take substantial effort and user dissatisfaction for Qihoo 360 to have any chance of toppling this giant. Investors could hedge their bets by taking positions in both Qhioo 360 and Baidu.
A strong vote of confidence comes from Baidu's management, which expects 3rd quarter revenues to increase by 49.6%-53.5% from the same period 1 year ago.
The stock is a corrective phase so consider waiting for a test of the $90-95 ranges before you decide to commit new funds to this play. The best strategy would be to divide your funds into two lots and deploy one lot at a time.
Sources: EPS, company Vs industry and Price Vs industry charts obtained from zacks.com. A major portion of the historical/research data used in this article was obtained from zacks.com. Forecast revisions and Growth estimates sourced from smartmoney.com.
It is imperative that you do your due diligence and then determine if the above strategy meets with your risk tolerance levels. The Latin maxim caveat emptor applies - let the buyer beware.
Disclosure: This article was prepared for Tactical Investor by one of our analysts. We have not received any compensation for expressing the recommendations in this article. We have no business relationships with any of the companies mentioned in this article.