As the world waits for more tangible stimulus, central bankers and policymakers are resorting to intangible stimulus. Angela Merkel's recent commitment to do whatever it takes to preserve the euro is an example of the intangible stimulus.
I am also convinced that Merkel will do whatever it takes to save the euro. My primary concern relates to the unintended consequences of saving the euro -- the decline of Germany.
This article discusses the challenges for Germany in the foreseeable future and the probability of Germany escaping the quagmire.
This discussion seems apt at a time when the eurozone is heading towards a second recession in three years. The composite PMI for eurozone has been below 50 for the seventh month in succession, reflecting meaningfully weaker business activity.
The discussion also seems apt at a time when Germany is the largest creditor in Target 2 with an exposure of EUR727 billion, and potential losses for Germany stands at EUR779 billion (if PIIGS were to default).
(click images to enlarge)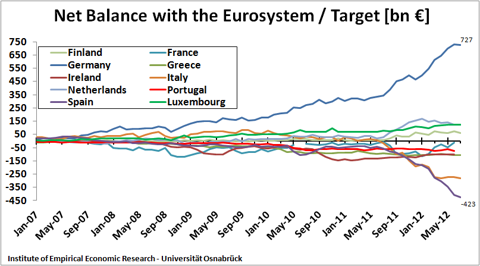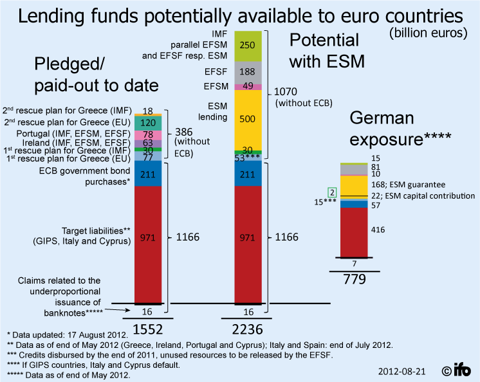 Source: http://www.cesifo-group.de/ifoHome/policy/Haftungspegel.html
The potential losses at EUR779 billion is 27% of Germany's GDP and should not be ignored. I am not suggesting that PIIGS will default on an immediate basis. All I am suggesting is that the German exposure to PIIGS might get even bigger in an attempt to save the euro. Eventually, PIIGS might not escape the debt trap, and Germany might get into a deeper mess.
It is important to understand that the problems are far from over for the PIIGS. On the contrary, economic woes sustain, sovereign debt is ballooning, unemployment remains high and bond yields remain at higher levels despite government efforts to lower yields.
These conditions would mean that the PIIGS economies would need support in order to grow and to avoid a sovereign default. Germany would play a critical role in any form of bailout or quantitative easing. I personally see a scenario where German exposure to PIIGS gets bigger, and policymakers realize that pumping in money is doing no good for the real economy. That might be a point of no return for Germany.
The problem is not only weak economic growth and sovereign debt. A recent KPMG report suggests that EUR1.5 trillion of non-performing assets are sitting on European banks' balance sheets. The report suggests that LTRO has helped in delaying the potential asset sales and restructuring of these loans by banks.
If the economic scenario does remain weak for a prolonged period, banks would need further bailout. I am not very sure if Germany or the eurozone has funds to provide another massive bailout of the banks.
The ECB might resort to the option of debt monetization in such a scenario. Any such action would be negative for all countries in the eurozone in the long-term.
Given these issues, it is not surprising to see Moody's change its outlook on Germany to negative in July. Weak economic growth and pressure on Germany to continue with their bailout efforts can lead to a potential downgrade. Such a scenario will be disastrous for German bunds.
Another concern for Germany would be the impact on exports due to recession in the eurozone and slow growth in the United States, China and India. This issue can be mitigated to some extent by a weakening euro.
One of the best solutions would be the exit of some countries from the eurozone. Policymakers will not be keen on this, as the euro and the eurozone's survival has become an ego issue. I also see lack of political unity, and it might play an important role going forward.
In conclusion, a bold step would have been a German exit from the eurozone to save its economy and finances. Another bold step would have been to throw some countries out of the eurozone for the potential problems they can create in the future.
I am of the opinion that none of this will happen. The eurozone will continue with its expansionary monetary policies to keep the current system alive and delay the inevitable.
In line with this conclusion, I would avoid considering exposure to the euro for the long-term. I would also avoid considering exposure to European banks.
Disclosure: I have no positions in any stocks mentioned, and no plans to initiate any positions within the next 72 hours. I wrote this article myself, and it expresses my own opinions. I am not receiving compensation for it (other than from Seeking Alpha). I have no business relationship with any company whose stock is mentioned in this article.