The Chicago Mercantile Exchange (NASDAQ:CME) went public in 2002 and promptly turned into one of the great growth stocks of the last decade, increasing from its IPO price near $40 (pre-split) to eventually trading over $700 (pre-split) in late 2007, before settling into the mid $200 range.
Just this month, CME split the stock 5-for-1 and earlier this year instituted a variable dividend policy which should keep shareholders interested, as the 2012 payout is looking pretty healthy (more on that in a minute).
The history:
The story about the exchange stocks (CME, ICE, CBOE, etc.) is a story about trading volume: in the middle part of the last decade, CME saw increasing volumes as more and more volume went electronic, forcing the open-outcry crowd - guys in brightly colored jackets waving their arms - out of the pits, and in front of trading screens.
Electronic trading was higher margin than open outcry execution, thus as the hedge fund crowd expanded their numbers the last decade and got more involved from both a complexity and risk management perspective, the CME became a recipient of a lot of that volume, and benefited from rising revenues, margins, and earnings growth.
The growth for CME between 2002 and 2007 was pretty spectacular: the exchange increased their revenues 400% and saw a 5-five fold increase in their earnings per share, from $3.26 in 2002 to $15.46 (pre-split) in 2007.
The present:
The exchanges, and certainly CME, are facing a far different trading and regulatory environment, thanks to the general anti-business, anti-Wall Street, anti-risk and anti anything-financial stigma that pervades the financial and mainstream media today. The MF Global and Peregrine scandals certainly haven't helped, as the press has jumped on the use of client money for corporate purposes, creating an atmosphere and mistrust of anything firm-related around futures.
But the bigger issue for the stocks of CME and others, is still volume. When volume returns, and trading activity returns, so will the stock price, and for CME in particular, the interest rate futures contract is a big part of the CME story.
While the CME's NYMEX (New York Mercantile Exchange) acquisition in March, 2008, added the vaunted energy complex to CME's expanding product portfolio, the Chicago Board of Trade acquisition in July, 2007, added a complementary group of futures and options contracts that included the Treasury futures complex, some of the highest volume contracts in the world, from the money market (short-end of the curve) all the way out to the 30-year Treasury and options contracts. (The two acquisitions added a lot of goodwill, and stepped all over return-on-equity (ROE), too.)
Today, the interest rate futures contracts at the CME represent 40% of CME's current volume, and also represent about half of CME's RPC or "rate per contract."
For the last 6 quarters the following is the number of interest rate contracts traded in terms of "average daily volume" (ADV), total contract ADV, and the percentage of ADV that interest rate contracts represented:
June '12: 5,136/12,376 - 41%
Mar '12: 5,613/12,308 - 46%
Dec '11: 4,729/11,719 - 40%
Sep '11: 6,518/14,702 - 44%
June '11: 6,449/13,526 - 47%
Mar '11: 6,424/13,794 - 46%
* Source - July 27, '12 BMO Capital Mkts research report
The regulatory environment matters too: according to the same BMO Capital Markets research report, futures will require less capital than OTC (over-the-counter) swaps under Dodd Frank implementation, so "CME is engaging in sales efforts aimed at educating firms (read banks and brokers) as to the benefits of using futures vs swaps from a capital perspective under the coming Dodd Frank regime."
CME is facing a lot of headwinds right now. The Fed's "zero interest rate policy" (ZIRP), which has impacted interest rate volume at the short end of the curve, and the move towards exchange-traded clearing versus the over-the-counter (OTC) clearing takes time for financial intermediaries to digest, not to mention that the Commodity Futures Trading Commission (CFTC) and Congress via Dod Frank (essentially two regulators) must muddy the waters incredibly.
Valuation: As a result the above-mentioned headwinds, CME volume growth has been tempered today and so is CME's earnings and revenue growth. CME's earnings per share growth is expected to be -7% in 2012, on -5% revenue growth, as interest rate volume fell 17% in the 2nd quarter, was down 20% in the first 6 months of 2012. In 2013 and 2014, CME is expected to generate earnings growth in the mid teens but that is assuming an end to the current regulation and interest rate malaise. Trading at 14(x) and 12(x) 2013 and 2014 estimates, even if the growth doesn't materialize, the stock should have limited downside, given its dividend policy.
Late in 2011, CME instituted a "variable" dividend policy, committing to distribute excess cash to shareholders, over and above its $700 million target cushion. According to our internal spreadsheet, CME is a prodigious cash-flow generator, with $1 billion in 4-quarter trailing cash flow as of June 30, and $800 million in free-cash. With over $1 billion in cash on the balance sheet, and per the above-referenced BMO Capital Markets report, CME could distribute at much as $3 per share in early, 2013. (That is a nice payout on a $52 stock.)
CME's current dividend is $0.45 per quarter or $1.80 per year, resulting in a 3.5% dividend yield, so the variable payout could double a shareholder's dividend return for 2012.
The Technicals: Technically, a trade on heavy volume over $55.60 and as long as the stock remains above this level, would represent a positive technical development in our opinion. According to the attached chart, it looks like CME is forming a nice base, which might require more time, but certainly the stock is lower risk today than in 2007.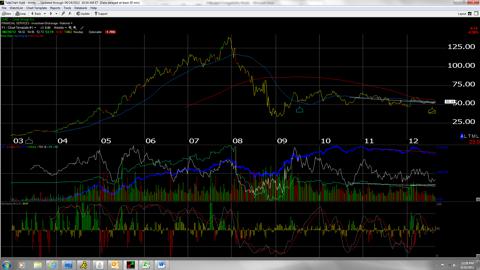 Conclusion: If an investor can be patient, it is our opinion that CME can outperform over the long run, given its arguably best-of-breed status. Regulatory reform, declining volume, an anti-risk, anti-wealth social environment, not to mention the ZIRP being instituted by the Fed, constitute formidable headwinds. That will (eventually) change, but it may require more time. The dividend gives you reason to wait.
Disclosure: I am long CME. I wrote this article myself, and it expresses my own opinions. I am not receiving compensation for it (other than from Seeking Alpha). I have no business relationship with any company whose stock is mentioned in this article.