Apple's (NASDAQ:AAPL) underlying competitive moat is its ability to redefine that which already exists. Smartphones, MP3 players, and tablet PCs had all existed before Apple revolutionized the market. What ensures customer loyalty for Apple products is the company's strategy to create an integrated platform. Through its wide array of products and services -- such as the iPhone, iPad, iPod, iCloud, and its online stores -- Apple makes it possible for customers to share information on these interdependent devices. Consumers do not necessarily need these gadgets, but the power of Apple essentially creates its own demand.
The company's strategies involve attention to detail and strict focus on its strengths. Boosted by strong financials and current undervaluation (it's trading below the Nasdaq) and its own historical P/E), we recommend the stock as a buy. Apple is currently trading at a 25% discount to Nasdaq's P/E. If Apple was to trade at its historical P/E of 25 times, the stock has the potential to trade north of $1,000.
Performance Highlights
Apple's year-over-year revenue growth for FY 2011 stood at 65%, while EPS was up by 82%. Analysts expect EPS of $44 for FY 2012, up by almost 60%. The Americas, which is still its largest operating segment, registered revenue growth of 26% for the third quarter of 2012, followed by 16% growth in Europe and 25% in Asia-Pacific. The iPhone accounted for nearly 46% of total net sales for the third quarter, compared to iPad's 26%. Gross margin for the third quarter came out at 42.8%. In the second quarter of 2012, Apple's iOS accounted for 18.8% of the global smartphone operating system market, down by 3.7% from the previous quarter. Android, on the other hand, managed to capture 64.1% of the market share, resulting in an increase of about 20.7% year over year.
Efficiency Powerhouse
Apple thrives in a competitive industry characterized by a short product life cycle, rapid technological advancement -- resulting in constant product innovation and introduction -- and aggressive price cutting, which often leads to depressed margins. On the product innovation front, Apple has performed spectacularly. The chart below compares R&D expenses of various tech sector giants like Google (NASDAQ:GOOG), Microsoft (NASDAQ:MSFT), and Intel (NASDAQ:INTC).
Click to enlarge images.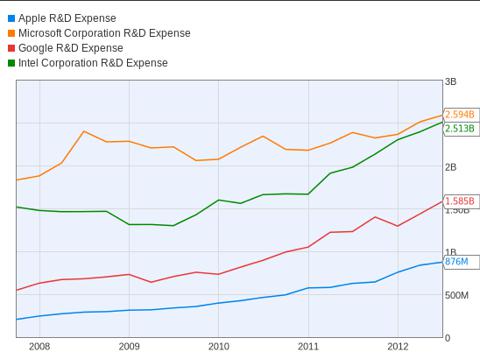 The charts below compare, one, R&D as a percentage of revenue and, two, revenue growth: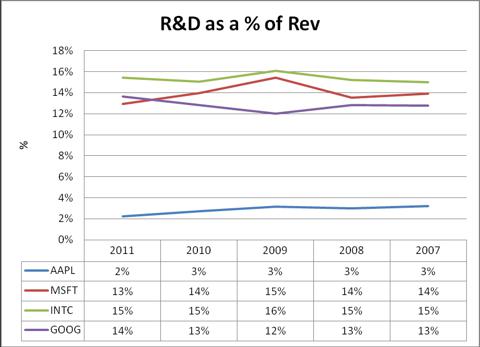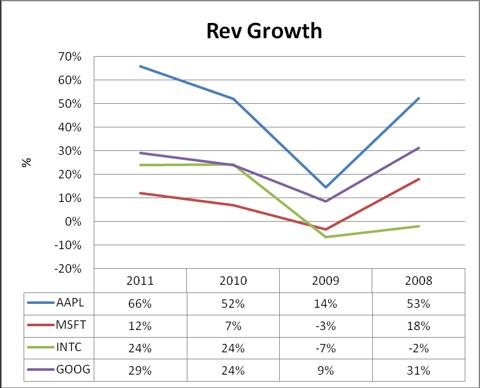 Despite having the lowest absolute R&D expense, also as a percentage of sales, among the leading players in the industry, Apple has managed to introduce iconic products and services into the markets, coupled with above-average revenue growth for the past four years. This productivity is the result of Apple's concentration on a few product lines and models, a legacy left behind by Steve Jobs, who would remark: "Focus is not saying yes. It is saying no to other hundreds of good ideas." The strategy has paid off handsomely.
Apple's Supply Chain Management
Apple makes it a point to invest in its supply chain. It exerts unparalleled control over its supply chain from the top to bottom. It prepays its suppliers for timely availability of key components, earns hefty discounts, and often bars its competitors from obtaining essential components. At the end of Q3 2012, total inventory prepayment outstanding stood at $4.4 billion. HTC, in 2010, couldn't secure enough screens because manufacturers were busy filling in orders from Apple before the release of the iPhone 4. Tim Cook is a supply chain expert and seems poised to carry his legacy forward.
Anticipated capital expenditures for 2012 are $8 billion, of which $850 million will be spent on retail stores and the remaining $7.2 billion on "other capital expenditures." One component of the "other" is "manufacturing process equipment." What this means is that Apple will approach its suppliers and offer to take on most of their operational risks by owning their equipment. Suppliers will find it hard to decline the offer since their business involves building capacities for companies, and bearing the risk of shrunk margins should the product fail to sell well. The obsession with the supply chain has kept Apple's gross margins high among its competitors, and encourages the company to enter such low margin markets such as TVs.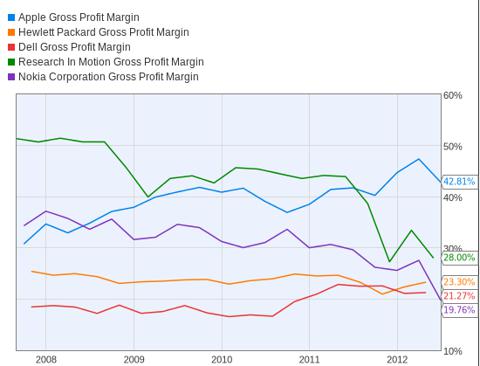 According to comScore, the company's smartphone market penetration in the U.S. has reached 47% during the three months ending in June, which was an increase of 4% since March. With penetration rates high across the developed world, Apple must also look into developing countries such as China (two-thirds of Apple's sales are in Asia), with its low smartphone penetration, for its much anticipated iPhone 5 release, which is expected in September this year. Furthermore, Apple and China Mobile (NYSE:CHL), the world's largest mobile phone company, are in talks for a possible cooperation to offer the iPhone. Should they strike a deal, we forecast an increase in the reported EPS.
Valuation
Apple is currently trading at 12 times its 2013E earnings of $52.50. Analysts expect a mean price target of $743.
| | | | | | |
| --- | --- | --- | --- | --- | --- |
| | AAPL | (NYSE:HPQ) | (DELL) | (NYSE:NOK) | (RIMM) |
| Beta | 0.87 | 1.36 | 1.59 | 1.87 | 1.59 |
| Forward P/E | 12x | 4x | 6x | N/A | N/A |
| Growth | 22.26% | 4% | 5.61% | 5% | 7.5% |
| PEG | 0.64 | 1.19 | 1.13 | N/A | N/A |
| | |
| --- | --- |
| | P/E |
| Nasdaq, Current | 16x |
| AAPL 5-Year Average | 30x |
| AAPL 7-Year Average | 25x |
Trading below the Nasdaq's P/E of 16 times and well below its five- and seven-year averages of 30 times and 25 times, respectively, we believe the stock is undervalued. Its PEG ratio of 0.64 is the lowest among its competitors, indicating an attractive buy. In a bullish scenario, and based on the historical average P/E, the price could top $1,000 (2013 earnings of $52.50, historical average multiple of 25 times). For this to happen, AAPL has to keep beating earnings for the next few quarters coupled with successful launches of its products.
The market views sell-side EPS estimates to be on the higher side; however, the success of the iPhone 5 and the introduction of new products will help investors realize the true growth potential of the stock. Further confidence in future earnings will help the stock trade at higher multiples. Based on the Nasdaq's P/E of 16 times and 2013 earnings estimates, we forecast a price target of $840.00 ($52.50 * $16.00).
Headwinds
Although the stock is trading at cheap valuations, it will not be able to reach the $1,000 level until investors regain confidence in Apple's ability to sustain its competitive advantage and maintain above-average margins. Any negative news related to the iPhone 5 or other product launches can cause a sell-off in the stock, as the market still views it as a growth stock. Investors should also keep a close eye on Apple's success in high-growth Asian markets, such as China. Apple is also involved in various lawsuits.
Disclosure: I have no positions in any stocks mentioned, and no plans to initiate any positions within the next 72 hours.
Business relationship disclosure: This article has been written by Qineqt's Technology Analyst. Qineqt is not receiving compensation for it (other than from Seeking Alpha). Qineqt has no business relationship with any company whose stock is mentioned in this article.