I recently asked Dr. Echo He, a Senior Vice President and Senior Analyst at Maxim Group LLC, to bring us her insight on three biotech stocks she covers, which have upcoming milestones. Prior to joining Maxim Group, Dr. He was an Equity Analyst and a Director at Oppenheimer & Co. She has MD and PhD degrees. Prior to her financial industry career, she was in the academic medical research field, including at the National Institutes of Health. I have asked Dr. He to describe the milestones which could bring an upward or downward movement of each stock. Additionally, Dr. He will bring us her rates and price targets, and a brief look at the financial picture of each company.
I am going to begin with Ariad Pharmaceuticals (NASDAQ:ARIA).
ARIAD Pharmaceuticals is an emerging global oncology company focused on the discovery, development and commercialization of medicines to transform the lives of cancer patients. ARIAD's approach to structure-based drug design has led to several internally discovered, molecularly targeted product candidates for drug-resistant or difficult-to-treat cancers, including certain forms of chronic myeloid leukemia and non-small cell lung cancer.
Dr. He: The next milestone for Ariad would be FDA's accelerated approval of Ponatinib for 2nd/3rd line CML and Ph+ ALL, possibly in 1H13. Management is also aiming for a priority review, which could bring an approval a couple months earlier. Assuming Ponatinib is approved, the stock should be worth around $24/share. Given the positive feedback from oncologist, we believe an approval is likely. Following approval, Ariad will likely offer the market the strongest BCR-ABL inhibitor that could become the new standard treatment for chronic myelogenous leukemia. The company has approximately $250M in cash on hand ($10M debt) and we estimate about $150M as an annual burn rate.
We rate ARIA shares a "buy" and have a $24 price target based on 10-year DCF analysis.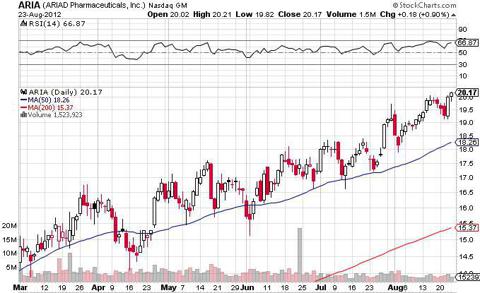 Next up is Exelixis (NASDAQ:EXEL), a biotechnology company committed to developing small molecule therapies for the treatment of cancer. Exelixis is focusing its proprietary resources and development efforts exclusively on Cabozantinib (formerly known as XL184), its most advanced product candidate, in order to maximize the therapeutic and commercial potential of this compound.
Dr. He: The next milestone for Exelixis would be the ODAC meeting to discuss Cabozantinib as a treatment for patients with progressive, unresectable, locally advanced or metastatic medullary thyroid cancer on November 9. At current time, we believe the chance of ODAC support is 50%, but it should not hurt the stock much if ODAC votes against the drug, as the main value driver of the company is Cabozantinib in metastatic castration resistant prostate cancer. Currently two phase III trials are ongoing for prostate cancer - COMET-1 has overall survival as the primary endpoint, while COMET-2 has pain palliation as the primary endpoint. Both trials may report results in 1H14, according to EXEL's management. In our current view, both trials are more likely to meet than miss primary endpoints, with COMET-2 having a higher chance to succeed.
The company has approximately $560M cash on hand ($250M convertible debt) after the recent equity/debt combined offering. We estimate about $100M annual burn rate.
We rate EXEL shares a "buy" and have a $9 price target based on 10-year DCF analysis.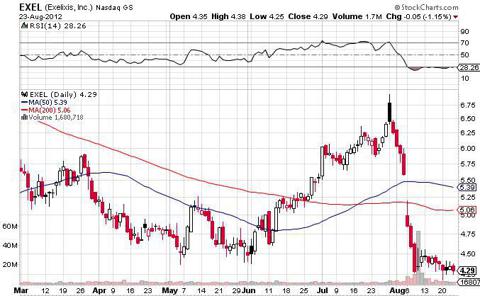 The last one is Medgenics (MDGN) which is developing and commercializing Biopump, a proprietary tissue-based platform technology for the sustained production and delivery of therapeutic proteins using the patient's own skin biopsy for the treatment of a range of chronic diseases, including anemia, hepatitis, and hemophilia, among others. Medgenics believes this approach has multiple benefits compared with current treatments, which include regular and costly injections of therapeutic proteins.
Dr. He: The next milestones for Medgenics would be 1) the initiation of phase IIb trial of EPODURE in the U.S. for the treatment of anemia in dialysis patients with end-stage renal disease; and 2) the approval from Israeli Ministry of Health of a phase I/II study of INFRADURE for treatment of hepatitis C, both possibly by the end of this year. We believe there are no material issues for the company to achieve these milestones. Medgenics will likely offer the market more effective, longer lasting, less toxic and more economical treatment regimens of erythropoietin and interferon-alpha.
The company has approximately $9M cash on hand. We estimate about $10M annual burn rate.
We rate MDGN shares a "buy" and have a $14 price target based on 10-year DCF analysis.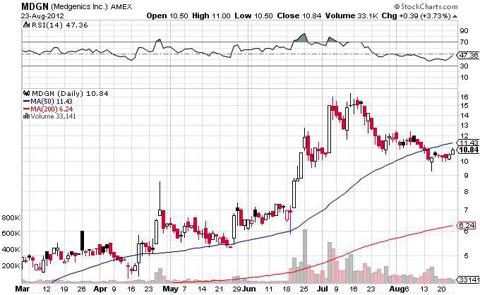 Disclosure: I have no positions in any stocks mentioned, and no plans to initiate any positions within the next 72 hours. I wrote this article myself, and it expresses my own opinions. I am not receiving compensation for it (other than from Seeking Alpha). I have no business relationship with any company whose stock is mentioned in this article.