Dry bulkers such as DryShips Inc. (NASDAQ:DRYS), hardly ever get good news. The huge ship glut doesn't leave much room for optimism. Indeed, even in this past month, the Baltic Dry Index took another huge dump, as we can see below (source: Bloomberg):
Click to enlarge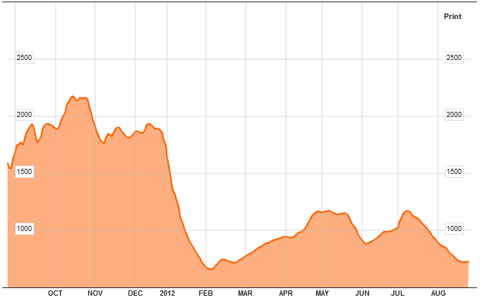 It is against this backdrop that I'm going to explain a bullish thesis that's just been emerging in the last few weeks. I am going to explain this thesis so that whoever finds it interesting enough might try trading off it, though I'll be clear that I am not entirely convinced of its merits.
The (bullish) thesis
Since the start of July, iron ore pricing in China has taken a huge tumble, going from $138 per ton to less than $100 per ton right now. Iron ore constitutes around 60% of the dry bulk cargo hauled by the dry bulk shipping companies, which include DryShips as one of the better known names, but also others like Diana Shipping, Inc. (NYSE:DSX), Eagle Bulk Shipping Inc. (NASDAQ:EGLE), Eagle Bulk Shipping Inc. (NYSE:EXM) or Genco Shipping & Trading Limited (NYSE:GNK).
Now, ordinarily you'd think that a lower iron ore price would perhaps mean lower volumes and it might thus be negative for the dry bulkers. But that's where the bullish thesis comes to life and provides an interesting twist.
You see, iron ore demand to feed China's steel industry has two sources: domestic and foreign, with most of the foreign ore being hauled in by boat. Now, the domestic iron ore production is lower quality and has a higher production cost. So here's the bullish angle: as iron ore prices crash, there's the expectation that some domestic production will be shut in, and replaced by more imports even if at a lower price. This would mean more volume for the dry bulkers, and hence would be bullish for them even if constitutes a disgrace for the iron ore producers, including the foreign ones.
In short, the bullish thesis for dry bulkers is that the crashing iron ore price will reduce Chinese iron ore production and increase imports.
Conclusion
I have some difficulty buying into this thesis in spite of understanding it, because lower iron ore pricing might also be the result of overall weakening demand, in which case we could have lower domestic production and stagnated imports. Still, I had to explain this bullish thesis as there might be traders/investors interested in it.
Disclosure: I have no positions in any stocks mentioned, and no plans to initiate any positions within the next 72 hours. I wrote this article myself, and it expresses my own opinions. I am not receiving compensation for it (other than from Seeking Alpha). I have no business relationship with any company whose stock is mentioned in this article.