Sirius XM (NASDAQ:SIRI) hasn't seen its short interest so low since October of 2011 when the share prices touched an intra-day low of $1.27 per share. The share price today is in stark contrast, sitting at $2.54 per share as of Friday's close, yet the short interest values are strikingly similar. 259 million shares are short today, and 252 million shares were short when the share price was $1.27 if you consider the Nasdaq short data. The current short interest clocks in at 70 million less than last report, when it totaled 329 million shares.
Click to enlarge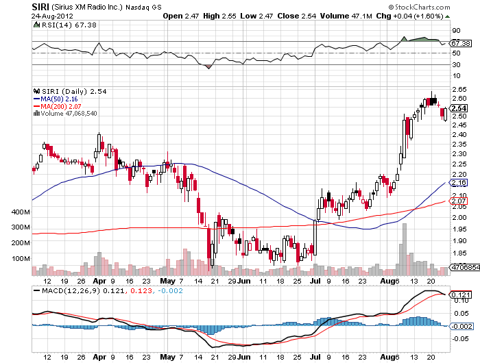 It appears that those who were short in July got clobbered by the recent spat of buying by Liberty Media (LMCA), as well as Sirius XM's outstanding earnings call for the second quarter of 2012. Given the 40 cent rise at the beginning of August, it's safe to assume that those who were short were forced into panic covering, helping to drive the share price up to current levels.
I may have had an incorrect assumption on August 16 when I wrote the following :
To be fair, there has been considerable volume recently, and this has been more than enough for shorts to cover, but I don't think all shorts have been so lucky. I believe that $2.50 was expected to be a major point of resistance, and a pullback was expected, at least in the short term. The longs were expecting such a pullback and have been lightening or exiting their positions entirely at this price point. The shorts? It's very likely that they have been doing what is called "averaging up."
With short interest at 329 million at the end of July and 259 million in the middle of August, I was dead wrong. Shorts didn't average up by increasing their positions. Shorts covered, to the tune of 70 million shares.
What can investors in Sirius XM take from this data going forward? First, it appears that those with short positions see higher prices ahead, and not lower. This relatively low short data number almost points to a new bottom in the stock, at least in the minds of those former shorts. There's also the notion that perhaps those holding short positions in Sirius XM wished to get out of the game prior to Liberty Media going to full control. And there's news of share buybacks, and the potential for Sirius XM to increase leverage and drive the share price higher by reducing the float.
Whatever way you slice it, the shorts got spooked and covered in very large quantities. Shorts bought, Liberty Media bought, and institutions have bought recently. With nearly everyone buying, I find it hard to believe the expectations are that the share price will stagnate at the $2.50 level. While shares may be in a period of consolidation, it's likely for the next move up in the near future.
Disclosure: I am long SIRI, LMCA. I wrote this article myself, and it expresses my own opinions. I am not receiving compensation for it (other than from Seeking Alpha). I have no business relationship with any company whose stock is mentioned in this article.