by John Nyaradi
Gold prices are on the rise, but are they here to stay?
After a sharp correction that started last spring, many analysts started to declare that the gold bull was dead, however, in recent days, the "barbarous relic" has made an impressive turn around, jumping approximately 5% since mid-July. What lies ahead for gold depends largely upon what happens in Europe and how the Federal Reserve and European Central Bank deal with the ongoing crises surrounding Greece and Spain.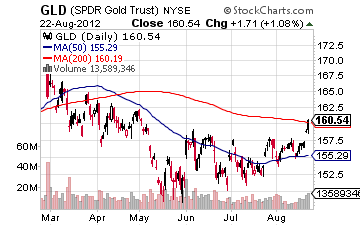 chart courtesy of StockCharts.com
In the chart of SPDR Gold Trust (NYSEARCA:GLD) above, we can see that the ETF has recently jumped above its 50 and 200 day moving averages as market participants anticipate a new round of quantitative easing from the Federal Reserve and more easy money from the European Central Bank to stave off the ongoing debt crisis in Europe.
Gold ETFs including the SPDR Gold Trust ETF GLD have followed the spot price of gold and the second largest ETF now stands above both its 50 and 200 Day moving averages, a "buy" signal for the precious metal. Furthermore, MACD shows strong short term momentum and point and figure charting has just generated a "buy" signal, a "double top breakout" that flashed on August 22nd.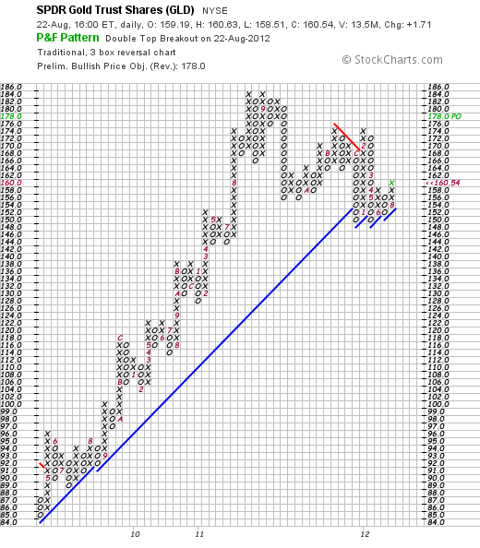 chart courtesy of StockCharts.com
In the chart above, we can see the graphic of the buy signal and the initial upside price objective of $178 for GLD which is approximately 11% above today's levels.
Many wonder if these gains are sustainable, and, if so, for how long? The answer likely rests in the arms of the Fed and Europe. Dr. Bernanke and the Fed are expected to keep interest rates at close to 0% for as far as the eye can see, and last week's FOMC meeting minutes point to more quantitative easing which would be bullish for gold and stocks and bearish for the U.S. dollar.
The last time Dr. Bernanke pre-announced a round of quantitative easing at his Jackson Hole speech in August, 2012, gold set off on a bull run that added approximately 50% to its price over the next 12 months. Apparently, many market participants expect a replay of 2010 beginning with Dr. Bernanke's upcoming speech this week in Jackson Hole.
It is very clear from Fed comments and the FOMC minutes that Dr. Bernanke is willing and able to continue U.S. Central Bank easing, which means busy printing presses and more free money. More free money encourages higher gold prices, a weaker dollar and supports the premise that the gold bull is not dead.
The Fed has every reason to keep the system afloat as long as the European drama continues, global growth continues to slow and U.S. unemployment remains high. For ETF investors, opportunity to participate in gold markets can be found in SPDR Gold Trust GLD or iShares Gold Trust (NYSEARCA;IAU) which are the two largest exchange traded funds in the gold asset class.
Bottom line: With recent central bank moves towards more global monetary easing, it appears that the recent correction in gold is coming to an end and that a new leg up could be just getting underway. Investing or trading the "barbarous relic" will always be volatile. However, if history is any guide and Dr. Bernanke comes through with more quantitative easing next week and at the Fed meeting in September, the next twelve months could be a fun ride, indeed.
Disclosure: Wall Street Sector Selector actively trades a wide range of exchange traded funds and positions can change at any time.