Shortly after Ben Graham's death in 1976, Warren Buffett wrote a short remembrance on Graham in the Financial Analyst Journal, and in that excerpt Buffett recounted:
Certainly I never met anyone with a mind of similar scope. Virtually total recall, unending fascination with new knowledge, and an ability to recast it in a form applicable to seemingly unrelated problems made exposure to his thinking in any field a delight.
Graham was certainly intrigued by the notion that a "defensive investor must confine himself to the shares of important companies with a long record of profitable operations" and he believed that "the most persuasive tests of high quality is an uninterrupted record of dividend payments going back over many years".
As evidenced by Graham's fascination with dividend investing, he wrote the following:
Paying out a dividend does not guarantee great results, but it does improve the return of the typical stock by yanking out at least some cash out of the manager's hands before they squander it our squirrel it away.
Ben Graham Would Have Loved REITs
When Ben Graham published The Intelligent Investor in 1949, he did not know that REITs would be a significant contribution to value investing. For it was around 11 years later, in 1960, that President Eisenhower signed a law, the REIT Act, that was contained in the Cigar Excise Tax Extension.
Because REIT shareholders are legally entitled to 90 percent of the REIT's income each year, the shareholders are allowed to participate in income reinvestment decisions. This more disciplined approach in effect forces the REIT manager to payout substantially more income (to investors) and defend against "squandering or squirreling" it away.
Although many academics claim that it shouldn't matter to shareholders how much of its net income a corporation pays out in dividends, many argue that dividends really do matter with respect to shareholders' total returns. I am certain that Graham would have argued the point as he wrote (in The Intelligent Investor):
One of the most persuasive tests of high-quality is an uninterrupted record of dividend payments going back over many years.
The importance of paying a dividend is supported by research by Ed Clissold, an equity strategist at Ned Davis Research (as referred to in a Barron's article of September 20, 2010). Clissold explained that the S&P 500 index has delivered average annual price appreciation since the end of 1929 of 4.92 percent, but its average annual total return has been 9.16 percent. Thus dividends have provided approximately 46 percent of this total returns.
Alternatively, over the last 10, 15, 20, 25, 30, and 35 years, and since inception (the beginning of 1972), REIT total returns have averaged around 10 percent to 11 percent per year. About two-third of that return has been dividend income, and the other one-third has been share price appreciation.
So today, Graham would be delighted to invest in REIT stocks and especially the advantage of owning high-yielding investments that provide a steady income even during the occasional bear market.
REITs Provide a Wide Margin-of-Safety
It was through Graham's firsthand anguish and financial losses that he gained insight and experience the hard way. After seeing his mother became wiped out in the crash of 1907, Graham grew to become one of the greatest practical investment thinkers of all time.
So it was by trial and hard work that Graham became a master of researching stocks in microscopic, almost molecular, detail. And because of Graham's troubled experiences and idolic insight, he became a prophetic teacher and investor who continually emphasized the importance of avoiding losses.
Graham argued that "a fixed dollar income will suffer that cost of living advances, and the same applies to a fixed amount of dollar principal". Conversely, Graham believed that "holders of stocks have the possibility that a loss of the dollar's purchasing power may be offset by advances in their dividends and the prices of their shares".
When a stock yields next to nothing, its entire value is comprised of all future earnings, discounted to the present date. If the perceived prospects for those earnings decline slightly, the stock can plummet quickly. Much of the value of a REIT stock, however, is in the REIT's current dividend yield, so a modest decline in future growth expectations will have a more muted effect on its trading price.
As Graham wrote, "there is a close logical connection between the concept of a safety margin and the principle of diversification. One is correlative with the other." Further, Graham wrote, "diversification is an established tenet of conservative investment. This point may be made more colorful by a reference to the arithmetic roulette wheel…therefore, the more numbers he wagers on, the better his chance of gain."
I consider Graham's correlation with safe-margin investing and diversification to be one of the most important rules that apply to any investment sector - especially REITs. For a lack of diversification produces real risk for property ownership strategy and appropriate diversification should be the mantra of every investor. As Graham explained,
For most investors, diversification is the simplest and cheapest way to widen your margin-of safety.
What REITs Would Ben Graham Buy Today?
Washington Real Estate Investment Trust (NYSE:WRE) was founded in 1960 and the diversified Rockville, MD-based company is the oldest publicly traded REIT in the country. During the company's conference call (on July 27th) executives announced that the company would cut its dividend - the first cut in more than 50 years.
By reducing the dividend (down 30 cents per share from the previous 43.375 cents), Washington REIT ended a record of 50 years of consecutive annual dividend increases. Management cited that the revised dividend and new FFO coverage ratio was now in a more comfortable range and the cash freed up by the dividend cut - estimated at about $35 million per year - would allow the REIT to be more aggressive.
Washington REIT was once one of just eleven REITs that had maintained a track record of consistent and increasing dividends; however, that record came to an end (for WRE) when the legendary REIT slashed its once uninterrupted performance.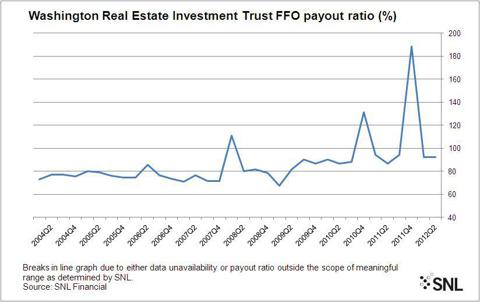 This year, Federal Realty (NYSE:FRT) celebrates 50 years of being a proven leader in the ownership, operation, and redevelopment of high quality retail real estate and since its founding in 1962, the Rockville, MD-based REIT has increased its dividend rate for 45 consecutive years - the longest record in the REIT industry. Federal has maintained one of the most consistent revenue platforms in the REIT sector and the stalwart REIT is differentiated by its conservative FFO payout ratio history.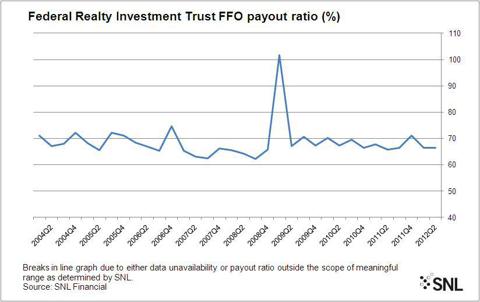 Founded in 1981, Tanger Factory Outlet Centers, Inc. (NYSE:SKT). is headquartered in Greensboro, North Carolina and the retail sector REIT has increased its dividend each year since the initial public offering in 1993. Like Federal Realty, Tanger also maintains a conservative FFO payout ratio and that has allowed the top performer to distance its dividend track record from the other equity REITs.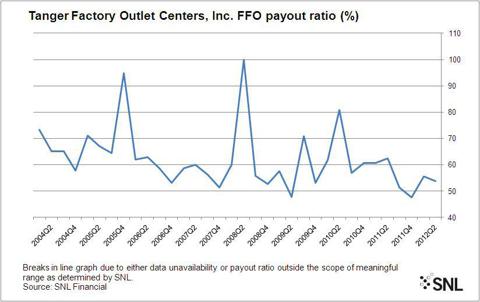 Urstadt Biddle Properties (NYSE:UBA), founded in 1969, is a shopping center REIT based in Greenwich and the company owns open air shopping centers and retail properties in the New York Metro area with a focus on communities within commuting distance to New York City. The company has an impressive track record of paying consistent and increased dividends for 18 years.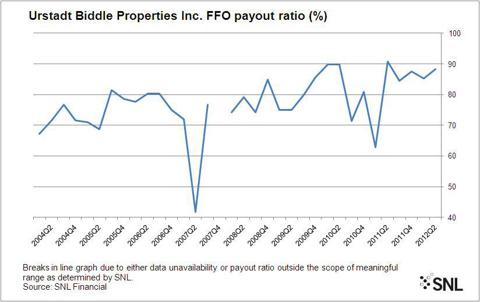 Last week I wrote an article on Essex Property Trust (NYSE:ESS) and this Palo Alto based REIT, founded in 1971, has maintained the consistency of paying increased cash dividends for 19 years. The multi-family sector REIT focuses its successful platform on west coast communities where the company' sound financial strategies has resulted in extraordinary revenue consistency.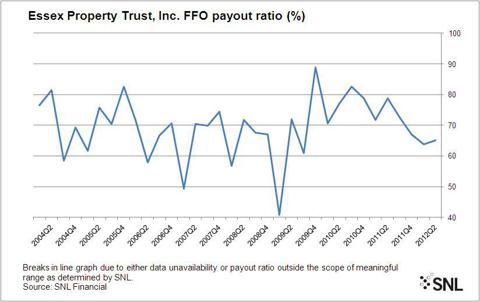 National Health Investors (NYSE:NHI) was founded 20 years ago and the Murfreesboro (TN)-based health care REIT was organized (as a REIT) in 1991. NHI has also maintained disciplined FFO payouts including a payout ratio of around 85 percent in 2011.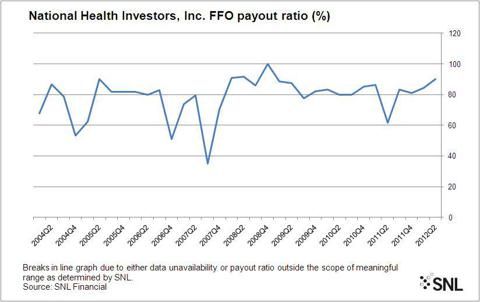 Omega Healthcare Investors, Inc. (NYSE:OHI) is a Maryland-based REIT and the twenty year old company has maintained consistent and increasing dividend payouts for 10 years. In addition, the company enjoys a stable and consistent FFO payout ratio of between 80 and 85 percent.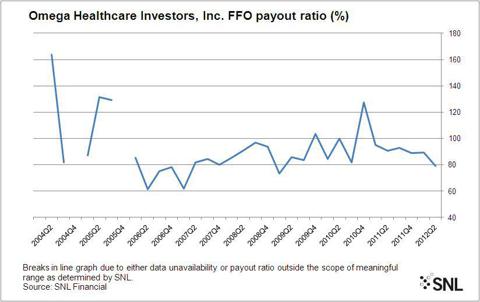 Realty Income (NYSE:O), The Monthly Dividend Company(R), has maintained a track record of paying and increasing dividends for 18 years. The Escondido-based REIT focuses its triple-net platform on conservative debt fundamentals and sound risk control. By building a successful differentiation strategy, Realty Income has preserved its portfolio risk while also sustaining its extraordinary dividend record.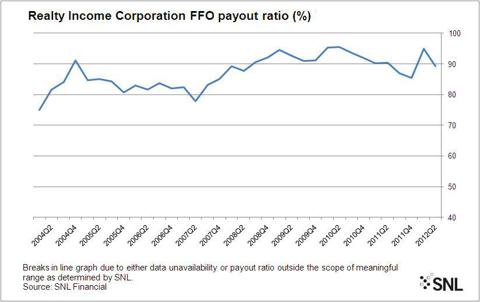 A True Margin-of-Safety for REIT Investors
One key issue for investors is the REIT's payout ratio of dividends to funds from operations. A modest payout ratio is good insurance against unexpected events that might cause a temporary downturn in free cash flow.
As mentioned above and up until three weeks ago, Washington REIT had maintained an incredible track record of dividend performance. The conservatively managed REIT has maintained a modest (low 40 percent) debt to market cap; however, the company's payout ratio had been approaching 100 percent of FAD for quite some time. Given the conservative practices of Washington REIT's management team, the company felt as if it was time to position its dividend so that it could continue to grow.

Dividend performance is extremely critical in that REIT investors are attracted to the disciplined dividend fundamentals that REITs provide. Accordingly, it is because of their stability, gently rising dividends, and sustainable yields that most investors gravitate towards this intelligent asset class.
Had Ben Graham been able to invest in REITs (today) he would have liked the statutory dividend payments that REITs provide. In addition, Graham would have looked for the consistent and growing dividends that are akin to the concept used "to advantage and distinguish the differences in an investment operation and a speculative one". Finally, Graham would have recognized the importance of value that is created through conservative payout ratios.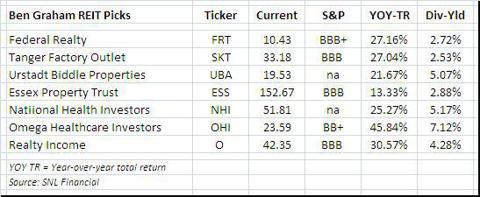 As Graham believed, great investing requires both generating returns and controlling risk. And recognizing risk is a prerequisite for controlling it. That is why an intelligent investor must understand that "successful investing is about managing risk, not avoiding it".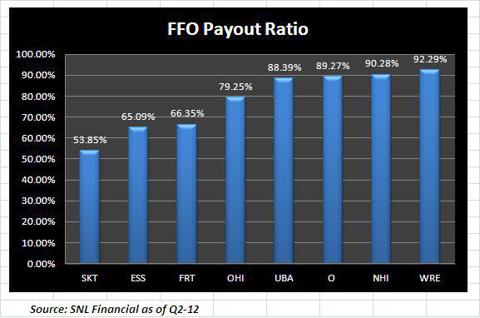 Finally, as Graham explained in The Intelligent Investor (Chapter 20), the "margin of safety is always dependent on the price paid." And he adds that "by definition, a favorable difference between price on the one hand and indicated or appraised value on the other. That difference is the margin of safety."
While REIT valuations appear elevated today upon first glance, the prices are justified. Low interest rates have helped bring down yields and lift stock prices. The outperformance of real estate stocks relative to the S&P 500 over the past 10 years is attributable to many factors and the fact that these REITs are mentioned in this article - due to sustainable dividend practices and consistency in dividend performance - is why I consider them all to be "intelligent REIT investments".
Contributor Note: I have written recent articles on O, and WRE
Source: SNL Financial
Disclosure: I have no positions in any stocks mentioned, and no plans to initiate any positions within the next 72 hours. I wrote this article myself, and it expresses my own opinions. I am not receiving compensation for it (other than from Seeking Alpha). I have no business relationship with any company whose stock is mentioned in this article.