You cannot turn on your television or surf the internet without being bombarded by news of the events in the Middle East involving Israel and Iran. These two countries have been adversaries for a long time, and saber rattling between the two has been a common occurrence over the years. All this has changed though with the recent introduction of Iran's possible development of nuclear weapons. Now the threats and posturing have taken on new meaning.
In the most recent headlines, Iran's president has stated that Israel's existence is an "insult to all humanity". This statement was made in concurrence with the introduction of Iran's upgraded version of a short-range surface-to-surface ballistic missile called the Fateh-110, or Conqueror. In roughly the same time frame, Prime Minister Benjamin Netanyahu told visiting U.S. dignitaries that time "is running out" for a peaceful solution to Iran's atomic program." Needless to say, this powder keg is becoming more volatile by the day. The question is what will Israel do, and when will it act?
Obviously this article could go on and on about potential scenarios, military capabilities, and the tragic loss of life that might occur. But this article is about your money and ideas that could help protect it from the events that might occur. That being the case, let's dive in and look at what might happen if Israel does strike and how you could protect your current investments.
An Israeli strike on Iranian nuclear facilities would not be a single day event as was done against the Iraqi Osirak reactor in 1981. The targets are just too far away, so Israel would have to attack over a series of days. The drama that would unfold would be worldwide news, and will stay as the top headlines for weeks. Needless to say, stock markets and exchanges around the world will most likely have very negative views and will sell off in varying degrees. The most critical event would be if Iran attempts to shut off the flow of oil through the Strait of Hormuz. Now if this were to happen, even for only a brief time, it would send tremors through the world's financial markets as oil prices would rise at a rapid rate.
United States Oil (NYSEARCA:USO) Obviously the first protective action one could take would be to get long oil. When I write this I mean putting on some exposure to the actual commodity itself and not the stocks that are involved in exploration and development. That being the case, one of the best bets would be getting long the very popular ETF, United States Oil. An investment in USO seeks to reflect the performance, less expenses, of the spot price of West Texas Intermediate (WTI) light, sweet crude oil. The fund invests in futures contracts for WTI light, sweet crude oil, other types of crude oil, heating oil, gasoline, natural gas and other petroleum based-fuels that are traded on exchanges. It may also invest in other oil interests such as cash-settled options on oil futures contracts, forward contracts for oil, and OTC transactions that are based on the price of oil. A rapid move up in oil prices should drive up prices in USO. The hope would be that this increase would help offset any losses that would be experienced elsewhere in your portfolio as events unfold. To get a brief glimpse of how this fund could work, let's take a look at the 3 month chart below.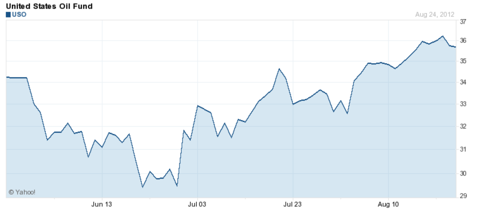 Many experts believe that over the last 2 months the tensions in the Middle East have not only supported oil prices, but have also made prices increase. I also tend to believe this is true. Notice how the chart of USO follows this pattern? Now imagine how this chart would look if oil prices really took off?
Before moving on, let's discuss a question that is bound to come up. Some people will think that the better strategy would be to get stocks that represent companies that have lots of exposure to oil prices. Individuals might rather buy shares in companies like Penn West (PWE), Enerplus Corp. (NYSE:ERF), or ConocoPhillips (NYSE:COP). Could this be an equally suitable strategy? My thoughts are no. USO gives us a relatively pure exposure to the price of oil. It does not care how parabolic a move that the price per barrel makes. Companies like PWE, ERF, and COP have a whole host of internal and external issues that have to be taken into consideration. These issues can be very complex in nature.
Also, many of these companies have their shares in major index funds and mutual funds. So would a sudden rise in oil prices immediately have a positive effect on their shares prices? Probably not, they might have some positive reaction at a future point but there are just too many unknown variables to guarantee you any protection in the short run. An equity that simply trades based on the changes in oil prices would prove to be one of the best strategies.
ProShares Short S&P500 (NYSEARCA:SH)
If USO is not your style, then maybe ProShares Short S&P 500 just might be. SH is a very unique exchanged traded fund. What this investment tries to do is move opposite, or inverse, to the daily performance of the S&P 500 index. So the hope is that if the S&P 500 index was to fall 10%, the shares of SH would move up by a corresponding amount. The fund invests in derivatives that should have similar daily return characteristics as the inverse of the daily return of the index.
So how would this work in our scenario? If war were to break out and stock markets around the world were to sell off, shares of SH would make some impressive gains. Of course your other investments will also sell off, but the hope is that the gains in SH would offset those losses and offer some protection. The concept here is rather simple in nature, but of course there are always risks to everything.
One thing that we have not discussed is timing. Tensions in the Middle East have gone on for years, and often times nothing happens. An investment in USO above would have been profitable as tensions have flared, driving up oil prices. This is because the overall stock market itself has done rather well in general, and USO would have been the icing on the cake. SH on the other hand is a much different animal, and over the last few months the fund has lost investors money. See the chart below for price performance over the last few months.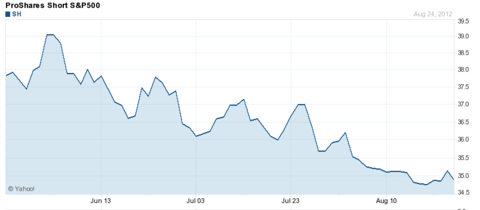 Once again timing is everything with SH. If an Israeli attack were imminent, then shares of SH would give that protection as stock markets sold off. If no attack is forthcoming and the stock market continues to rise, SH will work against those who hold shares. SH would be like an anchor holding back any gains while it loses value. Basically SH is a great tool when used at the right time and in the right situation.
In conclusion, there are also many other way to protect your investments if this conflict were to arise. The above two picks are probably some of the simplest methods that could be used, and simple is usually the best. More savvy investors could use put options strategies and get similar results as well. Investors with a more gambling nature could use highly leveraged ETFs and magnify their gains. Needless to say, all these bring on more risk and might not be right for the average retail investor. That being the case, these two investments might be the right hedge to help your investment portfolio take shelter if the bombs ever do fall.
Disclosure: I am long PWE. I wrote this article myself, and it expresses my own opinions. I am not receiving compensation for it (other than from Seeking Alpha). I have no business relationship with any company whose stock is mentioned in this article.