One way to find stocks with a better chance to outperform the market is to look for a certain type of growth stocks. Those stocks would have to show stable financial conditions and generate significant free cash flow, but cannot be too expensive at the moment. However, in order to find the proper moment for an opening position, a technical analysis with a momentum indicator can be of great assistance for investors.
We have elaborated a screening method, which shows stock candidates following these lines. Nonetheless, the screening method should only serve as a base for further research.
The screen's formula, which will be called GM-11, requires all stocks to comply with the following demands:
1. The stock is included in the Russell 3000 index. Russell Investment explanation:
"The Russell 3000 Index measures the performance of the largest 3000 U.S. companies representing approximately 98% of the investable U.S. equity market. The Russell 3000 Index is constructed to provide a comprehensive, unbiased, and stable barometer of the broad market and is completely reconstituted annually to ensure new and growing equities are reflected."
2. Earnings growth estimates for next 5 years (per annum) is greater than 15%.
3. Price to free cash flow is less than 15.
4. Total debt to equity is less than 0.5.
5. 10-day moving average is over 20-day moving average, and the cross happened 2 days or less prior to the start of the screen (short-term momentum indicator).
We used Portfolio123's powerful free screener to perform the search. After running this screen on August 24, 2012, we obtained as results the four following stocks:
| | | | | | | |
| --- | --- | --- | --- | --- | --- | --- |
| Company | Symbol | Last price | Market Cap ($millions) | Trailing P/E | Forward P/E | PEG Ratio |
| Acorda Therapeutics Inc. | ACOR | 23.00 | 922 | 21.10 | 23.47 | 1.17 |
| Electro Scientific Ind | ESIO | 12.57 | 368 | | 15.14 | 1.25 |
| IXYS Corp | IXYS | 9.45 | 297 | 11.67 | 9.17 | 0.25 |
| O'Reilly Automotive, Inc. | ORLY | 86.87 | 10,330 | 20.06 | 16.30 | 1.18 |
Acorda Therapeutics, Inc. (NASDAQ:ACOR)
Acorda Therapeutics, Inc., a commercial-stage biopharmaceutical company, engages in the identification, development, and commercialization of novel therapies for multiple sclerosis (MS), spinal cord injury (SCI), and other central nervous system disorders primarily in the United States. The company also markets products for the improvement of walking in adult patients with MS with walking disability under the Fampyra name internationally. Acorda Therapeutics, Inc. was incorporated in 1995 and is headquartered in Ardsley, New York.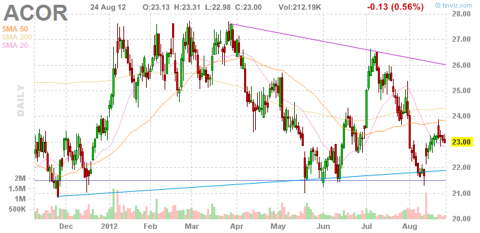 Chart: finviz.com
Electro Scientific Industries Inc. (NASDAQ:ESIO)
Electro Scientific Industries, Inc., together with its subsidiaries, provides laser-based manufacturing solutions worldwide. The company's laser systems enable precise structuring of micron to submicron features in components and devices, which are used in various end products in the consumer electronics, computer, communications, and other industries. It offers semiconductor memory yield systems used to manufacture dynamic random access memory devices; traditional silicon wafers; ultrathin silicon wafers used in the three-dimensional packaging applications; sapphire wafer scribing systems used in manufacturing light emitting diodes (LEDs); and laser liquid crystal display repair systems to enhance yields in the manufacture of flat panel displays. The company was founded in 1944 and is headquartered in Portland, Oregon.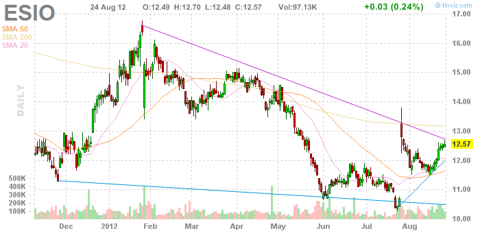 Chart: finviz.com
IXYS Corp. (NASDAQ:IXYS)
IXYS Corporation, an integrated semiconductor company, designs, develops, manufactures, and markets power semiconductors, digital and analog integrated circuits (ICs), and systems and radio frequency power semiconductors worldwide. Its power semiconductors include power metal-oxide-silicon field-effect transistors; insulated-gate bipolar transistors; and thyristors and rectifiers, such as fast-recovery epitaxial diodes, which are primarily used to control electricity in power conversion systems comprising uninterruptible power supplies and switch-mode power supplies; motor drives; medical electronics; and renewable energy sources, such as wind turbines and solar systems. The company was founded in 1983 and is headquartered in Milpitas, California.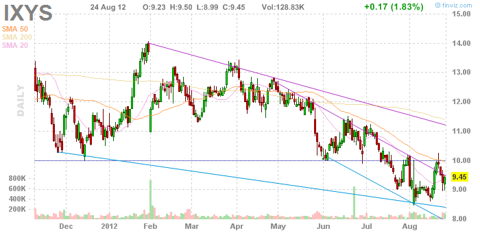 Chart: finviz.com
O'Reilly Automotive Inc. (NASDAQ:ORLY)
O'Reilly Automotive, Inc., together with its subsidiaries, engages in the retail of automotive aftermarket parts, tools, supplies, equipment, and accessories in the United States. The company provides new and remanufactured automotive hard parts, including alternators, starters, fuel pumps, water pumps, brake system components, batteries, belts, hoses, temperature control, chassis parts, and engine parts; maintenance items comprising oil, antifreeze, fluids, filters, wiper blades, lighting, engine additives, and appearance products; and accessories, such as floor mats, seat covers, and truck accessories. The company was founded in 1957 and is headquartered in Springfield, Missouri.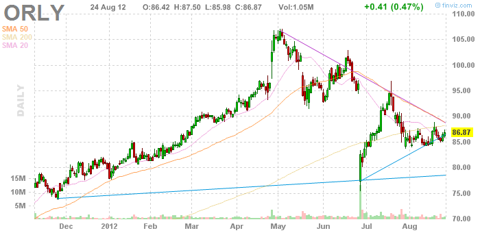 Chart: finviz.com
Disclosure: I have no positions in any stocks mentioned, but may initiate a long position in ESIO over the next 72 hours. I wrote this article myself, and it expresses my own opinions. I am not receiving compensation for it (other than from Seeking Alpha). I have no business relationship with any company whose stock is mentioned in this article.