RioCan Real Estate Investment Trust's (OTCPK:RIOCF) decision to sell a 50% stake in two new development properties for C$220-million was given the thumbs up by Bay St. analysts.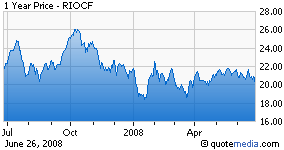 The country's largest REIT by market capitalization said the Canada Pension Plan Investment Board is buying an interest in developments in Calgary and Toronto from RioCan and its partner Trinity Development Group.
Before the deal RioCan held a 60% interest and Trinity a 40% stake in a Calgary center called Jacksonport and another development in Toronto's west end. RioCan and Trinity will have a 25% interest in both properties and will jointly manage them.
Mandy Samols, an analyst with Raymond James said:
We view the transaction favorably strategically as the new joint venture will extend RioCan's relationship with one of Canada's largest pension funds.
Ms. Samols, who expects more deals between the parties, estimated RioCan made about C$18-million on the deal.
Gail Mifsud, an analyst with Blackmont, reiterated her "buy" rating on RioCan, citing is markets share and clout among retailers, its renew focus on urban areas in Canada and the three million of development the REIT has in the pipeline.