Johnson & Johnson (NYSE:JNJ) is an attractive dividend paying stock, offering an above-market average dividend yield of 3.5%. The company has a well diversified business model, and to improve upon margins and focus on more profitable business lines, Johnson & Johnson recently indulged in acquisitions and divestitures. Recently, the acquisition of Synthes proved to be a successful one, and it is expected that its contribution to profits will continue in future. The recent quarter's bottom line was affected by some unusual items, which in turn led to a depression in second quarter earnings. Since June this year, the stock price of Johnson & Johnson has increased by more than 8% to ~$68, and we expect the price appreciation trend to continue.
The diversified business approach is expected to continue, and management is open to new ideas. In future, the company might sell off those business operations that are experiencing slow or negative growth. Sales in the recent quarter missed forecasts. Worldwide sales for the second quarter were $16.5 billion, down 0.7% as compared to the second quarter of 2011. The decrease in sales was mainly due to currency movements, which caused sales to decline by 4.2%, as the company is largely dependent on its international revenues, which contribute more than 55% to total sales.
Revenue Breakdown
Click to enlarge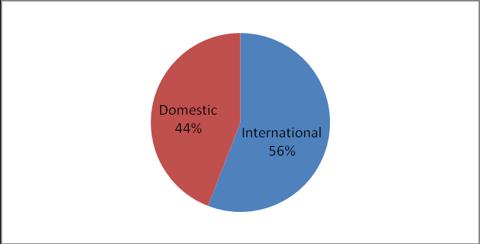 A positive sign was sales increasing by 3.5% on an operational basis.The successful acquisition of Synthes for a purchase price of over $20 billion contributed 1.2% to the operational sales growth. Synthes is expected to have a significant contribution to the sales growth for the company
Future earnings are expected to be better than the last quarter, as Johnson & Johnson is focusing on its core and profitable segments. Last quarter, the unusual items that contributed to depressed earnings were nearly $2.2 billion, consisting mainly of write offs and litigation costs. Johnson & Johnson is highly sensitive to currency movements.
Accelerating efforts by authorities to overcome the crisis in Europe and stabilize the eurozone, will curtail the strengthening of the dollar relative to other currencies. This will directly benefit the company's revenues and profitability, as a majority of the revenues (55%) are dependent upon international markets.
However, if the dollar was to get stronger, it would adversely affect the company's performance. Recently, the development of an Alzheimer drug by JNJ and Pfizer Inc. (NYSE:PFE) failed in its late trial stage; failure of the drug might worry investors in the short term.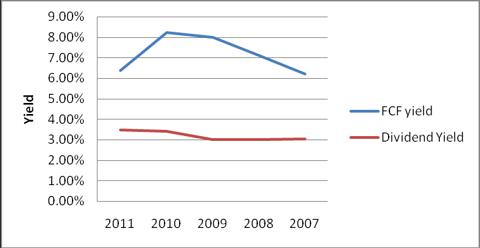 Source: Bloomberg and Qineqt's estimates
Johnson & Johnson is offering a dividend yield of 3.5%, which is higher than the average market dividend yield. The company's yield is higher than its competitors Covidien plc's (COV) 1.6% and Becton, Dickinson and Company's (NYSE:BDX) 2.4%, making it an attractive stock. Dividends are the main driver for the company's stock, and JNJ has been able to maintain a consistent dividend yield in the past. Dividends are well supported by the company's free cash flow.
Free cash flow yield exceeding the dividend yield indicates that the company is paying off dividends without any cash shortages. Lower and comfortable levels of debt, and a debt-to-equity ratio of 29% as compared to the industry average of 81%, make it possible for the company to raise debt in future if it ever runs short of cash.
The company's forward looking P/E ratio of 12.5x, compared with Covidien plc's 12.7x and Becton, Dickinson and Company's 12.7x, reflects that the stock is correctly priced.
As treasury yields in the economy are at their historical lows, Johnson & Johnson's dividend yield of 3.5% adds it to the portfolio for investors who are looking for high dividend income. We recommend a buy on Johnson & Johnson. The stock is trading near its 52-week high and a rise in treasury yields could make the stock less attractive.
Disclosure: I have no positions in any stocks mentioned, and no plans to initiate any positions within the next 72 hours.
Business relationship disclosure: The article has been written by Qineqt's Healthcare Analyst. Qineqt is not receiving compensation for it (other than from Seeking Alpha). Qineqt has no business relationship with any company whose stock is mentioned in this article.