Recently, Whole Foods Market, Inc. (NASDAQ:WFM) announced that the company is planning to triple its store count to 1,000 and boost sales by opening locations in smaller markets. In an interview in Austin with Bloomberg writers Leslie Patton and Bryan Gruley, the chain's co-chief executive officer of Whole Foods, Walter Robb, explained,
We're accelerating growth. That's going to take us places we have not been to before.
As Bloomberg's Patton and Gruley explained,
Supermarkets are fighting for share as Americans eat out more and grocery-store sales stagnate. Industry revenue will grow an estimated 0.4 percent to about $491 billion this year (according to a June report from researcher IBISWorld Inc). Sales at Whole Foods may rise 16 percent to $11.7 billion in the company's fiscal 2012 (according to data compiled by Bloomberg).
Whole Foods, which boosted profit for three years running, has become increasingly valuable to investors and the company trades at more than twice the valuation of the Standard & Poor's 500 Index.
Click to enlarge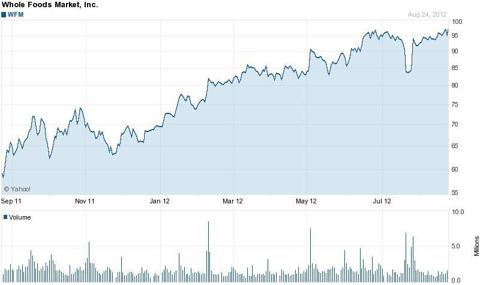 Whole Foods: The Smaller Format Concept
As Patton and Gruley (with Bloomberg) wrote,
Whole Foods is also planning to open more stores in smaller markets -- those with populations of about 75,000 are up for consideration. Whole Foods has recently opened locations in Glen Mills, Pennsylvania; West Des Moines, Iowa; and is targeting Wichita, Kansas for another.
Whole Foods may open stores as small as 15,000 square feet and as big as 75,000 square feet, (according to company filings) and the increased expansion in the shopping center sector should benefit several of the company's landlords - notably the REITs.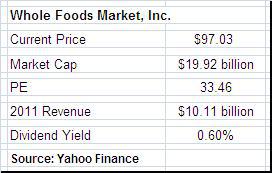 The Whole Foods REIT-Lords
Shopping center construction remains at all time lows as the percent of total construction nationwide is close to 0.5 percent, a record low and far below the long term average of 2.4 percent. Accordingly, this benefits the companies that own the top one or two shopping centers in a particular sub-market, as they face less competition from new construction.
Owning the best shopping center in town is important - especially when the center is anchored by Whole Foods. Typically, REITs want to own the top one or two centers in the best 3 mile radius and because REITs have superior access to capital, they are able to invest in the highest quality assets and maximize shareholder value.
Weingarten Realty Investors (NYSE:WRI) has over six decades of shopping center experience and the Houston-based REIT became a public company in 1985. Earlier this year, Weingarten sold off its wholly-owned industrial portfolio (52 properties) to DRA Advisors LLC for a price of $382.4 million (representing a capitalization rate of approximately 8 percent).
Building a circle of competence is important for investing and Weingarten has further strengthened the company's "core of competence" by "sticking to its roots" of being a dominant grocery landlord and necessity-based REIT. By selling off non-core assets, Weingarten will be in a better position to grow its brand and enhance occupancy and FFO. Weingarten owns 316 properties - 6 of which are leased to Whole Foods - with an average portfolio occupancy of 93.4 percent (source: SNL Financial).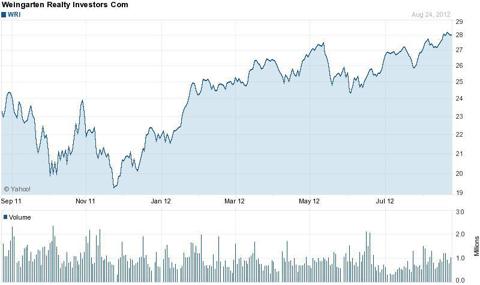 Regency Centers (NYSE:REG), founded in 1963 and public since 1993, owns 354 shopping centers (including a few single tenant properties) and by focusing on infill grocery-anchored centers (in areas with household incomes above the national average) the Jacksonville-based REIT has become the largest landlord for grocery stores.
Regency's strategy of investing and developing highly productive grocery-anchored shopping centers in trade areas with above-average income has been a leading differentiator that has resulted in reliable income and growth. Regency's current occupancy rate is 94.0 percent (source: SNL Financial) and the dominant grocery landlord has a proven strategy that has resulted in a recession proof model that generates consistent customer traffic and repeatable revenues. In addition, the grocery-based model is not as threatening to grocers as the other retailers that are impacted by e-commerce sales.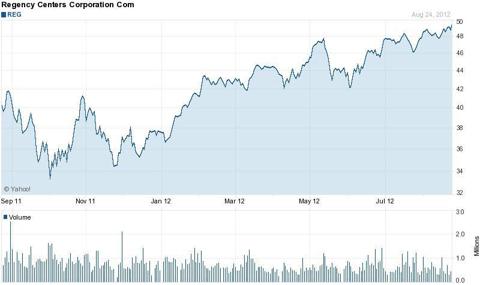 As the largest shopping center landlord in the country, Kimco Realty (NYSE:KIM) owns and operates 926 properties across 44 states, Puerto Rico, Canada, Mexico, and South America. This diverse portfolio includes many brand name retailers and the "fortress" platform remains the largest landlord of Costco (NASDAQ:COST), Home Depot (NYSE:HD), TJ Maxx (NYSE:TJX), Target (NYSE:TGT), Ross Stores (NASDAQ:ROST), Walgreen (WAG) and Whole Foods , all strong investment grade companies.
Kimco has a BBB+ S&P rating (one of just eleven REITs with a BBB+ or higher rating) and with ample liquidity the "blue chip" REIT has a focused strategy of building stable and growing recurring income. Kimco has 12 Whole Foods stores in its portfolio and the REIT's overall occupancy rate is 93.5 percent (source: SNL Financial).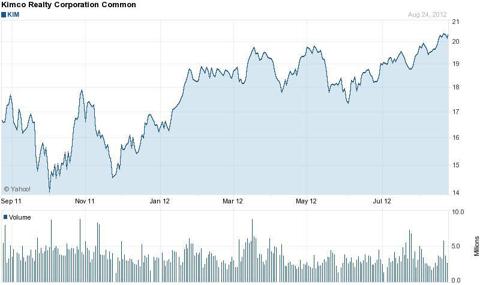 Investing in Brick and Mortar Leased to Whole Foods
Whole Foods (trading at $97.03) is an excellent grocery chain that continues to build a wide moat of brand dominance (over $10 billion in sales in 2011). The "best in class" brand that opened its first store in 1980 now has more than 320 locations in the U.S., Canada and the U.K. The company recently signed eight new leases averaging 38,600 square feet in size in North Burnaby, B.C.; Alpharetta, GA; Savannah, GA; Maple Grove, MN; Albany, NY; Brooklyn, NY; Memphis, TN; and Toronto, Ontario. These stores currently are scheduled to open in fiscal year 2013 and beyond (source: WFM second quarter results).
Landlords of Whole Foods, as well as the other resilient grocery chains, should continue to experience strong occupancy performance. The shopping center REITs are obtaining higher quality tenants that should provide significant value creation in the form of higher earnings and higher NAVs.

Also, a benefit to the REITs that lease to the top one or two tenants (like Whole Foods) is that they will attract higher quality shop tenants - leading to added overall quality and more higher embedded growth in revenue.

Source: SNL Financial
Disclosure: I have no positions in any stocks mentioned, and no plans to initiate any positions within the next 72 hours. I wrote this article myself, and it expresses my own opinions. I am not receiving compensation for it (other than from Seeking Alpha). I have no business relationship with any company whose stock is mentioned in this article.