Typically when a company with a market cap of 13.38 billion and free cash flow of 1.61 billion says they are looking to buy smaller companies, it gets our attention. Especially when it is the CFO saying it.
On July 30th (after OCZ earnings no less), Seagate's (NASDAQ:STX) CFO Pat O'Malley announced that Seagate was looking to buy a Solid State company. "We look at all technology product providers (for M&A) but what I would say is that on the enterprise SSDs, there's probably only one of them that really makes any significant money," he said in response to a question about Seagate's interest in OCZ Technology (NASDAQ:OCZ).
Currently OCZ, STEC (NASDAQ:STEC), and Fusion-io (NYSE:FIO) are all losing money as of last quarter but we have to read in-between the lines. Seagate is looking to buy a SSD company... it's just that simple.
Let's step back for a moment and try to see the market through the Borgs, I mean Seagate's perspective and then look at who they might buy.
History Lesson
Historically Seagate has been openly hesitant to jump on the SSD bandwagon as evidenced from comments in Oct 2010, where the CEO Steve Luczo said that he doesn't see pure SSDs as being the future.
Then on Jan 26, 2011 an interesting PDF was published by Seagate that basically said in a nut shell that SSDs will remain a niche product.
Change of Heart
On Jun 25, 2012 they announced that they were buying a stake in Densbits and on July 31, 2012 they hired Micron Technology's (NASDAQ:MU) Gary Gentry to head up its SSD business.
Gentry has over 25 years of experience in the storage industry, including most recently as the GM of the Enterprise SSD Division of Micron Corporation. Prior to that, he held leadership positions focusing on solid-state technologies at Spansion Corporation and Storage Genetics. He also served as CMO for Maxtor, and provided strategic consulting to Hitachi Global Storage Systems. While at Seagate he held various management positions including VP, strategic marketing and planning.
Large Players Moving In
SSD is the future, no doubt, and some of the bigger players want in on the action. EMC (EMC) bought out Xtremeio for 450 million. Apple (NASDAQ:AAPL) bought out Anobit for about 500 million. LSI bought out Sandforce for 370 million. IBM (NYSE:IBM) just recently bought out Texas Memory for an undisclosed sum. Micron is moving into Solid States and they have factories that can make the special ram that SSD require. Western Digital (NYSE:WDC), Kingston, all joined the SSD game, the list goes on and on.
Whom to Buy?
Sure Seagate could try to organically grow its SSD Division but it would be a hell of a lot cheaper in the long run to acquire the people, patents, technology and business relationships rather than try to build it from the ground up money- and time-wise.
Especially when STX stock is at an all-time high.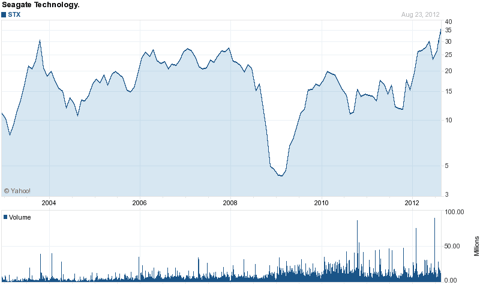 (Don't you wish you had bought STX in 2009?)
Seagate has many choices but they do need a company that has all of the above and is growing.
Fusion-io - does not fit the bill as the market cap of the company is a staggering 2.7 billion. While its margins are stellar at 55.74% and its growth is very good (still negative gross income) it's just a bit too expensive for Seagate to digest.
STEC - is the whipping boy of the SSD world right now. Margins are down from the mid 40s to the mid 30s year over year and growth (or lack of) is coming in at -50.6%. A brain drain is also rumored to be occurring. The only real positive thing the company has going is 207.17M in cash and 0 debt. Of course Seagate is in no need of cash whatsoever so this is simply not a candidate.
That leaves...
OCZ - A few weeks ago Fudo made a claim that OCZ was going to get bought out via Seagate. Afterward Theo Valich of BSN confirmed the deal. While off on the timing (predicting the future is difficult) his assessment seems logical. The companies fit very well together.
OCZ has great technology in both the consumer and enterprise realms. From Wikipedia:
"In November 2010, OCZ acquired intellectual property from Solid Data Inc., for Fibre Channel, SAS, and controller assets for solid state drives. The cost was approximately $950,000, paid with restricted common stock and cash.[4]

In March 2011, OCZ acquired Indilinx Co., Ltd, a privately held fabless provider of flash controller silicon and software for SSDs. OCZ gained intellectual property, including approximately 20 patents and patent applications related to the business, for approximately $32 million of OCZ common stock. Indilinx will continue to produce and supply its line of controller products to SSD manufacturers and OEMs on a global basis. The Indilinx controller business and its 45 employees will remain intact under the leadership of Bumsoo Kim, the founder and President of Indilinx, and Hyunmo Chung, the Chief Technology Officer of Indilinx.[5]

On October 5, 2011, OCZ announced an intent to take over PLX Technology's Abingdon R&D department (formally Oxford Semiconductor), which specializes in storage SoC development.[6]

On January 9, 2012 OCZ announced its acquisition of SANRAD Inc., a privately held provider of flash caching and virtualization software and hardware. The SANRAD team remains as the new OCZ Israel office"
The controller chips will give them a cost advantage over any company that is unable to make their own controller chips. The rest just add to OCZ's software development and virtualization efforts. The patents provide legal protection.
Given that OCZ market cap is approaching 400 million as of Aug 24th, 2012, and given the technology OCZ has, it is not insane to look at the figures. Theo from Brightside was leaking 1.14 billion, let's take a conservative guess and roll them back a little bit to say 775-925 million to get an estimation of what a buyout could occur for.
Remember, LSI bought Sandforce for 370 million. Could OCZ's Indilinx (controller chips) be worth a similar amount since OCZ has been building them up for quite some time? Will OCZ use its newest controller chip, Barefoot 3, as a direct competitor to Sandforce?
800 Pound Gorillas, Ocz Financials, and why being assimilated is logical
The upcoming SSD war is about to heat up. The super powers (WD, Seagate, IBM, and EMC, to name a few) are noticing the profit potential.
Nothing this game-changing has come along since the mid 1990s when graphics cards (3dfx, nVidia anyone?) changed the entire ecosystem much like SSDs are doing to now.
That being said, when multiple 800 pound gorillas enter your market if you can't beat them, you join them. OCZ simply cannot take on a protracted price war long term against the gorillas.
OCZ needs more cash, they have a lot of inventory they built up for this quarter and the next one that will convert to accounts receivable. OCZ currently has 43.23 million in cash and a 35 million dollar line of credit that is expandable to 100 million. Gross margins went from 20% to 25.2% year over year and are estimated by the company to hit 30% in Q4. The company is not profitable at this time but neither is Fusion-io or STEC as of last quarter.
The Squeeze Makes You Stronger
Another interesting figure is 38% of OCZ is short according to yahoo finance. This is down from 40.3% from the prior two weeks.
This reminds me of Under Armour's (NYSE:UA) motto, "The Squeeze Makes You Stronger." The higher OCZ goes the more shorts will be compelled to cover thus it is possible a short squeeze could occur. It would be very interesting to see what the stock does if a buyout were to occur with such a high short position present.
Assimilation?
Seagate needs OCZ to get its SSD ship going in the right direction and to make sure it is a leader in the SSD area. OCZ has the tech, people, and patents to make this happen but they need Seagate's money to help them grow.
It's an assimilation that's win win for both.
Disclosure: I am long OCZ. I have owned FIO in the past. I wrote this article myself, and it expresses my own opinions. I am not receiving compensation for it (other than from Seeking Alpha). I have no business relationship with any company whose stock is mentioned in this article.