The 2012 European situation has made the stock market extremely volatile and has forced investors to flee to safety. With the economic and political climates only becoming more tumultuous, I have been concentrating on high-yield opportunities. Blue-chip dividend companies are well-known, but there are attractive equities with high yields going ex-dividend every week. This strategy can work in one of two ways: either you buy before the ex-date to receive the dividend or buy after if the stock declines far below the after-tax amount of the dividend. Regardless of your short-term strategies, these equities can be attractive longer-term investments depending on your individual circumstances.
Buying the stock to receive the dividend is intuitive, but many have contacted me requesting further details on the second strategy. Investopedia has a great example of how this works. To explain this, I will use AT&T (T) as an example. AT&T declared a $0.44 dividend to shareholders of record on July 10, 2012. On the ex-dividend date, the stock price should decline by the after-tax dividend amount, with an assumed tax rate of 15% because many dividends qualify for a preferential tax rate. It is true that you can personally avoid immediate taxation by owning the security in an account with beneficial tax treatment, but this serves as a benchmark.
As a result, an investor would expect the stock price to decline by $0.37 = [$0.44 * (1-.15)]. If AT&T declined by more than $0.37 in the absence of negative news, you might have an attractive opportunity. If you would like to be more conservative, you can ignore the tax aspects and only trade if the stock price declines by the full dividend amount. Executing this strategy can generate returns over short periods of times, but should only be performed on companies that you would be comfortable owning.
To focus on these opportunities, I ran a screen with a focus on relative safety for the investments, as the objective is to concentrate on liquid companies that are affordably priced. I began with a specification of a dividend yield greater than four percent and an ex-dividend date within the next week. To provide some layer of safety, I narrowed down the environment by looking at companies with market capitalizations greater than $1B, P/Es between zero and 20, and institutional holding percentage in excess of 15 percent (except ADRs).
While not a precise requirement, I prefer companies that have underperformed the S&P 500 year-to-date as it indicates reduced downside relative to peers. With the impending European crisis, I now avoid companies with significant European exposure. This is summarized below:
Dividend Yield ≥ 4.0%
Ex-Dividend Date = Next Week
Market Capitalization ≥ $1B
P/E Ratio: 0-20
Institutional Ownership ≥ 15%
Ideally Modest S&P 500 Underperformance
Minimal European Exposure
After applying this screen, I arrived at the equities discussed below. Although I envision these as short-term trading ideas, you still need to exercise caution. The information presented below should simply be a starting point for further research in consultation with your professional financial advisor before you make any investment decisions. My goal is to present new companies to you and provide a brief overview of their recent developments, and this should not be considered a substitute for your own due diligence.
Consider: Private Equity
Prospect Capital Corporation (PSEC): 10.63% Yield - Ex-Dividend 8/29
Prospect Capital is a specialty finance company that operates primarily in the private equity and specialized investment categories with a focus on secured lending. PSEC trades at a relatively low 6.4 P/E, which is consistent with the depressed multiples of other financial services companies. This hidden treasure can be your gain.
Private equity companies are attractive dividend producers because they frequently revitalize or improve existing companies and are able to return excess cash quickly. These can be volatile companies because their ventures often do fail, but once they have successful investments, they can pay higher than average dividends. Prospect's well-established history supports my belief in the management team's ability to continue success.
The firm prefers to make small investments ($5-$50M) in small-to-mid size North American companies. Prospect has been very active in financing activities, and has been successful in finding demand for its revolving credit facility. In June 2010, Prospect began distributing dividends monthly rather than quarterly, which accounts for the perceived dividend decrease from $0.40 to $0.10. The dividend has held steady around $0.10 per share since then, but such a high current yield dividend growth is not a requirement.
Early this year, Prospect agreed to acquire a specialty finance company, First Tower Corp., in a cash/stock deal valued at approximately $233 million. First Tower specializes in offering installment loans to consumers for mid-sized consumer purchases. Based upon TTM earnings, the deal would offer a current yield of 21%; therefore, should be an accretive acquisition. This is another case of the rich getting richer, and shareholders should take advantage. Prospect reported annual earnings this week and net investment income nearly doubled year-over-year. Private equity investments are complex due to the scale and diversity of their operations so I strongly recommend that you read the earnings release for further details of investment activities. The company has been very active recently and entered into 11 new investments since June 30 alone.
The stock has been largely immune to poor equity performance in 2012 and has risen from $9 to $11 and currently sits just five percent from its 52-week high. Despite this strong appreciation, the P/E is still below seven and the yield is in excess of eleven; therefore, I am bullish on Prospect Capital's future. Many companies with yields in excess of 10 percent can be yield traps, but Prospect has withstood the test of time and also offers capital gains opportunities. None of the loans originated in the past four years have gone on 'non-accrual' status, highlighting management's ability to select attractive investment opportunities.
Avoid: Leasing Companies
TAL International Group (TAL): 7.09% Yield - Ex-Dividend 8/30
TAL International is one of the leading container leasing companies that specializes in leasing containers to shipping line customers. Revenues have been growing at a very strong rate (~25%), but virtually all of the expansion is occurring in Europe. Over 40 percent of operations involve Europe, and over the past twelve months, a staggering 70 percent of revenue growth involved Europe. The majority of the lease portfolio is long-term, but with the growing concern in Europe, that does little to mitigate my concerns related to the Eurozone crisis.
I like the leasing business, and TAL has solid fundamentals, but I have to shy away for dividend capture purposes due primarily to the European exposure. The stock has declined 1.5% in the past month and now only outperforms the S&P 500 by 5.5% year-to-date; last quarter, it was leading the S&P in excess of 14% over the same period.
Avoid: Amusement Parks
Cedar Fair LP (FUN): 4.97% Yield - Ex-Dividend 8/31
Cedar Fair is one of the largest operators of regional amusement parks, including Knott's Berry Farms, Dorney Park, Kings Dominion, and Worlds of Fun. Cedar Fairs has a very interesting history and has faced significant financial difficulty in 2009 as discretionary spending dried up due to the recession. According to one school of thought, you would have people delaying vacation and having one vacation at a large park such as Disney (DIS). On the other hand, regional amusement parks could benefit from the economic state because families would select a regional, less expensive vacation. The company suspended the dividend shortly thereafter, and I personally stopped following FUN as an investment.
To my surprise, not only has the dividend been reinitiated, but the yield is a solid five percent. Cedar Fair has been very resilient and fought hard to turn the company around. Revenues are up as combined attendance has increased at the same time the operating margins have improved. The company has climbed 21% this quarter to log impressive 79% twelve month gains, but there are many red flags attached to this high yielder. The current and quick ratios are 0.51 and 0.72, respectively, indicating that the company is very tenuous financial footing.
While the financial condition has improved greatly, the $1.6B debt load is crippling and means that just one disappointing summer can cause the company to fail to meet obligations as they come due. Cedar Fair is a fascinating company that continues to surpass estimates, but the combination of high debt and P/E (14.5) gives me concern about initiating a position.
Consider: Aerospace and Defense
Lockheed Martin Corporation (LMT): 4.34% Yield - Ex-Dividend 8/30
Lockheed Martin is an advanced technology manufacturing company that specializes in defense and other related fields. Lockheed is the company behind the F22 fighter plane, as well as anti-missile defense systems. The company has the distinction of being the largest provider of IT services and training to the United States government.
The stock has essentially remained in a tight range between the high 60s and low 80s since the first quarter of 2009, but has been on a roller-coaster ride recently. In April, LMT set a new 52-week high of $92 before tumbling back into low $80s two months later only to set a new high. If Lockheed can breakthrough its old high, it could rally further to support a P/E in the low teens but there is always concerns regarding Lockheed when the military budget is on the chopping block. With the super committee's failure to make a decision, defense spending is facing $600B in cuts, which could spur further downward pressure.
Due to the nature of operations, Lockheed is highly leveraged to government spending and Goldman recently estimated that the company has 97% exposure to "government agencies". Despite the potential decline in government spending, investors can collect a respectable dividend that has been exhibiting respectable growth in the past decade. Not only does Lockheed has a strong yield, the company is dedicated to repurchasing shares and repurchased over $400M shares so far this year. Sales growth is slow at most divisions but that has not stopped the company from soaring to new highs.
Consider: Tobacco Companies
Lorillard Inc. (LO): 4.84% Yield - Ex-Dividend 8/29
Lorillard is one of the "big tobacco" companies with brands including Newport, Kent, and True. I have invested in both Altria (MO) and Philip Morris (PM) with tremendous capital gains and dividends over the years. Lorillard does not have brands that are as strong, but it is a similar investment hypothesis. U.S. cigarette volume is declining, but tobacco is still a strong worldwide seller. Furthermore, declines in cigarettes are being partially offset by demand for smokeless tobacco and other products. Tobacco companies are both mature and safe, which presents the opportunity to return money to shareholders via dividends and share repurchases. Lorillard recently announced a $500M buyback plan, which is approximately three percent of the shares outstanding. For these reasons, I hold PM in my "Great Recession II" portfolio. The stock has appreciated 9.5% this year despite tumbling nearly 10 percent in just the last month.
A short-term catalyst for this industry could be the recent U.S. appeals court ruling against graphic health warnings on cigarette packages.
Consider: Utility Companies
Integrys Energy Group, Inc. (TEG): 4.93% Yield - Ex-Dividend 8/29
UNS Energy Corp. (UNS): 4.32% Yield - Ex-Dividend 8/31
I wrote a detailed explanation of how I analyze utility companies in March, and in brief I focused on the number of customers and geographic locations. Larger companies enjoy scale benefits and are able to profit more from smaller rate increases. While geographical differences exist for regional utilities, the underlying business is essentially the same: a stable, cash-cow business that returns most profits to investors via dividends and share repurchases.
Integrys and UNS Energy service 1M and 0.6M customers in the Midwest U.S. and Arizona, respectively. Integrys primarily operates in the regulated utilities markets, but has one non-regulated subsidiary. UNS's markets are in the final year of a base rate freeze which dates back to 2008. The company recently filed for a rate increase which should increase rates by approximately 15%. UNS is cheaper than Integrys, but its yield is 70 basis points lower. Overall these two utilities are quite average, but utilities generally are useful for dividend capturing.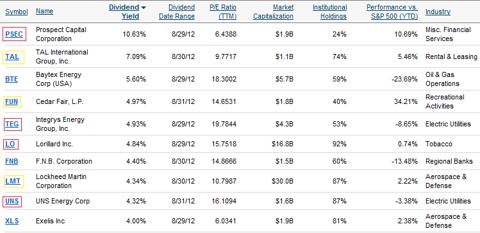 Disclosure: I am long MO, PM, PSEC, T. I wrote this article myself, and it expresses my own opinions. I am not receiving compensation for it (other than from Seeking Alpha). I have no business relationship with any company whose stock is mentioned in this article.