Logic may dictate that Isis Pharmaceuticals' largest multibillion-dollar blockbuster drug is its anti-lipid drug Mipomersen. After all, Genzyme (GENZ) has already paid Isis 325 million dollars upfront, and is scheduled to pay an additional 1.575 billion dollars in milestone payments.
True, Mipomersen has already proven to reverse atherosclerotic plaques in the murine model at unprecedented efficacy (up to 92%). It has also been able to lower lipid levels never achieved with traditional medicines in patients afflicted with homozygous hyperlipidemea.
I would even venture to say when fully approved, it would beat Pfizer's (NYSE:PFE) Lipitor in gross annual sales and profits. So shouldn't Isis' Mipomersen be its largest medicinal candidate in terms of gross revenues and profitability potential?
No, not at all. While Mipomersen will turn out to be wildly successful, Isis' hidden gem is its obesity-busting diabetic drug ISIS 113715, a second-generation antisense inhibitor of protein tyrosine phosphatase 1b. It is this enzyme that inhibits insulin receptors in type 2 diabetics. This is no small feat, as there are over twenty-two million Americans suffering from this disease.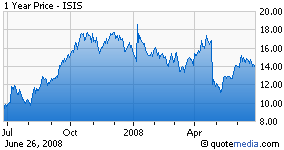 Even more important, a whopping 63% of Americans, or roughly 191 million people, according to the CDC, are overweight. A third of those are obese. And it is this drug that normalizes glucose but does not cause hypoglycemia like some oral diabetic agents. It also decreases circulating lipids to the point of decreasing the amount of fat in an over satiated (overfed) individual.
This effect has been noted in several scientific publications discussing inhibiting tyrosine phosphatase 1b. The problem was finding a specific antisense molecule that inhibited this individual phosphatase and not the general class of 1b phosphatases. Isis owns that particular antisense molecule.
I cannot overemphasize the importance of this finding. This medicine could be America's answer to its obesity epidemic.
Disclosure: Long ISIS