Although anything could happen during Monday's trading, the pre-market as of Monday morning shows Apple (NASDAQ:AAPL) will probably open sharply higher than its Friday $663.22 close.
Obviously, news of Apple's win over Samsung in court is sending the stock to new all-time highs, but how high is too high?
I plotted the stock price with how it has traded against several PE levels (based on trailing 12-month earnings) over the past year and a half or so.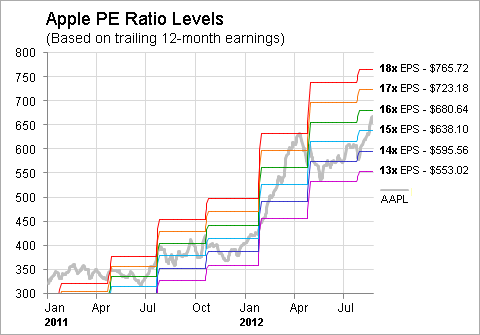 The key thing to remember about this chart is that the earnings levels are based on when those earnings were released, not the end of the quarter. For example, the last quarter ended June 30, but the market was not able to react until after hours on July 24 when the earnings report was issued.
In my opinion the stock has been trading at overly inexpensive PE levels for months now, but obviously I'm biased because I own Apple shares.
Nonetheless in April, the stock seemed to peak at around 18 times trailing earnings. That 18x level today sits at just over $765.
Will it get there soon? I think it might, because the market for Apple's option pricing shows some relatively significant bullish action - with out-of-the-money put options getting pretty cheap and call options getting expensive.
* * *
"Cheap" puts compared to "expensive" calls
Last March, just before Apple shot through the $600 level for the first time, out-of-the-money Apple put options were extremely cheap compared to the OTM calls. Or you could look at it another way, that call options got extremely expensive compared to the puts.
Take a look at this chart.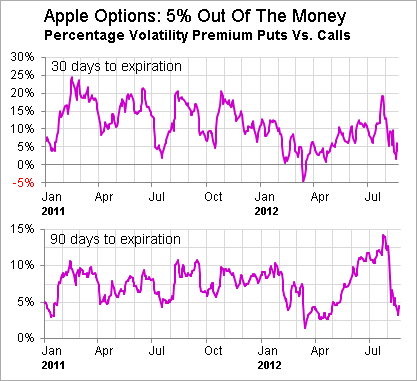 It shows the relative implied volatility between 5% OTM puts and calls expiring in both 30 days and 90 days (based on data from ivolatility.com). The lower the line goes, the less expensive the OTM puts are compared to OTM calls. Those puts got "cheap" in mid March, and they're getting cheaper once again.
Cheap puts. Expensive calls. What does it mean?
According to Andrea Kramer at Schaeffer's Daily Option Blog, the market is being "bombarded by last-minute option bulls."
Widening our sentiment lens, we find that today's bullish option betting is par for the course for AAPL. On the International Securities Exchange (ISE), Chicago Board Options Exchange and NASDAQ OMX PHLX (PHLX), the stock sports a 10-day call/put volume ratio of 2.11, indicating that traders have bought to open twice as many calls as puts during the past two weeks.
Plus, she says, "this ratio sits just 12 percentage points from a 52-week peak, implying that option buyers have initiated bullish bets at a much faster-than-usual clip recently."
It's interesting that the options market is getting a lot more bullish and it will be really interesting to see how high Apple's PE ratio might get over the days and weeks ahead.
Disclosure: I am long AAPL. I wrote this article myself, and it expresses my own opinions. I am not receiving compensation for it (other than from Seeking Alpha). I have no business relationship with any company whose stock is mentioned in this article.