Note: The accuracy of this article has been disputed.
In part 1 of this report we showed investors how a Houston-based stock scammer was manipulating the advertising platforms of Google (GOOG), Yahoo (YHOO), IAC Interactive (IACI), and AOL (AOL) to dupe investors into purchasing shares of a worthless company: Chimera Energy (OTC:CHMR), which has no operations, no physical office, one employee, and just $4,549 (no zeros omitted!) in equity based on its most recent financial statements. Chimera claims to have acquired for a monthly fee of $5,000 a technology from a Chinese company whose existence we have been unable to verify. As a matter of fact the only consistent theme encountered in our due diligence has been the extent to which everything related to Chimera is either fabricated or lacks any credibility.
It has now been nearly two weeks since we first wrote about this company yet gatekeepers and regulators have done nothing to stop the company from trading or issuing false and misleading press releases. For this reason we have taken things into our own hands and have uncovered additional smoking gun evidence relating to Chimera Energy such as its fabricated relationship with Pemex; WEIS, S.A being a figment of Charles Grob imagination; and the identity of the lawyer who acted as a gatekeeper to Chimera.
Originally part 2 of this report was supposed to cover Nova Mining (NVMN.OB) the sister fraud to CHMR operated by the same promoters. However after receiving over a dozen emails from investors that had been duped and suffered losses we decided to dig even further and bring to light additional revelations relating to CHMR in the hope that investors reading this will stay away and/or get out while they still can.
Here is an example of one email from an elderly investor aged 74:
Greetings:

Excellent article. A short time ago, I had read the press release and viewed their video. Knowing the fracking uproar from environmentalists and local governments, a waterless procedure seemed to be a promising enterprise.

This week I had intended to watch the stock and perhaps purchase some. Based on your article, I now am aware that the company is a scam and have saved some of my limited investment money. [It provides my retirement income now.]

I agree with you that the companies that take their advertising $$$ should be more aware of them and do something to police them in some way. However, even more important is that there should be some way to get the SEC or other governing agency to take "immediate" action to stop them. These companies should be vetted prior to being able to be listed on any brokerages or OTC stock lists.

What they are doing is the same as a bank-robbery-in-progress by defrauding the elderly [like me at 74 yrs old]. I know there is a state law in FL, where I live, and possibly many more states, where it is a crime to defraud anyone over 65.

Taking money from people living in more than one state should involve inter-state commerce and the FBI should also have jurisdiction.

Please keep up the good work and spread the word other journalists to keep their eyes out for similar set-ups to then write articles like yours to expose them.

You saved me a little money this week and I want to thank you for that. You are a credit to your profession. Seeking Alpha is one of my favorite companies and one I trust very much.

Name Withheld
One must ponder how an educated elderly man who is able to write so eloquently was almost duped, only to be saved by an article written by Infitialis.
The answer is that CHMR appears to be an internet based fraud that uses gatekeepers to manipulate the appearance of the company via the internet. Even educated investors that attempt to uncover any truth to the company are met with thousands of articles that are strategically distributed with relevant keywords to disguise any negative postings or press articles. It is nearly impossible to combat this wave of "spin" that is applied for related keywords. Even worst the perpetrators of this scam have hired message board posters on Yahoo! Finance and various investor sites to constantly, almost 24/7, post only positive one liners about the company. In this way investors complaining about losses get pushed down with conjecture-filled posts updated almost every hour and placed at the top of the page.
Does Charles Earl Grob Even Exist?
Since the date our piece was published we have tried to reach Charles Grob the CEO of Chimera each and every day calling the virtual office and another number we found. Not once has anybody answered nor have any of our voicemails been returned. Several other investors have confirmed that they have not once heard from Charles Grob. A secretary at Servcorp, the virtual office company used by Chimera to answer the phones, told us that she has never met Charles Grob and that as far as she knew he had signed up for the service over the internet.
The Gatekeepers
In part 1 of our report we focused on Google as the primary gatekeeper and facilitator of this scam. After having witnessed the full extent of how this machine works we can provide even more insight into the gatekeepers that are allowing Chimera to perpetuate this apparent fraud on the investing public as well as provide an update from our efforts to contact these gatekeepers.
Google , Yahoo , IACI , and AOL: These companies through their respective ad networks continue to serve ads targeting elderly investors with "fixed interest savings" and "safe mutual funds" as keywords. We have made an attempt to contact all 4 companies yet they have not pulled the ads. Only Rupert Murdoch's WSJ responded swiftly and subsequently pulled the ads. Investors that have been hurt by these ads should consider filing a class action against the search engines as they have had plenty of time to react to complaints as evidenced by WSJ.
Business Wire: We are very disappointed with Berkshire Hathaway's (BRK.A) Business Wire as it continues to disseminate press releases containing total fabrications of companies, contracts, and human beings that do not exist. We have been told by investors that have reached out to both Berkshire Hathaway and Business Wire that they have been looking into the issue and have elevated it to their legal departments, yet we continue to see CHMR issuing press releases daily using these sources. CHMR's account representative in Houston Jessica Anderson has told CHMR investors that it is not her job to verify the authenticity of the content her clients decide to publish. This logic is unacceptable in our view and inconsistent with the code of ethics set forth in Berkshire Hathaway s website:
Specifically, Warren Buffett states:
""…I want employees to ask themselves whether they are willing to have any contemplated act appear the next day on the front page of their local paper - to be read by their spouses, children and friends - with the reporting done by an informed and critical reporter.""
No less than 3 investors we know contacted Business Wire in Houston bringing to their attention that CHMR was an apparent fraud and that even the phone number on the bottom of the press releases didn't work yet Business Wire continues to collect $1,500 per press release as they plaster these fabrications all over the world. At the least we would expect Business Wire to prevent CHMR from tacking on the symbols of major energy companies in each press release they issue.
Business Wire is one of the most strategic pieces in the puzzle as it allows the promoters to put out a constant barrage of fake news daily. Each time they do this the press releases get picked up by RSS feeds and blogs and reverberate through the Internet ranking much higher than any other literature on the company, including this Seeking Alpha piece.
Law Offices of David Loev - David M. Loev, age 42 is the lawyer from Houston that filed the paperwork with the SEC to take public a company with $97k in cash. Mr. Loev is the gatekeeper, without him a company like Chimera would have never been public. Since Dodd & Frank the SEC has made it an issue to prosecute gatekeepers with the same wrath as the perpetrators of financial fraud. In this article readers can review some of the steps that have been taken against gatekeepers. We believe that the SEC should look into the activities of David Loev as he is the gatekeeper who had the audacity to create these securities in the first place. Should the SEC pursue action against Mr. Loev it would not be the first time. In 2005, Mr. Loev was sued by the SEC for writing opinion letters on a Pump and Dump called Integrated Services. A key line from the SEC complaint was this:
"Loev was issued shares in the ISVG offering and sold certain of these shares in the open market for approximately $25,000 in net proceeds."
As part of a settlement with the SEC, Loev consented to entry of an order permanently enjoining him from violating the Securities Act's registration provisions and directing him to disgorge over $25,000 in profits and pay a $25,000 civil penalty.
The Pemex Contract Does Not Exist and Pemex Executives Deny any Relationship with Chimera
Since August 9th, 2012, CHMR has issued no less than 9 Press Releases through Business Wire claiming they had signed a deal with Mexican energy giant PEMEX. Here are links to all the press releases in their entirety:
Quotes from these releases include:

"executed a Memorandum of Understanding with PEMEX" (8/9/2012)
"been scheduled to directly meet with PEMEX" (8/10/2012)
"direct meetings with PEMEX " (8/13/2012)
"oversee the integration of CHMR's new Non-Hydraulic Shale Oil Extraction system with PEMEX " (8/14/2012)
"PEMEX has already identified three Chicontepec Formation wells for use of Chimera's…" (8/15/2012
"Chimera Energy Corp and PEMEX have been in meetings in Mexico city this week" (8/15/2012)
"where PEMEX and Chimera have begun to collaborate on utilizing CHMR's revolutionary exothermic…" (8/20/2012)
"announced the receipt of the official signed document from PEMEX" (8/23/2012)
""I am elated to have this signed official document physically in my hands." (8/23/2012)
Let's be serious for a moment. No legitimate company issues 9 press releases in 11 trading days. It's simply unheard of. Moreover it would be crazy to even entertain the idea that Pemex, a multibillion dollar company, would meet Charles Grob to use a technology he purchased for $5,000 per month less than 30 days ago from a Chinese company whose existence cannot be verified.
This is all a blatant attempt to trick investors into purchasing shares at a price that exceeds the $.0038 paid by the owners of the 20,000,000 free trading shares.
But in the interest of entertainment let us for a moment pretend that somehow someway 31-year old Charles Grob, the sole employee of Chimera Energy pulled it off. Wouldn't you assume that the investor relations department for Pemex would know about this epic and revolutionary development?
On August 22nd, we called the investor relations department for Pemex and spoke to Mrs. Carmina Moreno, one of the Investor Relations Managers. She told us that they are fully aware that Chimera Energy has been touting this hypothetical relationship and that under no circumstance did they have any contract or relationship with Chimera. She told us that Pemex's legal department had started looking into this and that they would consider making a public response as too many investors were calling to ask about this and it was beginning to concern Pemex. We then put out a tweet to investors on our twitter page warning them that investor relations at Pemex denied the existence of any relationship or contracts with Chimera and provided the email and phone number of Mrs. Carmina Moreno for anyone to verify themselves.
On August 24th we received an email from an investor who recorded a conversation with Rolando Galindo - head of investor relations at Pemex. We urge all investors to listen to this conversation as it is yet another piece of smoking gun evidence that confirms there is no relationship between Chimera and Pemex and that the contents of the press release are a complete fabrication:
Recorded Conversation with Rolando Galindo - Head of IR for Pemex: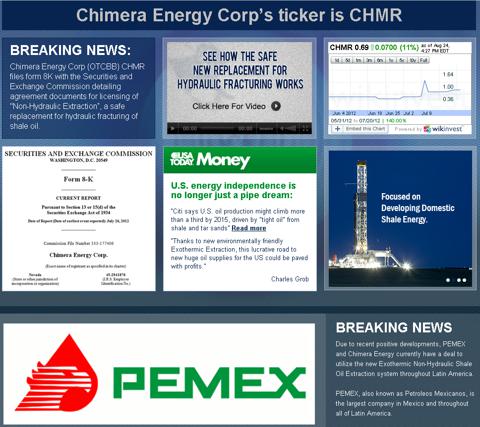 Chimera Energy not only touts a fake relationship and contract with Pemex it has a logo of Pemex on their investor website. This is the page investors land on from the pay per click ads. Also note the fake quote from USA Today by Charles Grob. The audacity of these perpetrators has never before been encountered by Infitialis.
WIES S.A. And Valdamar Perez Rios Do Not Exist
Since August 14th CHMR has been mentioning an outfit named "WEIS S.A." headed by a Valdamar Perez Rios. Chimera has gone so far as to call WEIS an energy "stalwart" in its press releases. Since August 14 we have spent an average of one hour per day searching for the existence of both WEIS S.A and/or Valdamar Perez Rios. We have searched US Corporate Records, Panamanian Corporate Records, Mexican Corporate Records as well as every other tool at our disposal. WEIS S.A simply does not exist as a registered entity. As for Valdamar Perez Rios, we have found an individual named Valdemar with an "e" but no Valdamar with an "a" as is spelled in the press releases. Mr. Rios is supposed to have attended the "University of California San Jose" where he graded with a "Master Degree in Chemical Engineering".
Our research found that there is no University by that name. There is the San Jose State University but there is absolutely no UC School named UC San Jose. This link provides the names of all UC Schools.
Either Chimera is purposely misspelling the names and schools of Valdamar Perez Rios so that they are not contacted or our belief is that the two simply do not exist. We believe that just as with the Pemex relationship, WEIS S.A. and Mr. Rios are a figment of Charles Grob's imagination serving as additional fuel for this fraudulent scheme.
How to Catch a Predator
We set out to merely expose what we thought was a small time fraud preying on unsophisticated investors but have uncovered something bigger and more predatory than we had imagined. As such we began to think how we could decipher the true identity of the perpetrator of this fraud. Given that Charles Grob was not answering our calls we had literally no leads to follow with the exception of the Marshall Islands companies mentioned in Part 1. David Loev had been unhelpful as well clinging to his attorney client privilege instead of using the opportunity to be a whistleblower and possibly even clearing his name.
We knew the answer existed somewhere. As Mathematicians we reached to one of our favorite quotes "Invert always Invert" by the mathematician Carl Gustav Jacobi. Jacobi, when met with difficult mathematical equations liked to invert the math and found that doing so would occasionally provide a more convenient solution to the problem.
In our case if we invert the equation we find more clarity in our route to uncover the identity of the perpetrator of this scam.
Let us review the constants:
The objective here is to sell worthless shares purchased for $.0038 at inflated values to unsuspecting investors.
As such the perpetrator is most certainly the largest net seller of shares in the company.
Identifying the largest seller of shares will provide the identity of the perpetrator.
Doing so is easier said than done as the perpetrators do not disclose their 20,000,000 share position. SEC law requires the disclosure of over 5% of shares in a company. Given that CHMR has 66,000,000 shares outstanding that would mean that any block of shares exceeding 3.3 million would have to be disclosed.
The rule actually applies to any beneficial owner but in CHMR's case we have reason to believe that the perpetrator of the scam owns their 20,000,000 shares in 6 blocks of 3,333,333 each. Each of these blocks would have then been deposited in a brokerage firm under a different company name and then liquidated onto the public.
But how could we decipher what shares belong to the perpetrator? This would be the $21 million dollar question (since the fraud began it has traded a total of $21 million in value).
Follow the Block Trades
We called several brokerage houses that we saw make a market in the shares of CHMR and asked them how one would identify a large seller. We pondered what these large share blocks were we kept seeing put up every day a few minutes after the close of market. As one broker explained to us -- a market maker that receives a large sell order to liquidate shares would execute the order throughout the day by short selling the shares and at the close buy the total amount sold short from the broker that sent them the order. This buy is the "print" and is the total sale amount at a price, which leaves a little room for profit (their commission). This "print" is in effect the total amount sold by that account for the day.
This graphic will help visualize this better: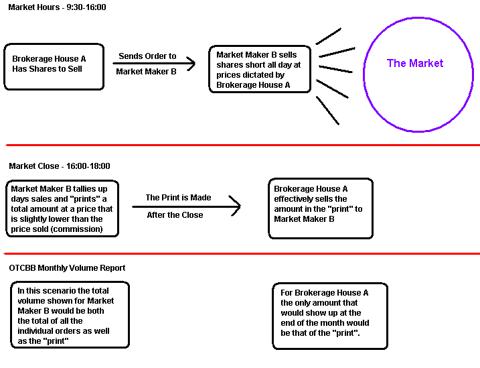 Using this data and our block scanner tool we were able to identify 23 such prints totaling 4,094,876 shares for $4,342,684 dollars:
| | | | | |
| --- | --- | --- | --- | --- |
| Date | Time | Amount | Price | Value |
| 8/24/2012 | 16:27:47 | 617,500 | $ 0.682 | $ 420,826.25 |
| 8/23/2012 | 16:01:26 | 37,500 | $ 0.630 | $ 23,640.00 |
| 8/22/2012 | 16:03:13 | 307,297 | $ 0.687 | $ 211,082.31 |
| 8/22/2012 | 16:23:03 | 34,402 | $ 0.668 | $ 22,977.10 |
| 8/20/2012 | 16:02:14 | 353,200 | $ 0.335 | $ 118,286.68 |
| 8/17/2012 | 16:01:16 | 200,000 | $ 0.430 | $ 86,060.00 |
| 8/17/2012 | 16:00:14 | 89,500 | $ 0.541 | $ 48,419.50 |
| 8/16/2012 | 16:05:52 | 175,000 | $ 0.860 | $ 150,500.00 |
| 8/14/2012 | 16:00:57 | 284,090 | $ 1.134 | $ 322,016.02 |
| 8/13/2012 | 14:37:51 | 318,500 | $ 1.025 | $ 326,462.50 |
| 8/13/2012 | 16:03:44 | 167,000 | $ 1.367 | $ 228,289.00 |
| 8/10/2012 | 16:00:31 | 342,358 | $ 1.815 | $ 621,414.01 |
| 8/9/2012 | 16:01:06 | 210,925 | $ 1.843 | $ 388,734.78 |
| 8/9/2012 | 16:03:14 | 166,371 | $ 1.727 | $ 287,306.08 |
| 8/8/2012 | 16:00:50 | 66,140 | $ 1.441 | $ 95,294.51 |
| 8/7/2012 | 16:01:21 | 98,913 | $ 1.414 | $ 139,862.98 |
| 8/6/2012 | 15:59:17 | 96,062 | $ 1.398 | $ 134,265.86 |
| 8/3/2012 | 16:03:48 | 79,878 | $ 1.433 | $ 114,497.13 |
| 8/2/2012 | 16:01:39 | 183,672 | $ 1.389 | $ 255,083.67 |
| 8/1/2012 | 16:02:00 | 111,152 | $ 1.412 | $ 156,902.16 |
| 7/31/2012 | 16:01:27 | 139,366 | $ 1.286 | $ 179,266.49 |
| 7/30/2012 | 16:01:38 | 9,050 | $ 1.042 | $ 9,429.20 |
| 7/6/2012 | 16:00:27 | 7,000 | $ 0.296 | $ 2,068.50 |
| | | | | |
| Total | | 4,094,876 | | $ 4,342,684.71 |
Each and every one of these prints was sold by the perpetrators.These "prints" are the day's bounty from at least one of the brokerages houses where the perpetrator deposited their shares. Each of these trades has a unique identifier which is recorded with FINRA. All the regulators need to do is blue sheet these specific trades and they will have the identity of the perpetrator. Hopefully they do this soon before the proceeds are wired out to their Marshall Island accounts but we should remind the brokerage firms and clearinghouses dealing with these accounts that they have a duty as gatekeepers to freeze any proceeds if they believe there has been foul play involved which in this case is seemingly obvious.
Using the OTCBB Monthly Share Volume Tool we are able to uncover even more data relating to these prints. The OTCBB data is one month old but this is actually a blessing for the purposes of deciphering where the shares are deposited. CHMR traded a total of 615,813 in July. We know using our block scanner tool that there were three such prints in July totaling 155,416 shares. This figure is extremely important as it tells us the selling account had to have traded at least 155,416 shares of CHMR in July.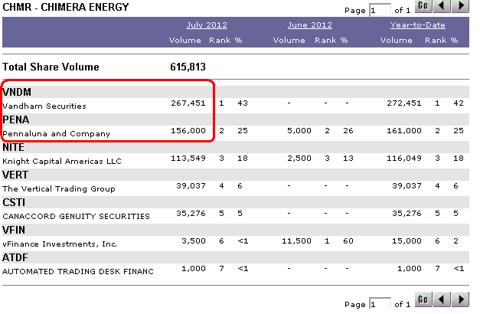 Using the volume tool we can clearly see that only two brokerage houses traded 155,416 or more of CHMR in July. They are Pennaluna & Company and Vandham Securities. From this we can deduce that one of these houses maintains the selling account for the perpetrator. The question is which one?
By employing the logic visualized in our graphic we believe the shares are deposited with Pennaluna as their reported volume for the month matches perfectly with the amounts printed. Vandham was most probably used as the executing market maker throughout the day but is not the brokerage house where the shares are deposited. We could be wrong about the relationships but are certain that at least one of these houses holds the account of the perpetrator.
Conclusion
We urge investors to stay away from both CHMR and NVMN. CHMR has no contract with Pemex and Pemex has had no contact with CHMR. Investors can call Pemex investor relations themselves to confirm this but can save time by listening to the audio recording that was uploaded on YouTube. Given how blatant the apparent CHMR fraud is we believe that shares may be halted by regulators imminently with the best case scenario being a decline towards an inherent value of zero within several weeks.
Disclosure: I am short OTC:CHMR. I wrote this article myself, and it expresses my own opinions. I am not receiving compensation for it (other than from Seeking Alpha). I have no business relationship with any company whose stock is mentioned in this article.