Energy stocks can be very volatile, particularly with all of the uncertainty in the Middle East, supply and demand shifts of oil and other energy sources, and speculators in the financial markets.
We wanted to find some long-term attractive stocks that at least paid investors a decent income while the long-term price appreciation materializes. Be warned that that there could be some volatility.
We looked for companies that paid a high dividend, but that also had high levels of current cash and attractive operating income.
The following three companies passed our screen:
1. Dorchester Minerals LP (NASDAQ:DMLP)
Dorchester Minerals, L.P. (Partnership) is engaged in the acquisition, ownership and administration of Royalty Properties and Net Profits Interests (NPIs). Partnership is a limited partnership formed on the combination of Dorchester Hugoton, Ltd., Republic Royalty Company, L.P. and Spinnaker Royalty Company, L.P. the company owns two categories of properties: Royalty Properties and NPIs. The Royalty Properties consist of producing and nonproducing mineral, royalty, overriding royalty, net profits, and leasehold interests located in 574 counties and parishes in 25 states. The NPIs represent net profits overriding royalty interests in various properties owned by the operating partnership. Its general partner is Dorchester Minerals Management LP, which is managed by its general partner, Dorchester Minerals Management GP LLC. Its general partner also controls and owns, directly and indirectly, all of the partnership interests in Dorchester Minerals Operating LP and its general partner.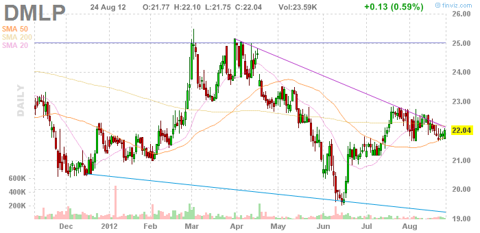 2. North European Oil Royalty (NYSE:NRT)
North European Oil Royalty Trust (the Trust) is a grantor trust, which on behalf of the owners of beneficial interest in the Trust, holds overriding royalty rights covering gas and oil production in certain concessions or leases in the Federal Republic of Germany. The rights are held under contracts with local German exploration and development subsidiaries of Exxon Mobil Corp. (Exxon Mobil) (NYSE:XOM) and the Royal Dutch/Shell Group of Companies (Royal Dutch/Shell Group) (RDS). Under these contracts, the Trust receives various percentage royalties on the proceeds of the sales of certain products from the areas involved. As of October 31, 2011, royalties were received for sales of gas well gas, oil well gas, crude oil, distillate and sulfur. Neither the Trust nor the trustees on behalf of the Trust conduct any active business activities or operations. The function of the trustees is to monitor, verify, collect, hold, invest and distribute the royalty payments made to the Trust.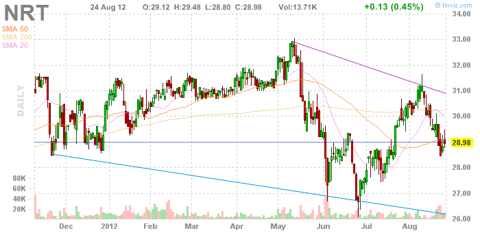 3. Baytex Energy Corp (NYSE:BTE)
Baytex Energy Corp. (Baytex), through its subsidiaries, are engaged in the business of acquiring, developing, exploiting and holding interests in petroleum and natural gas properties and related assets in Canada (in the provinces of British Columbia, Alberta and Saskatchewan) and in the United States (in the states of North Dakota and Wyoming). On February 3, 2011, the company acquired heavy oil assets located in the Reno area of northern Alberta and the Lloydminster area of western Saskatchewan. On August 9, 2011, the company acquired natural gas assets located in the Brewster area of west central Alberta. During the year ended December 31, 2011, it completed two dispositions of undeveloped lands; in the Kaybob South area of west central Alberta, it sold six sections of leasehold, including five sections with Duvernay rights, and in the Dodsland area in southwest Saskatchewan, which it sold 32,600 net acres of leasehold in the halo of the field.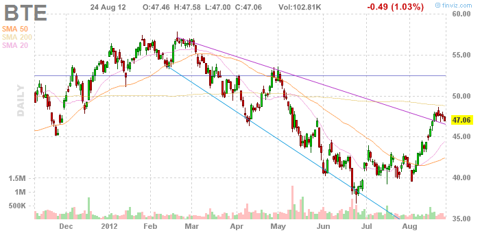 Other Key Metrics

Evaluate each of these companies in greater detail to determine if they are appropriate for your portfolio.
Disclosure: I have no positions in any stocks mentioned, and no plans to initiate any positions within the next 72 hours. I wrote this article myself, and it expresses my own opinions. I am not receiving compensation for it (other than from Seeking Alpha). I have no business relationship with any company whose stock is mentioned in this article.