We are looking for the signal beneath all the noise. In the case of Best Buy (NYSE:BBY), there is a lot of noise. It includes a founder driven leveraged-buy-out, a new non-retail CEO, a net income estimate miss last quarter, and several debt downgrades.
The present share price can be taken as the measure of the "marginal opinion" of Wall Street - or the opinion of those who are most ready to part with their Best Buy shares. That is to say, the volatility in the share price is due, in large part, to fickle speculators. But, for the long-term share price - which will ultimately reflect the fundamentals of the company - it is the opinion and actions of those on "Main Street" that matter.
First, a quick glance at Best Buy's financials.
Earnings
When it comes to historical results, Best Buy has done OK (even including the cash drainage last quarter). For the twelve-month period July 31st, 2011 through July 31st, 2012, Best Buy's free-cash-flow ("FCF")1 was $885 million. With a present market capitalization of $5,880 million, their TTM FCF yield is about 15%. And the FCF figure might not be representative of the future if, say, consumers have been deferring electronics purchases because of Windows 8.
Debt Position
With debt of $2,226 million (excluding operating leases) as of August 6th 2012, it would take 2.5 years for TTM FCF to pay off their debt. Or if they could achieve their 2011 FCF again, they would be able to pay off all their debt in less than a year.
Online Competition
While consumer electronics are being purchased in increasingly non-retail ways - from 22 percent in 2010 to 24 percent in 2011 - the great majority are still being sold in retail stores (according to NPD Group). And further, the increase in online purchases is not necessarily a negative for Best Buy. As of last quarter, they had domestic online revenue growth of 14 percent year-over-year (see second quarter results).
Main Street
So is Best Buy really dying as Wall Street would have us believe? Let us review the publicly available statistics:
From NPD Group
"In 2011, Best Buy's share of consumer technology revenue stood at 19 percent of hardware sales… exactly what it was in 2010...Best Buy also was the number one brick-and-mortar retailer online and gained almost one point in revenue share, now 22.4 percent, among retailers on the Web.

In computers Best Buy's market share is 10 points higher than any other outlet that sells Windows notebooks and generates 2X more revenue from those sales than any other retailer. Best Buy is the number one non-manufacturer seller of Windows notebooks on the Web and gained almost 2 points in market share in 2011. Best Buy is the largest retailer of Apple notebooks, selling one in every four notebooks in the U.S., a number that is 6x larger than any other Apple reseller.

Despite an overall decline in the TV market Best Buy's brick-and-mortar stores gained one point in market share in 2011. Best Buy grew revenue share as well and accounted for nearly one-in-three dollars spent on flat-panel TVs. In the fast-growing TV segment of 50" and above, Best Buy's market share was 31 percent and more than 3x higher than any other retailer. On the Web Best Buy gained 1.5 points of market share in TV sales in 2011.

Best Buy sold more tablets than any other retail store or Web site in 2011. Best Buy saw its unit share of the cell phone sales grow by 25 percent in 2011 and its share of smartphone sales increase by 50 percent. Best Buy sold one-in-four smartphones sold through multi-carrier, multi-brand stores in 2011, an increase of 50 percent. In addition, they were the single largest non-carrier outlet for smartphone sales." (NPD group, Best Buy Reconstructed)
From Big Insight
"Despite recent news of showrooming, store closings, layoffs, and rumblings of going from public to private, consumers still choose Best Buy (35.9%) as the store they shop most often for Electronics (keep in mind that "shop" and "buy" are two different terms, though)…Walmart [(NYSE:WMT)] finishes a respectable second (21.4%), while Amazon.com [(NASDAQ:AMZN)] (6.1%), Target [(NYSE:TGT)] (3.7%), and Sears [(NASDAQ:SHLD)] (1.5%) complete the Top 5."
"Despite its "showroom" label, Best Buy still seems to be buzzing among Electronics shoppers…the big box is a best bet among more than a third of shoppers (34.8%), while more than one in five (22.4%) head to Walmart most often. Amazon.com (8.3%), Target (3.6%), Sears (1.6%), and Fry's (also 1.6%) follow."
"Best Buy remains fully charged in Electronics…more than a third (34.4%) shop the big box most often, followed by Walmart (20.3%), Amazon.com (7.9%), Target (3.5%), and Sears (2.0%)."
"A big box continues to best a big discounter in Electronics…one-third of consumers (33.3%) heads to Best Buy most often for items like TVs, computers, DVDs, and video game consoles, while Walmart finishes a respectable second place (18.7%). Amazon.com (6.4%), Target (3.3%), and Sears (1.8%) follow in the single digits."
"Onto the toys for the big girls and boys - Electronics, one in three (31.8%) shoppers heads to Best Buy most often, followed by Walmart (19.2%). Amazon.com (7.4%), Target (3.1%), and Sears (1.6%) complete the Top 5 for this category."
Before I move on, notice that in the more recent data, Best Buy has actually done better, not worse. In Big Insights data above, we see this: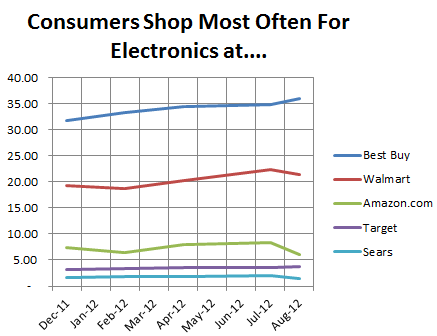 The important point is that Best Buy still has mind share. It is still the singular electronics retailer. In Big Insights February executive briefing, they asked an additional question.
"Why buy at a particular store for Electronics? Nearly three-quarters (72.4%) indicate that price is the top motivation. Selection (53.9%), location (41.4%), quality (36.9%), and service (25.7%) are other top reasons, while retailer trustworthiness (19.9%), knowledgeable salespeople (18.2%), and in-store experience (17.9%) prove popular as well."
Best Buy might have some trouble competing on price in the long run, but Amazon - who has cast a shadow over brick-and-mortal retail - is going to have some trouble with other consumer desires. Like, for instance, "knowledgeable salespeople."
That isn't to say that Best Buy's salespeople are fantastic, but clearly some consumers are still interested in speaking with a human being before making a purchase. And while Walmart is second to Best Buy and therefore poses the biggest threat (especially on price), they also lack knowledgeable salespeople - at least when compared with Best Buy.
On the other categories mentioned in Big Insights question, Best Buy still holds its own. But of course, there is plenty of room for improvement.
Conclusion
Those banking on Best Buy dying completely don't seem to be looking at the whole picture. Best Buy is undervalued. And with founder Dick Schulze still trying to make a bid for the company (and now also pressuring the board so he doesn't trigger a Minnesota anti-takeover statute), there might even be a near-term catalyst for price appreciation.
Free-cash-flow defined as: Operating Cash Flow less Capital Expenditures
Disclosure: I am long BBY. I wrote this article myself, and it expresses my own opinions. I am not receiving compensation for it (other than from Seeking Alpha). I have no business relationship with any company whose stock is mentioned in this article.