Amazon (NASDAQ:AMZN) is the Rodney Dangerfield of tech stocks. It doesn't get any respect no matter how well it performs. Even an increase in share price from less than $190 in May, to $241.17 on August 17, hasn't caught the media's attention, although investors are clearly interested.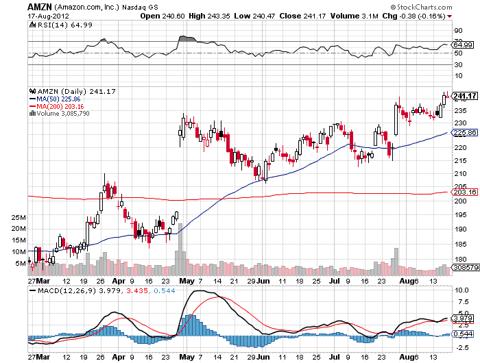 Even though it has done very well, Amazon doesn't attract the kind of attention that companies like Facebook (NASDAQ:FB) and Apple (NASDAQ:AAPL) do. That's probably because Amazon's business is a pretty boring one-it sells stuff and ships it. Yet it is also pulling in a lot of cash because people are paying for all that stuff they order.
More importantly, Amazon excels at creating new sources of cash, such as its Kindle Fire tablet. Citi Analyst Mark Mahaney expects Amazon to sell 12 million Kindle Fires in 2012. Mahaney also thinks that Amazon might capture as much as 15% of the tablet market by the end of the year. That will make it a serious competitor to Apple and Google (NASDAQ:GOOG) in that arena. Mahaney forecasts that around 20 million Kindle Fires will be sold in 2013 at a price of $179 each.
This will not automatically translate into revenue, because Amazon is actually selling the Fire at a loss. Piper Jaffray analyst Gene Munster thinks Amazon is losing $50 on every Fire sold. Amazon's business plan is to make money off all the content it sells through the Kindle, including books, magazines, games and videos. The idea is to give the customer the device at a fairly low price, then hope he or she downloads enough ebooks and TV show episodes to generate revenue.
Amazon Digital Sales a Mystery
The problem for investors is that it is very hard to figure out how much money Amazon actually makes from digital content. The company made 36.98% of its revenue, or $17.79 billion, from "media" in 2011. Unfortunately, that figure includes everything from downloaded video games to paper books. Since that revenue is not broken down into categories, there is no way to know exactly where it is coming from.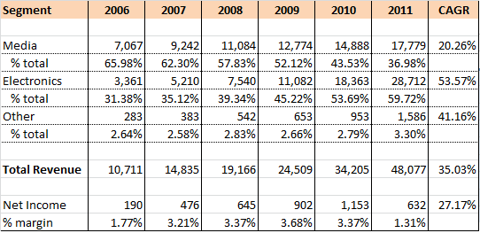 Yet, as you can see, the amount of revenue from media at Amazon is going up quickly, even as its Media segment percentage is falling. Between 2010 and 2011, this segment grew by nearly $3 billion. So the Kindle Fire strategy actually seems to make sense. Amazon itself reported that its worldwide media sales grew 13% to $4.12 billion in the second quarter of 2012.
Amazon might be able to make up the money it loses on Kindle Fires by reducing shipping and handling costs. When Amazon sends out an eBook, it doesn't have warehousing, shipping, and sorting and handling expenses. All it does is send data over the network to a Kindle Fire; the same for videos and games ordered the same way.
Amazon is also able to sell its content through devices other than the Kindle or Kindle Fire. Anybody can download the Kindle App and use it to buy Amazon content on almost any device. Amazon's Prime Instant Video Service is now available through a wide variety of devices, including the Xbox 360, Playstation 3, Mac, PC, and most HDTV sets. That means Amazon is now able to compete directly with Netflix (NASDAQ:NFLX), Apple TV, and Google TV.
So it is easy to see why Amazon's share price is so high. It is generating a lot of cash, and it has a lot of growth potential. But is this stock actually oversold and overpriced as analysts keep claiming?
My answer is: probably not. Amazon is just scratching the surface in the digital content market. Digital content will be the big moneymaker for this company because it offers the two things customers want most: instant gratification and low prices. The customer can get his episode of "Family Guy" instantly, watch it whenever he wants, and pay a low price for it. By making it easy to get content, Amazon makes it more likely that people will download content.
The problem for the value investor here is determining how much Amazon is actually making from digital sales. The price it charges for some of the digital products is low but so is the overhead on them. It can also be difficult to see how much money Amazon might be losing on offerings like the Kindle Fire.
This means Amazon is more of a speculative play than a value play. Yet it is a good speculative play because of the company's ability to quickly move into new markets. More importantly, its moves to control the entire supply chain from the content creator to the device that delivers it might help it control costs at some point.
I believe Amazon has the necessary catalysts in place to keep pushing it higher. The digital content market, though hard to dissect, is looking very promising. I expect the stock to continue rising gradually over the next three months, possibly approaching the $275 level by late November.
Even though traditional investors are skeptical of it, Amazon's shares seem to be priced right. The question we have to ask is: When will the media begin giving Amazon the attention it deserves? The company has managed to increase its share price and prove it can master new markets in a difficult economy. What, I wonder, will it take for the media to start paying attention Amazon at $300 per share?
Disclosure: I have no positions in any stocks mentioned, and no plans to initiate any positions within the next 72 hours. I wrote this article myself, and it expresses my own opinions. I am not receiving compensation for it (other than from Seeking Alpha). I have no business relationship with any company whose stock is mentioned in this article.