By Alfonso Esperaza
After a week of busy political meetings between eurozone leaders the EUR/USD remains strong after breaking through the 1.25 level and even took the German Business Climate numbers in stride. The German Ifo fell for the 4th consecutive month signaling the lack of confidence from German firms about the current economic climate. As trading partners enter or deepen their domestic crisis, the companies fear that the emerging market would not be enough to absorb the supply.
Greek Prime Minister Antonis Samaras visited German and French leaders last week to start a conversation around extending the terms of the Greek bailout agreements. Merkel and Hollande were both clear that they would not make any judgement until the troika report (IMF, ECB and EC) comes out in October. It is worth noting that both Merkel and Hollande complimented Samaras and went out of their way to mention that a Greek exit from the euro zone was not the desired outcome.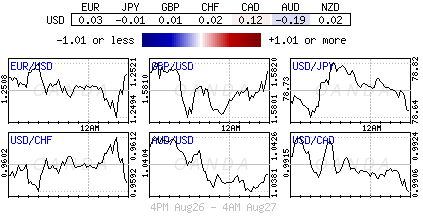 The FOMC minutes raised more doubts about Quantitative Easing than it cleared. Even after they were published the Committee members were talking how they were outdated as other economic factors have presented themselves. The main takeaway was that there would be action "fairly soon" which has ignited speculation about the timing given the importance of the decision and the political scene in the United States.
A non decisive event in the US and pledges for support in Europe resulted in a weak USD. Fed Chairman Ben Bernanke will make an apperance after the symposium in Jackson Hole. The market is divided between a pro stimulus statement or more of a wait-and-see approach.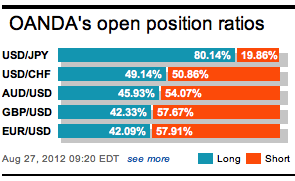 As the EUR/USD has consolidated gains OANDA traders are holding very even position rations. 42.09% are holding long positions compared to 57.91% who have shorted the EUR.