This is the third and final installment of my series covering the asset base of the Canada based oil and gas producer Equal Energy (NYSE:EQU). In previous articles, I discussed Equal's presence in the Cardium Sweet Spot in Alberta and the company's main producing area in the Hunton formation in Oklahoma.
The Viking Formation
The Viking formation is an established oil play with conventional production dating back to the 1950s, but, similar to many other plays in North America, the advent of horizontal drilling and fracturing has given the formation a new lease on life. The Viking formation is estimated to have over 6B barrels of oil in place, and due to its large size the formation is divided in roughly five main regions extending from eastern Alberta to western Saskatchewan. The following is a list of the key areas and the main operating companies in each:
Redwater (Alberta)
Sure Energy, Westfire Energy
Greater Dodsland (Saskatchewan)
Penn West Petroleum (PWE), Pengrowth Energy (NYSE:PGH), Renegade Petroleum, Baytex Energy (NYSE:BTE) and Husky Energy.
Halkirk (Alberta)
Crescent Point, Equal Energy
Provost (Alberta)
Twin Bute Energy, Westfire Energy
Harmattan (Alberta)
Angle Energy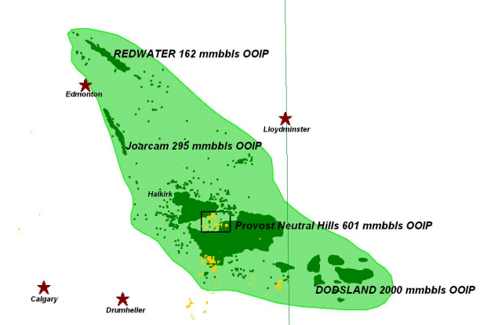 Source: Beatingtheindex.com
The Viking formation is very shallow, especially on the Saskatchewan side, with depths of 700m to 750m. The shallow depth makes wells quite cheap to drill and complete. In Alberta the formation is a bit deeper; the formation is generally found at depths of 900m, however at Harmattan it can go as deep as 2500m. The IP rates, EURs, IRRs and Gas to Oil ratio vary widely from one area to another, with Harmattan being the gassiest at 54% natural gas and South and North Dodsland being the oiliest at over 95% oil.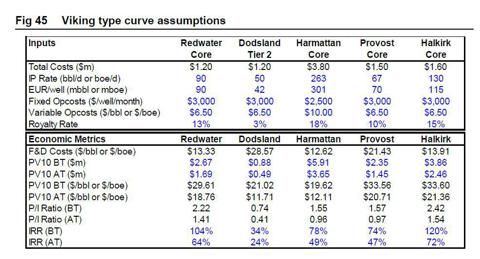 Source: Macquarie Research
According to Macquarie Research the area with the best before and after tax IRR in the Viking is Halkirk (75% oil). Luckily for Equal this is the area where Equal's Viking acreage and production is located, and hence this will be my area of focus.
Equal & Cutpick at Halkirk
As highlighted earlier, Halkirk has the best IRRs among the five core Viking areas; the average type curve is also superior to other locations except for Harmattan (which is mostly gas). The average IP30 at Halkirk is 100 to 150 barrels with about 75% oil and liquids, estimated ultimate recoveries range from 75K to 120K barrels per location.

Source: Macquarie Researsh
By far the largest land holder and operator in the Halkirk area is Cutpick energy, which was acquired by Crescent Point in May of this year for $425m dollars. Cutpick had a total of 300 sections in the play with 83 sections prospective for oil; at the time of the acquisition by Crescent Point Cutpick produced 5600 barrels per day (65% oil). Cutpick has over 50 wells in the core of the Viking formation at Halkirk.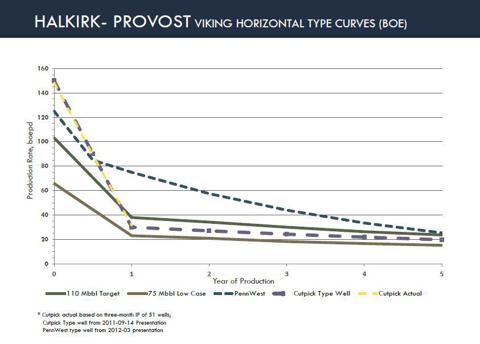 Source: Charger Energy
Equal has a total of 54 net sections in the area: 50% or 26.6 sections of those are prospective for light oil, current Equal production from the formation stands at 530 barrels per day (75% oil) from 18 wells.
I have superimposed Equal's land on the map below: the boxes with the red border present areas where Equal holds acreage and the number in the center of each box presents the number of Equal sections in each area, the blue dots on the other hand present Cutpick's holdings: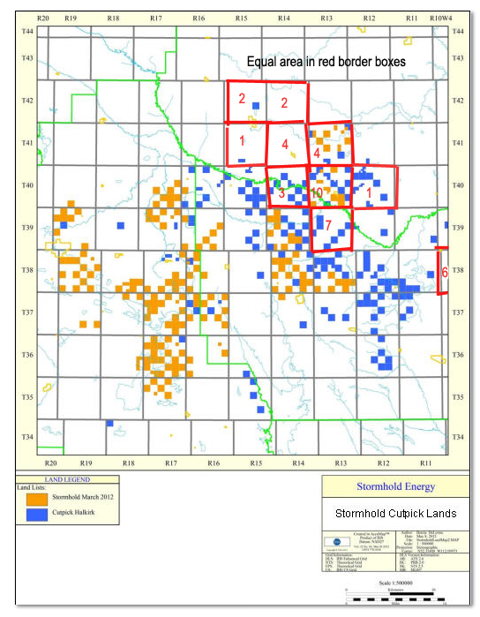 Source: Stormhold Energy
It is worth noting that while Equal's land straddles Cutpick's lands at Halkirk, Equal has generally reported a lower type curve: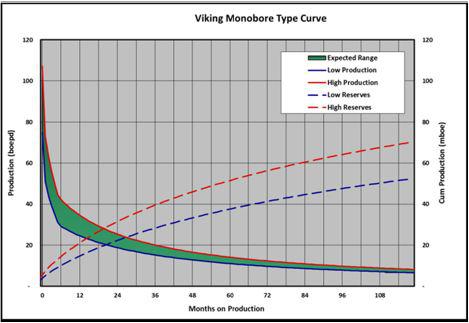 Source: Equal Energy
It is not clear why Equal has reported a lower type curve than Cutpick; possible reasons could be geological or operational, it could also be due to Equal targeting the oilier portion of the formation, since Equal has a higher oil content in its production (75% vs. 65% for Cutpick)
Despite the variance in the type curve, the acquisition of Cutpick by Crescent Point still presents an excellent benchmark to estimate the value of Equal's Viking acreage in the context of the strategic review undertaken by Equal currently. The following table compares both companies' Viking holdings:
| | | |
| --- | --- | --- |
| | Cutpick | Equal Energy |
| Production | 5600 bpd | 530 bpd |
| % oil | 65% | 75% |
| Proved + Probable Reserves | 20.5m barrels | 2.2m barrels |
| Total sections | 300 | 54 |
| Section prospective for oil | 83 (27% of total) | 26.6 (50% of total) |
| Cutpick Acquisition Metrics | | |
| Per flowing barrels | $73K | |
| Per P+P | $19.95 | |
| Total | $425m | |
Applying Cutpick's acquisition metrics to Equal's land position at Halkirk would mean a valuation of $39m to $44m for Equal's assets in the Viking formation. Putting this valuation in perspective, a $40m valuation for the Viking would present 32% of the company's current market capitalization for an asset presenting less than 5% of the company's corporate production and just 8% of the company's total liquids production.
The chances of Crescent Point opting to consolidate its acreage in the formation is quite high. Equal is lucky to have its acreage straddling large consolidators at both of its major producing areas in Canada - it being at the Cardium formation or the Viking. It is also vital that both of Equal's key Canadian formations are oil weighted and thus more attractive to acquirers and consolidators in the current low natural gas pricing environment. Should Equal opts to divest its Canadian acreage at the conclusion of its strategic review process, it should have no difficulty in doing so due to the factors mentioned above as well as due to the relative small price tag for those assets and hence their accessibility to multiple potential buyers.
Series Conclusion
In this three parts series, I have attempted to shade some light on Equal Energy's extensive asset base. While I have covered the company's assets in the Cardium, the Hunton and the Viking, Equal continues to retain other attractive assets such as the Mississippian formation, which is currently being developed in collaboration with its joint venture partner Atlas Resource Partners (NYSE:ARP). For an excellent overview of the Mississippian, I would recommend the article written by fellow Seeking Alpha contributor Mr. Braden Holt.
Equal Energy has a solid, sizable and attractive asset base; the attractiveness of this asset base has been largely obscured by a non promotional management team and a business strategy that is not particularly well suited to maximize the valuation of this diverse asset base. Fortunately for Equal shareholders, the management team and the board of directors are well aware of the discrepancy between the intrinsic value of this asset base and the depressed valuation reflected in the company's stock price. It is highly likely that once the strategic review is concluded, the company's assets will better reflect their value - either through a divesture of the Canadian oil assets and the conversion into a dividend mutual fund trust, the divesture of the US Hunton/Mississippian assets and the conversion into an oil weighted growth company or possibly the divesture of both through a buyout of the whole company.
It is vital to observe that Equal Energy is not a company in financial distress, nor is it a company with a limited or problematic asset base; Equal Energy's only problem is one of market positioning and better corporate alignment with market and shareholders' expectations. This is a problem that is relatively simple to resolve and the proper steps are being taken to address it.
Disclosure: I am long EQU. I wrote this article myself, and it expresses my own opinions. I am not receiving compensation for it (other than from Seeking Alpha). I have no business relationship with any company whose stock is mentioned in this article.