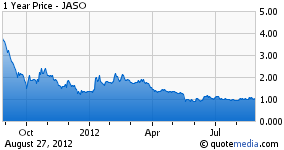 Prior to the recent ongoing solar industry consolidation cycle, which began in early 2011, many observers may have speculated JA Solar (NASDAQ:JASO) would be one of the least likely top performers. As a primarily single vertical solar cell manufacturer operating in an environment that experienced high levels of pricing pressure, JASO seemed likely to post horrible results. Although JASO did report losses throughout most of 2011, its losses were much lower than the market pricing for its core products may have suggested. Quarter after quarter in head scratching manner, JA Solar not only continued to maintain relatively high shipment volumes, but also at pricing premiums. As JASO prepares to announce second quarter results on August 29, operational results should continue to strengthen.
For years, as most top tier Chinese solar manufacturing peers such as Trina Solar (NYSE:TSL), Suntech Power (NYSE:STP), and LDK Solar (NYSE:LDK) concentrated on higher levels of integrations in efforts to preserve margins in a contracting pricing environment, JA Solar continued to emphasize its core solar cell manufacturing business. Instead of allocating high levels of capital expenditures on additional verticals, the company concentrated on improving its solar cell product. Instead of developing its own module brand in markets around the world, JASO partnered with established high tier module brands that coveted quality and performance in a highly commoditized market. Based on the company's recent results, JASO has proved the skeptics wrong.
Although JA Solar, as noted in a previous article, did take several steps to integrate beyond its legacy single vertical, its core solar cell business still dominated quarterly shipment volume. In the first quarter of 2012, solar cell related shipments totaled 216MW out of a total of 366MW shipped. In previous quarters, solar cell shipment ratios were even higher and maintained at surprisingly high levels despite a 70% crash in pricing which bankrupted many less competitive peers such as once market leading German solar cell manufacturer Q-Cells (OTCPK:QCLSF).
Maintaining strong volume in a heavily distressed vertical was only part of the surprise. Strong business relationships developed through the years with leading global brands could have kept demand for JASO's solar cells high. After all, global demand in 2011 grew by 50% over an already record boom in 2010. Not only did JA Solar maintain its shipment volume, but also at surprisingly large pricing premiums. In the past two quarters, average spot market solar cell pricing as reported by PVinsights ranged between $0.45-$0.50/watt. Yet comments made by JASO's management implied average selling prices("ASP") for its solar cells were around $0.60/watt in its last two reported quarters. The company's high revenues relative to its shipments also appear to confirm this pricing premium.
Apparently, all of JASO's rhetoric over the years of concentrating on its core competency has worked. The company has developed a market for higher quality solar cells which could demand pricing premiums even in a heavily liquidated segment of the supply chain. While this competitive advantage did not spare the company from inevitable losses, it was enough to buffer the corporate bottom line to manageable levels.
For Q1 2012, JA Solar reported a U.S. GAAP loss of $39.8m or -0.20 in earnings per share ("EPS"), which were slightly higher than my $35m and -0.18 in EPS estimate, respectively. Excluding an unannounced $6.4m accounts receivable charge, which my estimates did not include, the company would have surpassed my expectations. Consolidated gross margin also remained in the positive at 3.2%, excluding a tariff provision, ahead of my 2.3% estimate. Perhaps more important than the headline losses, JASO was $18.2m operating cash flow positive in the first quarter.
Looking forward into Q2 2012, operating results should continue to improve. The company has officially guided total shipment to increase to 420-440MW vs. 366MW in the first quarter. More importantly to gross margin, JASO has continued to accelerate its downstream exposure and expects 60% of its second quarter shipments to consist of solar modules. This should mark a turning point in the company's history as its legacy solar cell segment for the first time falls below its newer solar module business in terms of both shipments and revenues.
Based on information presented in JASO's Q1 earnings report and conference call, a Q2 earnings estimate has been compiled below. As noted in previous JASO articles, the company provides extremely limited information on its operating metrics. As a result, these estimates should be viewed as a rough approximation on the company's operating results which excludes additional unannounced non-operational gains or charges the company may report.
JASO Q2 Earnings Estimate:
Revenues: $275m component + $10m system = $285m
Shipments: 160mw cell, 16mw tolling, 255mw module
Asps: $0.50/watt cell, $0.25/watt tolling, $0.75/watt module
Unit Costs: $0.50/watt cell, $0.20/watt tolling, $0.70/watt module
Gross Profit: $15m
Gross Margin: $15m / $285m = 5.3%
Operating Expenses: $30m
Net Interest Expense: $20m
Tax Benefit: $5m
Net Loss: -$30m
Share Count: 196m
EPS: -0.15
Beyond this core operational estimate, a number of non-operational items could result in the second quarter. As usual and especially the case in the second quarter as the euro declined by roughly 6% vs. the USD, net foreign exchange losses may result. JASO has generally done a good job hedging its foreign currency exposure so the net effect should be limited and perhaps negated by a potential gain in a non-cash marked to market adjustment in the fair value of derivatives linked to its $220m convertible bond balance. Although not the case in the first quarter, additional repurchases of these convertible bonds at par value discounts could also result in U.S. GAAP gains.
Looking forward into the second half of 2012, operating results should continue to strengthen. Whether it will be enough to push JASO into corporate profitability is still uncertain given the industry's extremely fluid pricing environment, but at least there should be many positive factors that may play out for the company.
A key positive earnings driver is JASO's continued downstream expansion. Sometime in the second half, JA Solar expects to recognize 100MW of self developed solar projects at implied gross margin well above its solar cell and module component segments. The recognized sale of these projects could lead to as much as $30m of incremental gross profit spread across Q3 and Q4. While JASO's project business is new and small in scale relative to its component manufacturing business, it has the potential to expand as China's domestic demand increases. As a top tier Chinese solar company, JA Solar will likely receive its fair share of the Chinese domestic market much like how First Solar (NASDAQ:FSLR) has built a strong U.S. project pipeline. Peers such as Trina Solar have already announced in a recent conference call that while near term project exposure may be small, it could make up as much as half of the company's revenues in the next 2-3 years.
Even on the component side, JA Solar could deliver incremental upside. The company's OEM exposure to some of Japan's leading brands could allow JASO to gain market share in Japan faster than non-Japanese branded modules. Although the company has generally discounted potential Japanese market upside, the recent introduction of extremely generous Japanese feed-in-tariffs could result in a sudden demand surge. More importantly, JASO has indicated module ASPs in Japan as high as $1.00/watt, or 30-40% higher than other regional markets. Even at smaller volumes, any incremental expansion of business in Japan would likely result in disproportionate profitability benefits for JA Solar.
While it has been difficult to differentiate solar companies apart especially when most companies have been losing money, certain companies are extremely well positioned to not only survive the industry's ongoing consolidation, but thrive as market pricing normalizes to sustainable levels. As one of the world's largest solar cell manufacturers with among the lowest debt to equity ratios in the industry, JA Solar is strongly positioned to benefit in the next industry up cycle. Until consolidation draws to a close, JASO like most peers will likely continue to tread water by reporting manageable quarterly losses. With a recent share repurchase announcement, at least JASO's management believes the market may have already overly discounted any future recovery.
Disclosure: I am long TSL, LDK. No position in JASO, FSLR, and STP. I wrote this article myself, and it expresses my own opinions. I am not receiving compensation for it (other than from Seeking Alpha). I have no business relationship with any company whose stock is mentioned in this article.