It might be a good time for value investors to take a look at U.S. Bancorp (NYSE:USB), which has been doing very well lately. Standard & Poor's (S&P) has raised U.S. Bancorp's long-term credit issuer rating from A+ to AA-, and raised its short-term credit issuer rating from A-1 to A-1+.
S&P's analysts think that U.S. Bancorp will continue to outperform its peers. They also think that U.S. Bancorp maintains a conservative strategy and solid capitalization. Warren Buffett seems to agree with this assessment. Berkshire Hathaway (NYSE:BRK.B) owns 66 million shares of U.S. Bancorp. These shares are worth $2.6 billion. Among other things, S&P liked U.S. Bancorp's aversion to acquisition and its low exposure to risk in the mortgage sector. That may make it a better banking play than Buffett favorite Wells Fargo (NYSE:WFC), which is heavily exposed to mortgages.
This stability is not reflected by U.S. Bancorp's share price, which has been on a roller coaster ride since March. The price fell below $29 early in March and rose back to around $33 in May before falling to $29 in mid-June and rising to a high of nearly $34. On August 22, 2012, it rose to $33.24 before falling to $32.90 at close. So it seems that Mr. Market can't make up his mind about this stock even though S&P has.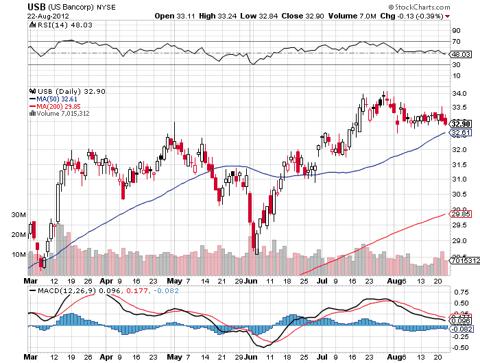 The charts indicate that U.S. Bancorp's shares might finally be catching up with the performance of its business. Its revenue increased by 8.1% in the second quarter of 2012 while net interest income increased by 6.6% and non-interest income went up by 9.7%. If that was not good enough, net income at U.S. Bancorp's mortgage operation increased by a staggering 105%. U.S. Bancorp also increased its total loan growth by 7.7%.
Most observers credit U.S. Bancorp's focus on traditional banking, such as mortgages and small lending, for its performance. Instead of making money by trading like JP Morgan Chase (NYSE:JPM), U.S. Bancorp is doing it the old fashioned way by running a good bank. In the first quarter of 2012, U.S. Bancorp had $234 billion in deposits and $207 billion in outstanding loans. That means its cash exceeds its liabilities with a loan to deposit gap of around 12%.
U.S. Bancorp is also one of the few banks that has been able to compete with Wells Fargo in the mortgage sector. U.S. Bancorp is one of the top three mortgage lenders in the United States, along with JP Morgan Chase and Wells Fargo. During the second quarter of 2012, U.S. Bancorp originated $28.1 billion worth of mortgages and retail loans. Its credit card business did well too, with $2.4 billion worth of lines related to new credit cards opened at the same time.
More Than Mortgages
Unlike Wells Fargo, U.S. Bancorp's lending is diversified beyond mortgages. Its commercial and commercial real estate lending operation grew by $36.7 billion in the second quarter. The number of commercial loans it made was 19.9% higher than in the second quarter of 2011 and 5.1% higher than in the first quarter of 2011.
The amount of money being deposited at U.S. Bancorp's branches is also increasing. The growth rate for average deposits in the second quarter of 2011 was 10.5% higher than the same period in 2011. Growth in non-interest bearing deposits was much better; these increased by 32.5% in the second quarter and savings deposits grew by 4.4%.
Other sources of cash at U.S. Bancorp are increasing as well. Fee-based revenue in the 2012 second quarter was 9.7% higher than in the second quarter of 2011. Mortgage banking revenues went up by 8.4%, and payments-related revenue increased by 9.8%. At the same time, losses were down; net charge offs in the second quarter were 8.9% lower than the same period a year before. Loan delinquencies also fell in the same period.
The financials indicate that U.S. Bancorp is making money on virtually everything that it does. U.S. Bancorp has figured out how to grow its business without taking the kind of gigantic risks that Wells Fargo has. It has done this by keeping its banking diversified and concentrating on customer service.
That makes it a better banking industry value for people who are skeptical of the mortgage market. Not everybody shares Warren Buffett's optimism about the housing market or believes in a potential real estate recovery. U.S. Bancorp is obviously among them; it has profited from record low mortgage interest rates, but it has not tried to dominate the industry. This healthy attitude has been what kept U.S. Bancorp stable and profitable.
That strategy may protect U.S. Bancorp from regulators and politicians that are getting nervous about Wells Fargo's control of one third of the mortgage business. It might also let U.S. Bancorp and its shareholders profit from any stumbles that Wells Fargo makes. If you don't believe in the housing rebound, U.S. Bancorp might be the banking value play for you.
Disclosure: I have no positions in any stocks mentioned, and no plans to initiate any positions within the next 72 hours. I wrote this article myself, and it expresses my own opinions. I am not receiving compensation for it (other than from Seeking Alpha). I have no business relationship with any company whose stock is mentioned in this article.