Bernanke and friends are trekking to Jackson Hole this week, and markets are eagerly awaiting Bernanke's speech on Friday and Draghi's presentation on Saturday. Were China Premier Wen Jiabao able to commute to Oregon, the three Musketeers could make the world whole and safe again over the Labor Day weekend. In fact, Wen may well do his part over a conference call on Sunday.
Given the time zone where each Musketeer operates, speeches could be organized so that history would eventually call this the Saviors' Day weekend.
Or, more likely, "open-ended world-wide QE weekend", so that everybody understands what "Believe me, it will be enough!" truly means.
As ISI's Ed Hyman reminds us:
Two years ago, Rogoff (classmate of Bernanke and Draghi at MIT) was quoted in the Financial Times, "The important thing is to say you are not going to stop QE until you achieve your target."
Right on cue today, just to prepare everybody:
Fed's Evans: buy bonds until jobless rate falls
The Federal Reserve should launch a fresh round of monetary stimulus immediately, buying bonds for as long as it takes to produce a steady decline in the jobless rate, a top Fed official said on Monday.

"I don't think we should be in a mode where we are waiting to see what the next few data releases bring," Chicago Federal Reserve Bank President Charles Evans said in remarks prepared for delivery at the Hong Kong Bankers Club. "We are well past the threshold for additional action; we should take that action now."
Investors should remain cautious given that the FOMC has indicated that it would like to see more data before further commitments(!).
Furthermore, can the Fed really do a lot more? Could the mother of all QEs save us all from our woes?
What woes, you ask?
Eurozone Woes

"We expect from Greece that the promises that were made are implemented, that actions follow words."

Chancellor Angela Merkel didn't comment directly on the time extension, but said Germany doesn't pass "premature judgments" and would wait for a report from creditor inspectors.

The troika returns to Greece on Sept. 5, and eurozone finance ministers are expected to review its report at their Oct. 8 meeting.
"The government has either made a significant error in the accounts, which damages the credibility of the budget plans, or they are trying to hide something," said Juan Rubio-Ramirez, a professor of economics at Duke University who has examined the accounts in a study for Fedea, a non-profit economics research foundation.

"It means the regions appear to have been given €1.2bn which is not really there," Mr Rubio-Ramirez said. Spain's budget ministry declined to comment.
John Mauldin recently posted a Gavekal piece warning of an impending German recession based on recent trends in the IFO:
(click image to enlarge)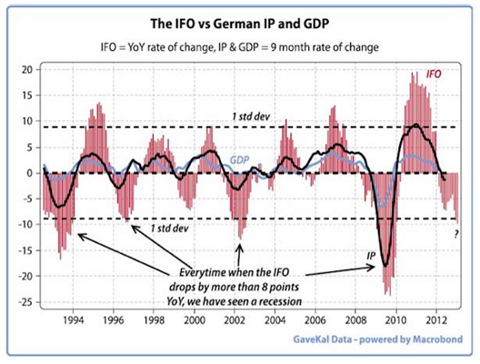 This week, we learn that the August IFO declined again but, because it fell abruptly this time last year, the YOY drop has narrowed from 9.8 in July to 6.5 in August:
Importantly, for the first time in three years the majority of firms deemed their export prospects "negative."
(…) "The general sentiment is that the eurozone crisis could become tougher in the next couple of months and I would say all large corporates are preparing for tougher times and are trying to reduce their cost base," says Markus Schweizer, a managing partner at Ernst & Young's Germany, Switzerland and Austria unit. (…)

"A lot of German companies have become much more proactive in managing costs following their experiences during the 2008 crisis," says Tobias Mock, a managing director at Standard & Poor's.

(…) rather than lay-off workers, some German companies are again making use of short-time working subsidies under the government's Kurzarbeit programme that was used widely by companies in the 2008-09 crisis.
Gavekal now sees Germany dragging the eurozone downward!
(…) there can be no escaping the fact that reduced German imports must cause a decline in French and Italian exports. This will likely be a shock for those who expect the German juggernaut to drag the southern economies back to growth. To put it bluntly, Germany will very shortly be subtracting from growth in the rest of Europe.
(click image to enlarge)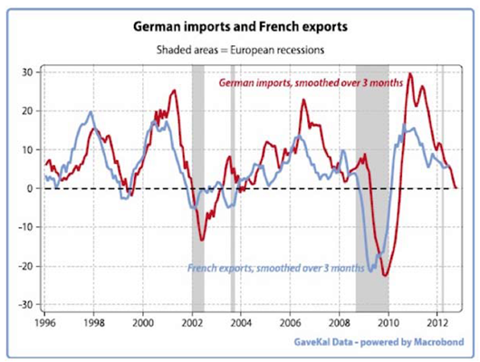 And since the French and Italian economies are NOT competitive versus their German rival, the concern is that a retrenching German consumer will have an especially big impact on these countries' exporters. It is always the least efficient, marginal producers that are first to lose market share.
(click image to enlarge)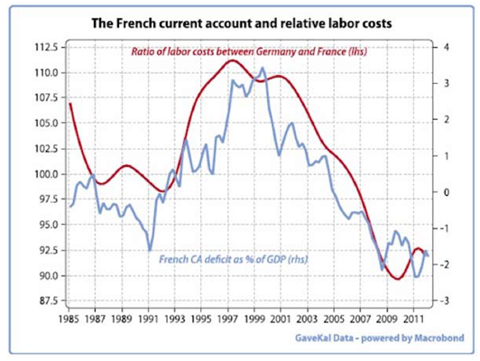 A French advisory group on competitiveness said France may need to cut business taxes by as much as $62B to be competitive (Bloomberg, July 12, 2012). But here's another, easier(!) way out:
France: Car Makers Are Dumping
The French government accused Korean car makers Hyundai and Kia of dumping as their sales are rising, while local manufacturers see their market shares dwindling.
Tony and Rob Boeckh (BoeckhInvestmentLetter.com) explain the widening gap between Germany and France (chart of France PMI from Markit):
During the time that they have been in a monetary union together, Germany has demonstrated that it cares about broadening employment and making products competitively. France has instead put leisure and job security for permanent hires ahead of the dynamism its economy desperately needs.
Draghi is obviously concerned about the above, but he must be totally scared of the following:
The state of the French economy is a matter of particular concern because if contagion were to spread from Spain and Italy to France, an already unmanageable crisis would grow vastly out of proportion to any possible policy tool available to mitigate it. Spain and Italy are already too big to bail out, but a rescue for France is unthinkable.

Moreover, the credibility of existing rescue mechanisms depends on their being backed by the more stable core. France may not be in good enough shape to support itself, let alone prop up the periphery.

France may very well be the next domino to fall in the eurozone debacle. GDP growth has stalled and will likely soon turn negative. Watch for the government to miss its 2012 deficit reduction target. When this happens, borrowing costs may start to reflect the underlying structural problems in the French economy.
BUT, DON'T YOU WORRY, SUPER MARIO IS READY…but is this "the" week?
From Bloomberg on Friday via FT Alphaville:

European Central Bank President Mario Draghi may wait until Germany's Constitutional Court rules on the legality of Europe's permanent bailout fund before unveiling full details of his plan to buy government bonds, two central bank officials said.

D'oh!

With the court set to rule on Sept. 12, investors looking for Draghi to announce a definitive purchase program at his Sept. 6 press conference might be disappointed, according to the officials, who spoke on condition of anonymity because the deliberations are not public.

(…) Was this timing issue only just clocked, or is there another matter at play here…

The program is still being worked on and staff may not be able to finalize it by then, said the officials, who are familiar with thinking on the ECB Governing Council.

… the ultimate design of the ECB's program may depend on the uncertainty over the permanent bailout fund being resolved, so the officials said it makes sense to wait for the German ESM court ruling.

Full details of the ECB's plan could be a month away, they said.

In any case -- as is often worthwhile to do when things like this crop up -- let us take a nice, quiet moment to go back and read what Mario Draghi actually said. From the opening statement of the last press conference:

Furthermore, the Governing Council may consider undertaking further non-standard monetary policy measures according to what is required to repair monetary policy transmission. Over the coming weeks,we will design the appropriate modalities for such policy measures.

Then quoting himself later in response to a question:

I should add that "over the coming weeks, we will design the appropriate modalities for such policy measures". So, many of the details will be worked out by the relevant committees within the ECB.

And in response to a different question:

But not one country has yet asked the EFSF to intervene, so as regards the question "are you ready to act now?" even if we were ready to act now, there would not be the grounds for doing so. What we have expressed now is strong guidance about strong measures, and the details will be completed in the coming weeks.
Meanwhile, the Chinese Woes Are Getting Worse
Slowdown hits China's key export hub An increasing number of companies in Wenzhou have gone out of business, amid difficulties that are even "more serious" than the 2008 financial crisis.
Wenzhou, Zhejiang province, is often referred to as a hub of small and medium-sized enterprises.

But it has witnessed a rise in bankruptcies that is even "more serious" than the 2008-09 financial crisis, Zhou Dewen, chairman of the Wenzhou SME Development Association, said.

"We have about 3,000 members and more than 10 percent have closed down and about 20 percent are struggling," Zhou said. (…)

"It is a matter of survival. Orders keep declining, especially those from Europe, and local competition is fierce," Zheng said. (…)

Wenzhou's shoemakers, once a major contributor to the local economy, are also suffering.

"Summer used to be peak season, but production lines are quiet like winter," said Chen Xi, manager of Wenzhou Dongyi Shoes. (…)

After a tour to Zhejiang province on Aug 14 and 15 and another to Guangdong, from Friday to Saturday, Wen called for measures to meet economic goals and warned that the economy could still face turbulence.

"Downward pressure is still a major factor and the slowdown may continue for a while," he said. (…)

There are still many "negative factors that will affect stable economic operations in the second half" and the difficulties of stabilizing economic growth are "still relatively large," Wen said.
(…) "Life is difficult," said Xu, a sales manager at Maanshan Fangyuan Slewing Ring Co. (002147), which supplies parts to Sany Heavy Industry Co. (600031), XCMG Construction Machinery Co. and other equipment-makers. "Every client is cutting production." (…)

The excavator sector "is an oversupplied market," said China Construction Machinery Business Online's Wang. "Only a government stimulus can save it."
These Markit charts demonstrate that this is indeed worse than 2010 and 2011: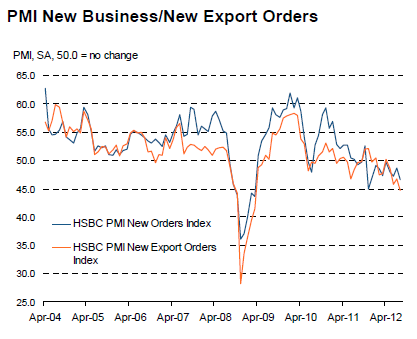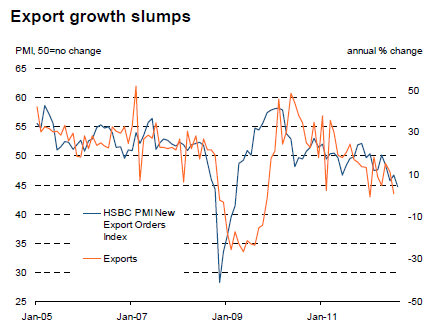 In fact, much, much worse:
Weaker-than-expected sales contributed to a further rise in holdings of finished goods at manufacturers' plants. The latest increase in stock levels was the fourth in as many months, and the sharpest since data were first compiled in April 2004.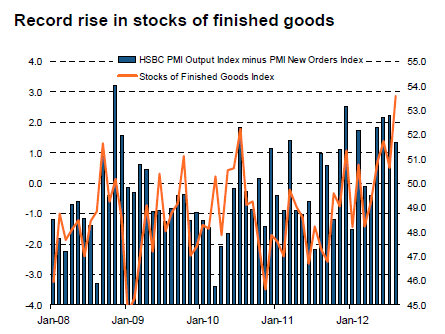 These stats are from July. It sure looks like August and September are going to be worse, according to CEBM Research's mid-August industry surveys:
Almost all the surveyed steelmakers stated that actual sales were below expectations. Respondents generally turned even more pessimistic when asked about the demand forecast for next month, with none of them expecting to see any significant demand improvement in the near future.

All surveyed steelmakers told us that their operating environment has been deteriorating. Not only have almost all steelmakers been losing money, but they have also been finding it increasingly difficult to collect accounts receivable, as downstream clients have been facing similar demand problems.

Construction machinery dealers surveyed mentioned that sales in the first half of August increased slightly compared to July. However, since demand has not fundamentally recovered, sales still declined strongly on a YOY basis. The respondents did not see any newly launched construction projects, indicating that local governments' stimulus plans reported recently have not yet been executed.

The CEBM August Heavy Truck Dealer Survey shows that heavy truck sales this month are still at a low level. Based on our survey, sales numbers in August are likely to be slightly higher than in July, but the YOY growth may be around -25%, whereas July sales growth was -22%.

Moreover, some dealers have not yet received payment for heavy trucks sold in previous months because downstream customers lack cash to pay immediately.
China's major industrial enterprises posted a wider decline in their total net profit in July after narrowing in June. Increasingly, narrower profit at China's industrial companies could lead to a rise in unemployment.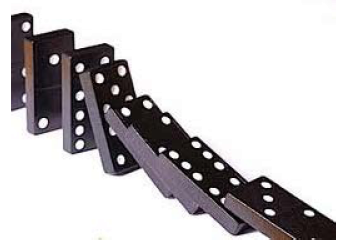 (…) Bank of China's domestic claims on banks and other financial institutions rose to 882 billion yuan in June ($138 billion), equivalent to 18% of loans, up from 8% at the end of 2009. For the sector as a whole, the trend is amplified, with banks claims on other banks now equal to 43% of total loans, compared with 25% at end 2009.

That sharp increase could be hiding two problems.

Claims on other financial institutions often represent credit extended to China's shadow banking system, which use the funds to make loans to property developers and other high risk borrowers. The implication is that banks are rolling their nonperforming loans into claims on China's shadow financial system, with no change in the underlying asset.

Also, claims on other banks often represent loans to corporate customers backed by a letter of credit from another bank. (…)
Now, read again the piece on Wenzhou above and you get the idea of a vicious circle. The Party must also be worried about the following:
"China is now entering the 'danger zone'," said Kiyohiko Nishimura, the Bank of Japan's deputy-governor and an expert on asset booms. (…)

Mr Nishimura said credit and housing booms can remain "benign" so long as the workforce is young and growing. They turn "malign" once the ratio of working age people to dependents rolls over as it did in Japan.

China's ratio will peak at around 2.7 over the next couple of years as the aging crunch arrives. It will then go into a sharp descent, compounded by the delayed effects of the one-child policy.

"Not every bubble-bust episode leads to a financial crisis. However, if a demographic change, a property price bubble and a steep increase in loans coincide, then a financial crisis seems more likely," he said in Sydney at a conference on asset booms. (…)

It is unclear how easily China can manage the hang-over after letting home price-to-income ratios peak at nose-bleed highs of 16 to 18 in the coastal cities of Beijing, Shanghai, Tianjin, and Shenzhen.

The authorities deliberately choked the boom by tightening credit last year but have discovered that it is not easy to stop the effects spilling into the rest of the economy, causing an industrial recession.
U.S. Woes? C'mon! Look At Housing.
Sales of New Homes Climb Sharply Sales of newly built homes rose briskly in July, and inventories declined to the lowest level on record, a sign that builders may need to ramp up construction.
So housing is finally back as I forecasted in January (FACTS & TRENDS: U.S. Housing Mending). The problem is, everything else now looks weak.
In all, you may want to bet on bankers (BANKING (BETTING) ON BANKERS?), but can they really save us?
Disclosure: I have no positions in any stocks mentioned, and no plans to initiate any positions within the next 72 hours. I wrote this article myself, and it expresses my own opinions. I am not receiving compensation for it. I have no business relationship with any company whose stock is mentioned in this article.