Steinway Musical Instruments (NYSE:LVB) makes musical instruments of all kinds, although it is perhaps most famous for its pianos. The problem is that it trades at a P/E of 61.10. This is far too high for a company with an average analysts' EPS growth rate per annum for the next five years of 15.00%. This growth rate should mean a P/E no higher than 30, especially in this troubled industry. Admittedly, LVB's FPE is only 15.62. However, the miss in four out of four EPS estimates in the last four consecutive quarters by an average of 43.7% tells you that you cannot rely on the current estimates. It tells you that you should expect bad misses. It tells you the FPE is almost meaningless.
When you further consider that the U.S. has the fiscal cliff and tax-maggedon coming up at the end of the year, you have to believe that LVB's misses will get bigger instead of smaller. Also, the credit crisis in Europe is expected by many to spill over into the U.S. and perhaps China. The consistent misses tell you that management has little clue regarding how to improve the situation. Neither do they even have a good idea of how to estimate revenues and EPS in this environment.
If all that was not bad enough, real estate taxes usually pay for education costs. Real estate prices have gone down by roughly 35% since the high of the market in 2006-07. This effectively means taxes have fallen by a large percentage. Consequently, schools have had to make drastic cuts. Teachers certainly were not going to take 20%-35% pay cuts because taxes got cut (although taxes probably didn't get cut quite 35%). More than 300,000 teachers have been laid off nationwide since the end of the recession. With state and local budgets underfunded, school districts are again cutting jobs and programs. For most, their share of the federal Jobs Bill funding has run out.
Band is one of the easier programs to cut. For LVB this means that fewer musical instruments will be bought by or for elementary school children, middle school children, high school teens, and adults. LVB will feel this effect immediately, but the effect is also a time bomb. It will depress LVB's revenues far into the future. If you don't learn a musical instrument as a child, the likelihood is that you will not learn one at all. On top of that, computers synthesize music these days. You can compose without being able to play anything. Alternatively, an electronic keyboard can simulate the sounds of many different kinds of instruments. If you buy one of these, you may not need to spend as much money as you would on a Steinway. This is so true that the electronic keyboard is starting to put upright pianos out of business. Furthermore, the electronic keyboard is a lot easier to store.
In NYC, Boston, and Austin music is still alive and doing well. However, it may just be me, but other areas do not seem to teem with music in the way they had before the recession. I am disturbed that we may be losing a generation of musicians, even if they are just amateur musicians. For LVB, I am concerned about the revenues and earnings going forward. In these extended hard times, more parents will not want to pay for an instrument or for playing lessons. More schools will cut their band programs. Children are the lifeblood of LVB's business.
Looking at another issue for LVB, U.S. GDP growth slowed from 2.0% in Q1 2012 to 1.5% in Q2 2012. Some expect roughly 2.0% for the rest of 2012. However, the conservative Congressional Budget Office has predicted a -0.5% recession in 2013 if the U.S. goes over the fiscal cliff. Even if the U.S. does not, there will be eventual spending cuts and tax increases. The slow growth or even negative growth will extend for another couple of years at least in the U.S. The Federal Reserve statement that it will keep interest rates low into late 2014 is a sure sign of long-term low growth, and growth has already been low for four years. Low to negative growth means that LVB will continue to have dwindling sales. If that wasn't bad enough, LVB has significant European sales. These are likely to be hurt by the worsening EU debt crisis. Japanese sales may be troubled, too.
There is no magic bullet that will solve all budget problems -- personal or governmental. If anything, local governments are starting to fail where they hadn't before. Meredith Whitney's prediction for a municipal bond disaster may yet come true, if a little later than predicted. LVB will do much worse than management has so far admitted. Aside from the initial damage, this will be a problem many years into the future. A generation (or more) of musicians may be lost. This is likely a lifetime's worth of lost sales for LVB.
The five-year chart of LVB shows how it did in the last recession. In many ways this recession may be worse, as LVB has suffered significant setbacks due to the situations described above.
Click to enlarge image.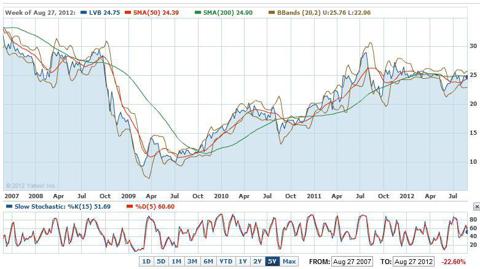 The slow stochastic sub chart shows that LVB is neither oversold nor overbought. The main chart shows that it has been in a consolidation phase for the last year or so. I see no technical or fundamental reasons for this to go up out of this consolidation. Instead, there are significant reasons for it to go down. It is a sell at this point. The U.S. economy is virtually assured of slowing in Q1 2013, if not before. It may go into a recession. LVB will likely sell off. It is lightly traded, so you should only consider shorting this stock for a long period. It may take some time to go down. Still, it is a low-risk short, and it should return a handsome profit within one year at most. There is no dividend to cost you money during that time.
Furthermore, the overall market is overbought at this time and is over due for a retracement. David Kostin, chief forecaster for Goldman Sachs, has a 1250 end-of-year target on the S&P 500. That is a long way from the close on Aug. 27, 2012, of 1410.44. Such a retracement would bring LVB down quite a bit. The trade would already be profitable. Also, there might be a later significant drop in the stock price due to the fiscal cliff and tax-maggedon, and LVB would go down further. There is support at approximately $20, $15, and $10. If it reaches $15, you may want to re-evaluate your short position on a risk/reward basis.
If you think you like the reasons for shorting LVB, you may find they also apply to the following stocks: LeapFrog Enterprises (NYSE:LF), Arctic Cat (NASDAQ:ACAT), Marine Products (NYSE:MPX), and one of the biggest cyclicals, Caterpillar (NYSE:CAT).
Note: Some of the fundamental fiscal data above is from Yahoo Finance.

Disclosure: I have no positions in any stocks mentioned, but may initiate a short position in LVB, CAT over the next 72 hours. I wrote this article myself, and it expresses my own opinions. I am not receiving compensation for it (other than from Seeking Alpha). I have no business relationship with any company whose stock is mentioned in this article.