Sprint Nextel Corporation (NYSE:S) is the third largest wireless carrier in the United States, competing with much larger carriers Verizon Communications (NYSE:VZ) and AT&T Inc. (NYSE:T). Sprint has seen strong subscriber growth over the past few years, growing from 36.5 million to 52 million in just two years.
Click to enlarge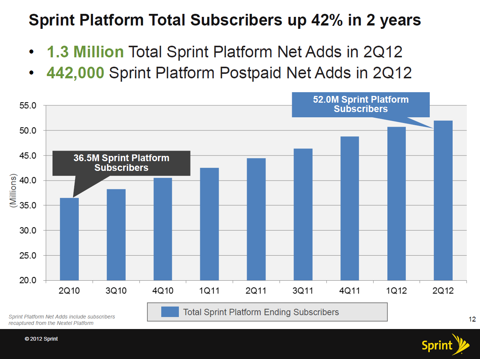 * Full presentation here
Sprint stock doesn't pay a dividend, unlike Verizon and AT&T, which both pay a dividend currently topping 4.5%. The stock price never truly recovered after the financial crisis of 2008, currently trading at $4.82 per share.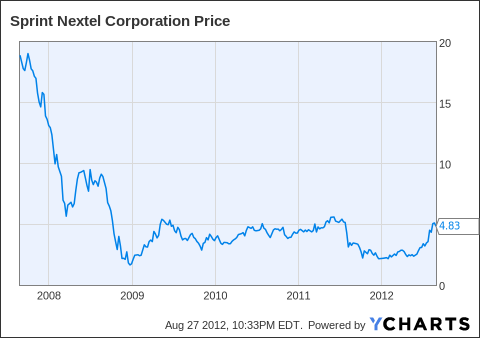 At this point the stock remains fairly speculative, as Sprint executes a turnaround strategy. And with no dividend, the stock is a tough sell. But one place an investor can find solid yields from Sprint is in its bonds.
| CUSIP | Coupon | Maturity | Price | Yield |
| --- | --- | --- | --- | --- |
| 852061AM2 | 11.5% | 11/15/2021 | $125.00 | 7.663% |
| 852061AA8 | 9.25% | 04/15/2022 | $107.00 | 8.182% |
| 852060AD4 | 6.875% | 11/15/2028 | $93.110 | 7.620% |
| 852060AT9 | 8.750% | 03/15/2032 | $100.554 | 8.689% |
* Data from FINRA
The highest yield is offered by the longest term bond, maturing in just under 20 years. A yield of 8.689% is nearly twice the dividend yield of the larger telecoms and three-and-a-half times the 20-year treasury yield.
03/15/2032 Sprint Bond Price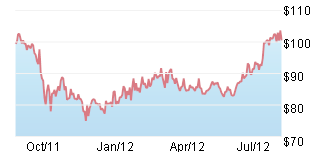 The 2032 bond was trading below $80 at the beginning of the year, but even trading near par offers a high yield.
Conclusion
Sprint is in the middle of a turnaround, and buying the bonds offers a good way to bet on its success. The bonds offer yields over 8%, while the stock offers no dividend and has been trading between $2.50 and $5 since the financial crisis. In a world of low yields, Sprint bonds offer an exceptional fixed-income investment.
Disclosure: I have no positions in any stocks mentioned, and no plans to initiate any positions within the next 72 hours. I wrote this article myself, and it expresses my own opinions. I am not receiving compensation for it (other than from Seeking Alpha). I have no business relationship with any company whose stock is mentioned in this article.