Apple Inc. (NASDAQ:AAPL) is set to release its newest version of the iPhone in less than a month and the stock recently hit an all-time high. There have been calls for Apple to split its stock so that smaller investors can participate in 'ownership' of this incredible company whose stock rise seems to have no end in sight.
But there are other stocks that may also benefit from Apple's success. As a matter of fact, you could say that these companies actually contribute to Apple's success. We screened Apple suppliers to determine if there were any golden nuggets worth looking into and came up with a few names.
We went straight to the metric all investors are interested in, returns. But we didn't stop there. We wanted to make sure not to overpay for some of these stocks. In other words, we tried to filter for those stocks whose price appreciating may not already be priced in to the stock. Therefore, we looked for stocks whose price/earnings growth ratio was reasonable.
% 3-yr expected return: According to Morningstar.com, the 3-year expected return is the average annual return we expect for a stock over the next 3 years. This calculation assumes that a stock's price converges to its fair value in three years. Thus, if today's stock price is $25 and we expect its fair value to be $40 in 3 years, then the stock will have to appreciate 17% per year for 3 years to get to its fair value.
Even though it is only based on Morningstar's fair value estimate, we figured it would be an adequate proxy to reduce the stocks to evaluate to a reasonable number.
PEG Ratio: The price/earnings growth ratio combines the P/E ratio with the earnings growth expected for the company. That way, an investor can compare relative valuations across two different companies whose P/E ratios may often differ over time. By using the PEG ratio instead of just the P/E ratio, an investor can evaluate the relative price of a stock compared to its expected earnings growth. The lower the PEG ratio, the better. Typically, a PEG ratio less than 1 is very attractive, while a PEG ratio greater than 2 is a 'sell' opportunity.
We screened for Apple suppliers with a 3-year expected return of greater than 15% per year and a PEG ratio less than 1.5. Keep in mind that Apple has many suppliers that are not followed by Morningstar, so while there may be other companies with expected returns greater than 15%, we have only included those stocks covered by Morningstar analysts. In future articles, we may use consensus estimates taken from other sources.
1. Marvell Technology Group Ltd. (NASDAQ:MRVL)
Marvell Technology Group Ltd. (Marvell) is a fabless semiconductor provider of application-specific standard products.The company develops complex System-on-a-Chip (SoC) devices. Its product portfolio includes devices for data storage, enterprise-class Ethernet data switching, Ethernet physical-layer transceivers (PHY), mobile handsets and other consumer electronics, wireless networking, personal area networking, Ethernet-based personal computer connectivity, control plane communications controllers, video-image processing and power management solutions.
The company's products serve diverse applications used in carrier, metropolitan, enterprise and PC-client data communications and storage systems. In December 2011, the company acquired Xelerated AB (Xelerated). In April 2011, the company acquired the PHY business of a company, which specializes in the design of networking devices.
For two conflicting views on Marvell, check out Marvell's Q2 Miss: Long-Term Strength Despite Short-Term Weakness and Marvell Technology - Don't Buy Into The Value Trap, Given Underlying Operational Weakness

Click to enlarge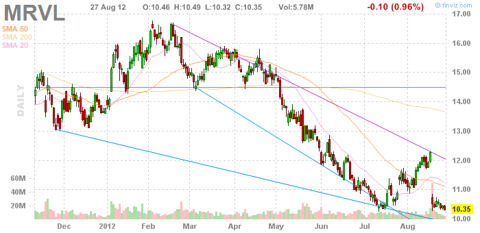 2. Advanced Micro Devices Inc. (NASDAQ:AMD)
Advanced Micro Devices, Inc. is a global semiconductor company with facilities globally. Within the global semiconductor industry, it offers x86 microprocessors, as standalone devices or as incorporated as an accelerated processing unit, for the commercial and consumer markets, embedded microprocessors for commercial, commercial client and consumer markets and chipsets for desktop and mobile devices, including mobile personal computers , and tablets, professional workstations and servers, and graphics, video and multimedia products for desktop and mobile devices, including mobile PCs and tablets, home media PCs and professional workstations, servers and technology for game consoles.
The company operates in two segments: the Computing Solutions segment and the Graphics segment. In March 2012, the company acquired SeaMicro Inc. For a more detailed article, check out Why Advanced Micro Devices Has Valuation Upside To $10 Per Share

Click to enlarge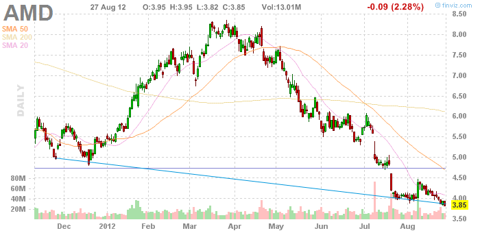 3. Intersil Corporation (NASDAQ:ISIL)
Intersil Corporation designs, develops, manufactures and markets analog and mixed-signal integrated circuits. The Company develops products for the consumer electronics market. The company's products are focused on its portfolio of Application-Specific Standard Products and General Purpose Proprietary Products, which are targeted within the industrial, computing, consumer and communications markets. Click here for last month's earnings transcript: Intersil's CEO Discusses Q2 2012 Results - Earnings Call Transcript.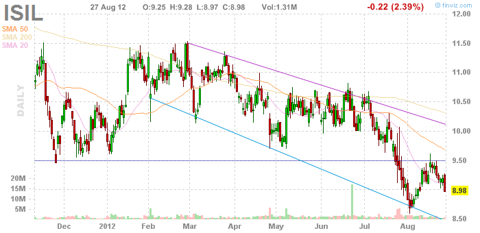 4. STMicroelectronics NV ADR (NYSE:STM)
STMicroelectronics N.V. is a global independent semiconductor company that designs, develops, manufactures and markets a range of semiconductor products used in a variety of microelectronic applications, including automotive products, computer peripherals, telecommunications systems, consumer products, industrial automation and control systems.
The company offers a diversified product portfolio and develops products for a range of market applications. Its product families consist of differentiated application-specific products, such as digital application-specific standard products (ASICs) and application-specific standard products (ASSP) offerings and semi-custom devices) that are organized under its Automotive, Consumer, Computer and Communication Infrastructure segment (ACCI), Wireless segment (Wireless), Analog, micro-electro-mechanical systems and Microcontrollers segment (AMM) and Power Discrete Products segment.
For last month's earnings transcript, click here: STMicroelectronics' CEO Discusses Q2 2012 Results - Earnings Call Transcript.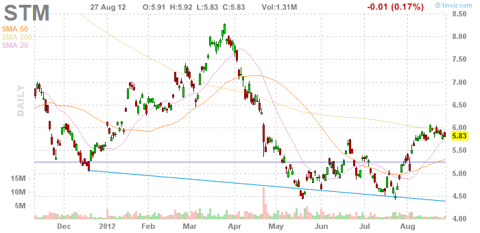 Evaluate each of these stocks for yourself to determine if they would be a good fit for your own portfolio.

Disclosure: I have no positions in any stocks mentioned, and no plans to initiate any positions within the next 72 hours. I wrote this article myself, and it expresses my own opinions. I am not receiving compensation for it (other than from Seeking Alpha). I have no business relationship with any company whose stock is mentioned in this article.