Watson Pharmaceuticals Inc. (WPI) is one of my 10/10/10 stocks. My philosophy is that the only way to have a portfolio that will return in excess of 10% is to only buy stocks that are projected to have a 10% increase in Revenue, Earnings and Total Return. Why would you not own WPI? In the past five years, there has been a 179.41% increase in price, as this graph provided by Barchart shows:
Click to enlarge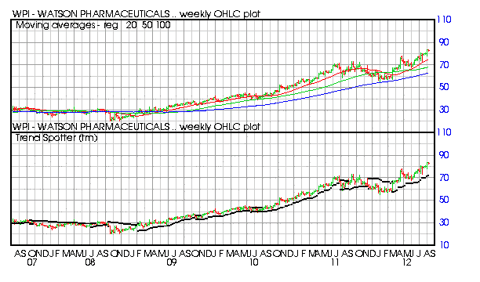 The stock has stayed on a steady roll and during the last six months. While the market as measured by the Value Line Index fell 4%, Watson Pharmaceuticals was up 24%: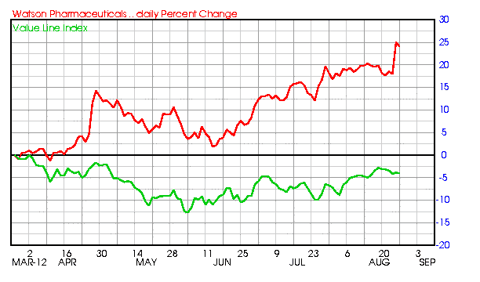 Watson Pharmaceuticals, a specialty pharmaceutical company, engages in the development, manufacture, marketing, sale, and distribution of generic and brand pharmaceutical products in the United States, western Europe, Canada, Australasia, Asia, South America, and South Africa. The company offers its products for therapeutic categories, such as central nervous system, cardiovascular, hormones and synthetic substitutes, anti-infective agents, and urology. It operates in three segments: Global Generics, Global Brands, and Distribution.
The Global Generics segment develops, manufactures, and sells generic pharmaceutical products, as well as distributes generic versions of third parties' brand products. This segment offers various dosage forms, such as oral solids, transdermals, injectables, inhalation products, and transmucosals for indications, including pregnancy prevention, pain management, depression, hypertension, and smoking cessation.
The Global Brands segment promotes and co-promotes Rapaflo, Gelnique, Trelstar, Androderm, Crinone, ella, INFeD, Generess, sodium ferric gluconate, AndroGel, and Femring branded products; and markets its products through sales professionals. It also sells various non-promoted products.
The Distribution segment distributes generic and select brand pharmaceutical products, vaccines, injectables, and over-the-counter medicines to independent pharmacies, alternate care providers, pharmacy chains, and physicians' offices. The company sells its generic and brand pharmaceutical products primarily to drug wholesalers, retailers, and distributors, including national retail drug and food store chains, hospitals, clinics, mail order, government agencies, and managed healthcare providers, such as health maintenance organizations and other institutions. Watson Pharmaceuticals, Inc. was founded in 1983 and is headquartered in Parsippany, New Jersey. (Source: Yahoo Finance profile)
Barchart technical indicators
100% Barchart technical buy signal
Trend Spotter buy signal
Above its 20, 50 and 100 day moving averages
5 new highs and up 3.67% in the past month
Up 26.16% in the past year
Up 179.41% in the past 5 years
Relative Strength Index 67.55%
Barchart computes a technical support level at 79.35
Recently traded at 82.70 with a 50 day moving average of 76.55
Fundamental factors
17 Wall Street brokerage firms have assigned 24 analysts to make recommendations on this stock
Analysts project revenue will increase by 20.00% this year and another 46.10% next year
Earnings are estimated to be up 21.40% this year, an additional 40.10% next year and continue to increase by an annual rate of 12.37% for the next 5 years
These numbers resulted in analysts making 8 strong buy, 9 buy and 7 hold recommendations to their clients
Analysts think if their numbers are correct investors could see an annual rate of return in the 10% - 14% range during the next 5 years
The balance sheet rates a B++
The P/E ratio is 13.30 which is less than the market P/E of 15.00
No cash dividend at the present time
Acquisitions have gone smooth
They just received a favorable ruling to produce a generic version of Lidoderm
Investor interest
As mentioned above, Wall Street brokerage analysts had no underperform or sell calls out
Individual investors, as measured by comments on Motley Fool, voted 89% that the stock will beat the market
Firms positive on the stock include CitiGroup, JP Morgan, Barclays and Goldman Sachs
Short interest peaked in mid-may around 4+ million shares and fell to just under 3 million share recently
The Street gives the stock a B rating
Price vs its peers
The market has looked at all the pharmaceuticals favorably this year and Watson was up 23% during the period, while Pfizer (NYSE:PFE) was up 27%, Novartis (NYSE:NVS) up 4% and Merck (NYSE:MRK) up 32%: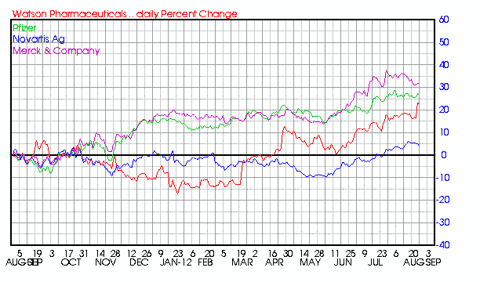 Conclusion
Watson Pharmaceuticals is a growth stock that is projected to have a 10% increase in revenue, earnings and total return. No major road blocks appear on the horizon and lately the stock has shown favorable performance against its moving averages and turtle channels: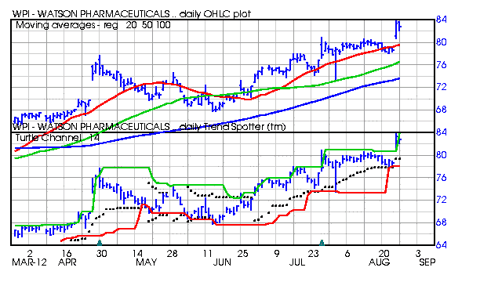 Disclosure: I am long WPI, PFE, MRK. I wrote this article myself, and it expresses my own opinions. I am not receiving compensation for it (other than from Seeking Alpha). I have no business relationship with any company whose stock is mentioned in this article.