Oil prices pulled back on Monday morning, and we expect ongoing weakness for the commodity over the next two weeks.
To date, we've built 34 different algorithms to predict the direction of oil prices over the next 10 trading sessions.
Based on Friday's closing values, only 44.12% of our algorithms are projecting gains for the USO fund over the next 10 trading sessions. (Backtests of these algorithms can be accessed here.)
Here is a graphical presentation of our signals for USO, the Unites States Oil Fund, over the next 10 trading sessions: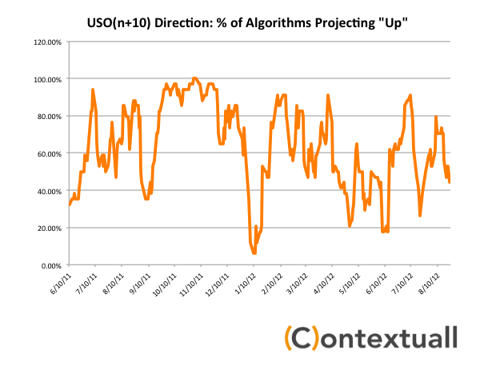 In addition to our algorithmic models turning bearish on oil prices, there are also fundamental factors that could be driving oil prices lower over the next few weeks.
Here are the top four reasons.
Reason #1. The Recent Rally Is Due to Temporary Factors, Not Tightening in the Market
We have to agree with a recent Commerzbank note, which points out that a key factor behind the recent rise in Brent futures was a fall in output at oil fields in the North Sea, due to a heavy seasonal maintenance program at those oil fields.
This is significant, since the North Sea is home of the marker used to price most of the world's oil.
These maintenance programs are temporary. Once this production comes back online, the temporary support will likely go away.
Reason #2. Excessive Bullishness
A recent CFTC report shows that the number of bullish money managers betting that oil prices will go up in the near future outnumber bearish money managers by a factor of five to one.
Given this, it's highly likely that most of the geopolitical risks and expected supply disruption are already well priced into the price of oil.
The market is acting as if a Israel/Iran war is a certainty, yet that is hardly a guarantee.
Reason #3. The U.S. Could Release Oil Reserves
We won't be surprised if the Obama administration released oil reserves, especially as they try and support U.S. consumers during an election year.
Even the expectations of a release could knock prices hard, especially when considering how bullish market participants are on oil prices.
Reason #4. Hurricane Isaac's Impact Not as Strong as Expected
Forecasts for Isaac have been scaled back by Monday morning, easing concerns that the storm could damage oil supply in the Gulf of Mexico, and dragging down oil prices.
The National Hurricane Center later changed their prediction, now projecting that it will grow to a Category 2.
Nevertheless, we believe that any upside that may come from the storm's impact may inspire some profit taking after the recent rally, which may limit further upside potential.
What are your thoughts on the direction of oil? Let us know in the comments section below.
Disclosure: I have no positions in any stocks mentioned, and no plans to initiate any positions within the next 72 hours. I wrote this article myself, and it expresses my own opinions. I am not receiving compensation for it (other than from Seeking Alpha). I have no business relationship with any company whose stock is mentioned in this article.