In this article I take a look at JPMorgan Chase & Co. (NYSE:JPM), a money center bank. We'll evaluate JPMorgan as an equity investment. We'll examine the industry, valuation, and financial position and performance. That said, JPMorgan is fairly valued: The firm is trading at about 2.4 times sales or the middle of its price-sales range for the year. Further, JPMorgan is trading roughly in the middle of its price-book value range.
Industry
Revenue and earnings are strongly correlated with the economic cycle, making the firm cyclical. The money center bank industry is in the mature life-cycle stage. Currently, macroeconomic weakness is a contributing factor to revenue declines at money center banks. Further, the regulatory environment of increasing capital buffers is weighing on industry financial performance.
JPMorgan does face some threat of substitute products as some financial institutions may be more socially preferable. Further, the firm's customers and suppliers don't have much, if any, bargaining power. Also, the threat of new entrants is low and there isn't much rivalry in the banking industry. In other words, the barriers to industry entry are high and the industry is concentrated.
Generally, industry conditions aren't favorable for investors. Financials are typically early cycle leaders and are currently performing poorly.
Rating System
Buy - Be long
Neutral - No Position
Sell - Be short
(The ratings, research and analysis in this article should be considered as starting point for further research.)
JPMorgan - Buy (reduce exposure)
Investment Thesis
JPMorgan is one of the better run banks in the country. I view the multiplier valuation model as suggesting the firm is fairly valued. That said, given the recent increase in the common equity share price, I would suggest reducing exposure. I'm not sure how much more upside there is for the broader market. We are at a potential inflection point, and the wisest action would be to reduce long equity exposure and wait for sales.
Financial Position and Performance
Interest income in 2012's second quarter compared to the year-ago quarter declined 9.8 percent to $14.1 billion. Net interest income declined 5.8 percent to $11.15 billion. The net interest margin increased from 75.7 percent to 79.1 percent. The loan loss provision declined 88.2 percent to $214 million. Net income before taxes 13.9 percent to $7 billion. The net income before tax margin from declined from 52 percent to 49.6 percent. Net income declined 8.7 percent to $4.96 billion. Comprehensive income declined 27.8 percent to $4.59 billion.
Total assets increased 1.1 percent to $2.3 trillion in 2012's second quarter compared to the fourth quarter of 2011. Total liabilities increased 0.8 percent to $2.1 trillion. Financial leverage decreased from 12.3 to 12. Long-term debt to equity is 1.25: The ratio decreased from 1.4 at the end of 2011's fourth quarter.
In the six months ending June 30, 2012, earnings were high quality. However, the firm used more cash investing than it generated from operations. JPMorgan generated $4.87 billion conducting financing activities. Cash declined by $14.7 billion. Cash flow from operations was 18.6 times larger than dividend payments. Cash from operations was 2.2 times net long-term debt payments.
Segment Performance
The segment performance was mixed as the two largest segments increased and decreased in revenue compared to the year-ago quarter. Card services & auto, the third largest segment by revenue, saw revenue decline 5 percent to $4.53 billion.
Litigation
The firm and its subsidiaries are involved in numerous legal proceeding, including private, civil litigation, and regulatory/government investigations. The firm believes the possible losses, in excess of reserves established, for its legal proceedings is from $0 to approximately $5.3 billion.
Some of the legal proceedings involve Bear Stearns, Lehman Brothers, Madoff, MF Global, libor, auction rate securities, mortgages. There are several lawsuits the company faces.
Company v. Industry [TTM]
Return on Assets: 0.79 v. 0.44
Return on Investment: -- v. 0.0
Return on Equity: 9.24 v. 6.16
(The company versus industry data is courtesy of Reuters.)
Valuation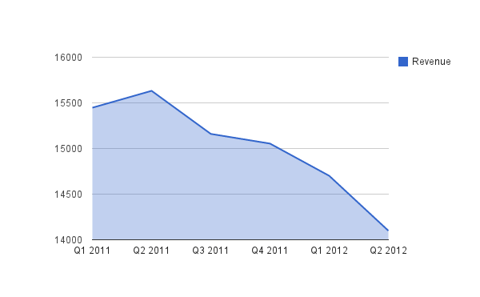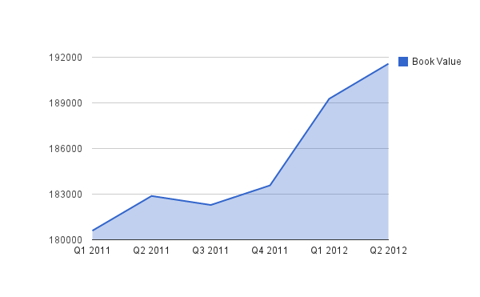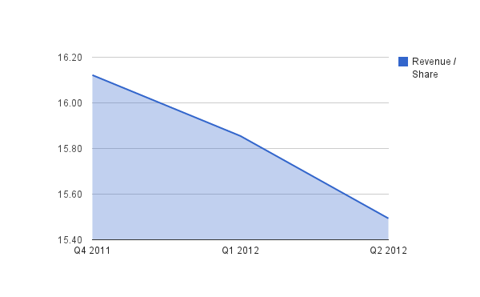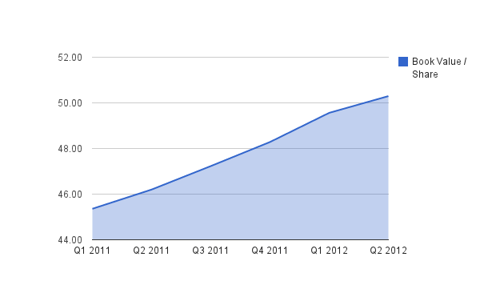 Revenue and book value are diverging. Revenue is decreasing but is reaching the bottom line and adding to the book value of equity.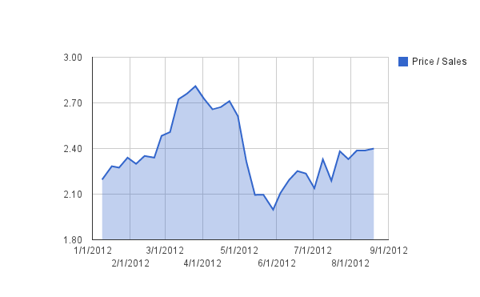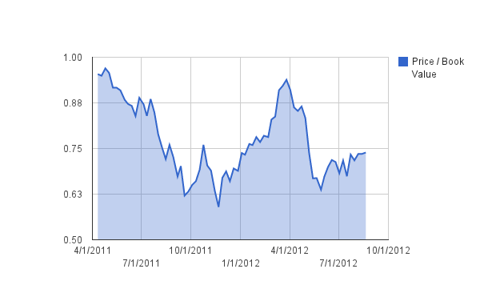 JPMorgan is approaching fairly valued. The price-book value ratio suggests investors don't believe the growth prospects of JPMorgan are favorable.
Disclosure: I have no positions in any stocks mentioned, and no plans to initiate any positions within the next 72 hours. I wrote this article myself, and it expresses my own opinions. I am not receiving compensation for it (other than from Seeking Alpha). I have no business relationship with any company whose stock is mentioned in this article.
Additional disclosure: Disclaimer: This article is not meant to establish or continue an investment advisory relationship. Before investing, readers should consult their financial advisor. Christopher Grosvenor does not know your financial situation and ability to bear risk and thus his opinions may not be suitable for all investors.