Back in July, the National Association of Homebuilders reported that the Housing Market Index increased dramatically to a reading of 35. Analysts had expected the index to rise to 30 after reading 29 in the previous month.
"Builder confidence increased by solid margins in every region of the country in July as views of current sales conditions, prospects for future sales and traffic of prospective buyers all improved," said the press release.
So we're wondering: Did these improving trends continue in August?
To answer this question, We built proprietary indices to track trends in online real estate listings. The index charts are listed below. By aggregating data points from sites like Realtor.com, Zillow, Trulia and others, we can develop an understanding of the market's internal supply/demand dynamics. Here are three charts, based on our indices, that show the housing market continued its improvements during August.
Chart #1: New Listings Have Been Decreasing
Our web crawlers have noticed that there have been fewer new construction listings that have come online over the last. This means that there's less supply coming on to the market, which could be supportive of prices.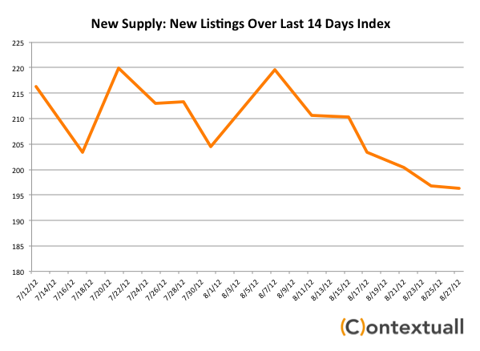 This trend becomes more significant when considering that new home sales rose 3.6% in July to match a two-year high reached in May.
Chart #2: Recently Sold Houses on the Rise
Perhaps the most significant trend we've observed is the steady rise in our "Recently Sold" index.
The index calculates the rate of change of recently sold real estate vs. all listed real estate, and by all measures it has been steadily increasing since the middle of July.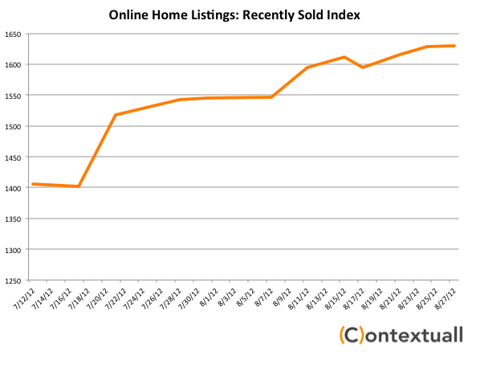 It should be pointed out that our index has not been affected by a recent trend in falling mortgage applications. Data showed that applications fell 7.4% in July compared to June, which may signal that consumers are uncertain about the economy and employment.
Chart #3: Rental Properties Have Reached a Peak
If the housing market is on the mend, then we have to wonder how it will effect the recently booming rental market, which benefited from the housing crash.
"Realistically, trees don't grow to the sky," said David Toti, a multifamily analyst at Cantor Fitzgerald. "The apartments have had spectacular growth since the depths of the recession, and at a certain point that growth has to moderate. You can only raise rents so much before you force people out."
Our "Homes for Rent" index recently peaked on August 12, a 9 month high since we started tracking rental listings. Does this signal that the move from renting to ownership has started again?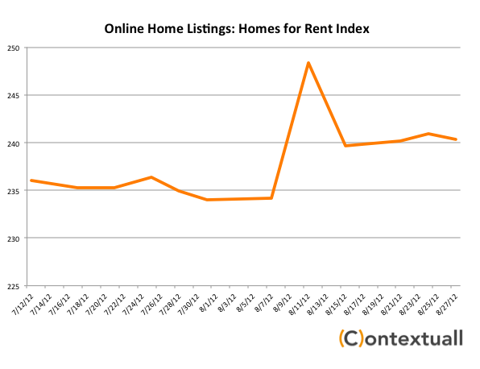 What are your thoughts? Think the housing market is recovering, or is recent optimism misplaced? Let us know your thoughts in the comment section.
Relevant Tickers: AvalonBay (NYSE:AVB), Equity Residential (NYSE:EQR), UDR (NYSE:UDR), Lennar (NYSE:LEN), DR Horton (NYSE:DHI), Toll Brothers (NYSE:TOL), PulteGroup (NYSE:PHM), NVR Inc. (NYSE:NVR)
Disclosure: I have no positions in any stocks mentioned, and no plans to initiate any positions within the next 72 hours. I wrote this article myself, and it expresses my own opinions. I am not receiving compensation for it. I have no business relationship with any company whose stock is mentioned in this article.