The second timber ETF in America launched on June 25th, reflecting the growing popularity of these vehicles among investors. However, I think both existing timber ETFs are bound to disappoint shareholders and will ultimately fade into obscurity.
Why Timber?
To be sure, I believe the enthusiasm for the asset class of timber is fully justified. Here's a factoid that will shock most investors: research shows timber has delivered higher risk-adjusted returns than stocks, bonds, or commodities over the past several decades (as noted in this article from another Seeking Alpha writer). Additionally, timber provides a partial hedge against inflation and is an excellent portfolio diversifier due to returns that are not highly correlated with the returns of stocks and bonds.
But here's the catch: these timber ETFs offer no direct access -- and only a smidgen of indirect access -- to this asset class.
These ETFs have been portrayed as viable timber plays by numerous reporters and financial gurus, but I'll explain why this conventional wisdom is wrong.
Comparing the Timber ETFs
Before I elaborate, let me describe the two timber ETFs. The newcomer is the iShares S&P Global Timber & Forestry Index Fund (NASDAQ:WOOD), which has been available in Europe since Oct. 2007. Its established rival is the Claymore/Clear Global Timber Index ETF (NYSEARCA:CUT), which launched in Nov. 2007. iShares boasts the cost advantage, with an expense ratio of 0.48% versus Claymore's 0.65%.
At a glance, their portfolios appear nearly identical. Each ETF holds 25 stocks, with 21 names appearing in both portfolios. However, there are major variances in position weightings. As a result, Claymore has a greater tilt (70%) to non-US names (including much higher exposure to Japan) than iShares does (54%).
The greatest difference of all is in the total allocation to timber REITs, such as Rayonier (NYSE:RYN), which are generally the most timber-pure names in these portfolios. iShares has roughly a 24% stake in timber REITs, versus only 12% for Claymore. Hence, iShares boasts significantly greater timber exposure than its rival does.
Timber vs. Sawmills
But overall, both portfolios contain very few names -- such as Plum Creek Timber (NYSE:PCL) and Canadian firm TimberWest Forest Corp (OTC:TWTUF) -- that derive a substantial majority of revenue from timberland-related operations. More typical are paper/forestry holdings such as International Paper (NYSE:IP), which derived only 2.1% of its revenue in 2007 from timberlands.
I estimate timberland-related sales account for less than 20% of total revenue for the combined holdings of these timber ETFs. Moreover, this limited timber exposure is indirect via equities, rather than direct via forest ownership.
Timber ETF shareholders who think they're diversifying into an attractive asset class are actually making a questionable sector bet on paper/forestry stocks. This industry lacks most of the benefits associated with timber investing. Mills generate low returns on invested capital and are notoriously cyclical. Timber, on the other hand, is supported by the steady biological growth of trees irrespective of market cycles.
Performance
Claymore has plunged more than 20% since its launch, vividly illustrating its lack of correlation with timber assets, which have steadily increased in value during this period. iShares (which has traded in Europe) has fallen "only" around 15% during this time, partly shielded by its higher timber exposure. Nevertheless, its returns have tracked the S&P 500 fairly closely, indicating low diversification benefits thus far.
click to enlarge image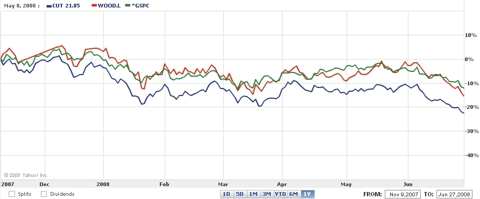 Correlations
Claymore's shortcomings are evident when measuring its correlation to the standard timber benchmark, the NCREIF Timberland Index. On a scale of -1.0 (perfect negative correlation) to 1.0 (indicating perfect correlation), I'd say a good timber proxy would have a correlation coefficient between 0.80 and 1.00. Claymore is not even close -- its backtested annual returns since 2002 exhibit a negative correlation of -0.23. Granted, this sampled period is too brief, so I also analyzed returns for Claymore's self-selected benchmark, the Dow Jones World Forestry & Paper Products Index, for the 16 years ending Dec. 2007. The resulting score of -0.03 confirms a lack of correlation to timber.
To put these figures into perspective, investors would do a much better job (albeit still a poor one) of tracking timber by buying an S&P 500 index fund.
Nonetheless, many investors have piled into Claymore's ETF and total assets have reached $52 million. That's quite impressive for a timber-niche vehicle that doesn't directly own timber and has plunged more than 20% in its short life.
Granted, this ETF is useful for speculators making a bet on paper mills and forestry products. Considering few investors fall in that camp, it appears most shareholders errantly believe this vehicle gives them access to the timber asset class. Sadly, these shareholders are misusing the ETF and are bound to get burned.
The Bottom Line
Timber has been highly rewarding for the ultra-wealthy individuals and large institutions able to afford the high required minimum investments. I think pent-up demand among retail investors is so strong that an innovative provider will find a way to bring a pure timber-linked vehicle to the masses (despite SEC-imposed hurdles). In the meantime, investors should avoid these pseudo-timber ETFs.
Disclosure: none