Through most of the recovery following the collapse of the financial system, policy makers had spent far more time warning about deflation, (led by Ben Bernanke flooding the economy with money), growth in emerging markets, coupled with draft and deleveraging in developed markets -- has shifted market dialogue in a different direction. According to John Maynard Keynes, inflation is a fearsome and stealthy force that could steal and pilfer one's wealth. In this article we seek to understand the major sources of inflation now and how to protect from it.
First, deeply indebted developed countries need to grow their way out of debt and inflation remains a powerful tool. I have written about the lengthy deleveraging process which the developed countries need to undergo in my previous article "Ray Dalio's Primer On Deleveraging". While U.S. (NYSEARCA:SPY) is undergoing a beautiful deleveraging process balancing the options available -- austerity, debt restructuring and printing of money-- many other developed countries are yet to start the process as seen below. Many countries could resort to printing money and inflation as the means to deleverage in the years to come.
Click to enlarge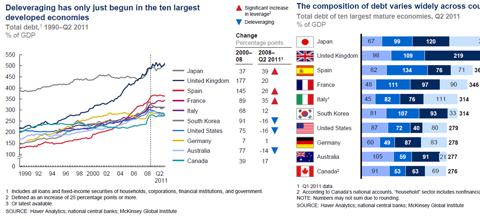 Second, emerging markets which were historically a low cost export nation leading to deflation is turning out to be a major source of inflation. With their market share in GDP increasing, rising middle class income will lead to more demand and push prices up.
Third, though weakening U.S. dollar would makes U.S. exports competitive, this could also raise the prices paid for imported goods and services.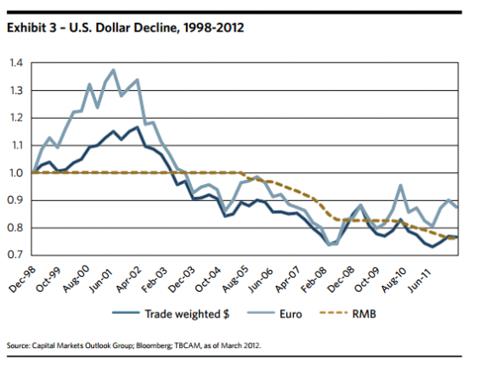 Finally, owing to concerns over global growth, companies have limited investment in plant, equipment, and worker training. Yet to maintain existing capacity, continued investment is needed. When orders pick up, costly new investments will be needed to meet demand.
Now let us focus on the constituents of CPI to design portfolios and better defend against inflation. Consumer Price Index (CPI) is the official barometer of inflation in U.S., compiled by the Bureau of Labor Statistics and is a statistical estimate of the average change in prices paid by urban consumers for a market basket of goods and services.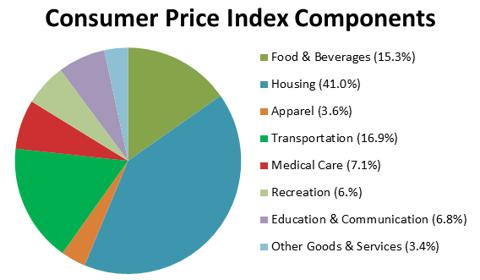 Food and energy (~25% of the basket) have the most direct impact and often drive the greatest month-to-month changes as their price movements tend to be more volatile and are passed through more directly to consumers.
Shelter component tends to be relatively stable over time. Due to its large representation in the CPI, even moderate price movements could drive significant changes in inflation.
Other major components like education and medical care are influenced by supply-side factors such as wages and technological improvements and demand-side dynamics including demographic and policy developments.
Finally, we look at options to build a portfolio to better preserve purchasing power.
The most volatile components of the CPI Index, commodities like food and energy could provide a direct defense against an increase in inflation.
Real Estate Investment Trusts (REITs) that provide dividends from income-producing properties could prove a useful hedge against any surprises. Investors can look at the following 6 securities with high yields: FTSE NAREIT Mortgage Plus Capped Index Fund (NYSEARCA:REM), Market Vectors Mortgage REIT Income ETF (NYSEARCA:MORT),American Capital Agency (NASDAQ:AGNC), Annaly Capital Management (NYSE:NLY), Capstead Mortgage (NYSE:CMO) and CYS Investments (NYSE:CYS).
To combat the risk of rise in wages and increasing cost of education and medical expenses, Treasury Inflation-Protected Securities (NYSEARCA:TIP) that are contractually linked to CPI would be a good source of hedging
Non U.S. dollar denominated currencies could help offset the reduced purchasing power of a weaker dollar. In case of countries engaging in a currency war, devaluing to remain competitive, precious metals such as gold (NYSEARCA:GLD) could potentially act as a store of value.
Disclosure: I have no positions in any stocks mentioned, and no plans to initiate any positions within the next 72 hours. I wrote this article myself, and it expresses my own opinions. I am not receiving compensation for it (other than from Seeking Alpha). I have no business relationship with any company whose stock is mentioned in this article.