The Dogs of the Dow is a unique strategy, first introduced by Michael Higgins, which involves the shuffling of stocks in the DOW index in the hunt for the highest dividend yield. The attractive feature of the strategy remains its simplicity, and it has historically outperformed the DOW by 3% with an annual return of 14.3%. An underlying assumption of the strategy is that these stocks are temporarily undervalued in the market, so the investors hope to reap benefits once the companies rebound and are more realistically valued by the market.
Below we present an analysis of the 4 Dogs of the Dow selected on the criteria of proven history of sustainable dividends gauged from an analysis of their free cash flows, dividend coverage ratios and debt levels. All of them are attractively priced in the market and we recommend committing to these stocks as they provide competitive yields combined with solid financial performance and sound long-term strategic planning.
Merck & Co Inc.
Merck & Co Inc. (NYSE:MRK) is one the largest drug manufacturers with a market cap of $130b. It boasts a yield of 3.92% against its 5-year average of 4.28%, at a time when the sector on average is yielding 1.93%. A payout ratio of 75% looks sustainable when compared to the industry mean figure of 72%. To better gauge the company's ability to maintain payments to shareholders, we have calculated the dividend coverage ratio. MRK has on average maintained a ratio of 1.85x, pointing towards its ability to generate sufficient cash flows for its owners.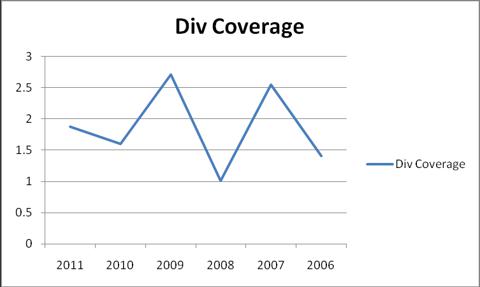 Source: Qineqt's calculations
| | | | |
| --- | --- | --- | --- |
| | P/E (TTM) | Sector P/E | Growth Rate |
| MRK | 20x | 30x | 4.5% |
Since MRK is currently trading below the sector and its 5-year historical average of 30x and 24x respectively, we maintain that the stock looks attractive at current valuations, and given the high dividend yield, now is an ideal entry point.
General Electric
General Electric (NYSE:GE), the diversified technology and financial services giant, is currently yielding a healthy 3.27% against a sector average of 2.37%. The company has maintained strong cash flows over the years, with its cash flow yield being consistently higher than its dividend yield. GE has been steadily increasing its dividend over the years, with the only major surprise coming in the wake of the financial crisis in 2009 when it slashed its dividend to 10 cents a share from a hefty 31 cents. Since 2010, it has continued to gradually increase dividends, with the latest figure being 17 cents. The company's debt-to-equity (mrq) ratio of 356.96% is on the higher side, but given its favorable 3.52x interest coverage, debt servicing seems comfortable. Although financial results may seem average, GE has invested in new energy and disinvested in businesses it is not known for, which we believe will lead to a superior return for shareholders in future.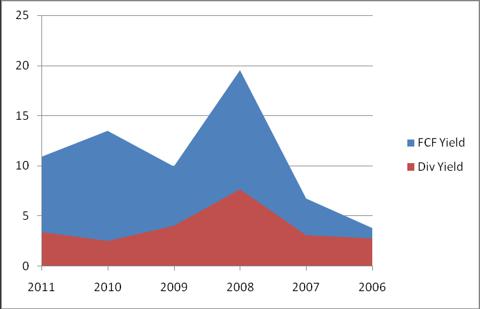 Source: Qineqt's calculations
| | | | | | |
| --- | --- | --- | --- | --- | --- |
| | GE | (NYSE:UTX) | (NYSE:MMM) | (NYSE:ABB) | Average |
| P/E | 17x | 13x | 15x | 14x | 15x |
| LT Growth Rate | 12.73% | 11.18% | 11.18% | 13.40% | |
Analysts expect a price target of $22.67, and given a reasonable dividend yield and a history of healthy cash flows, we recommend GE as an addition to the dividend stock portfolio.
Kraft Foods Inc.
Kraft Foods Inc. (KFT), the second largest food company in the world, has continued its legacy of beating analyst estimates in the recent quarter. KFT is currently yielding 2.83% against the sector average of 1.64%. Kraft has steadily increased its dividend payments, and its dividend figure now stands at 29 cents/share.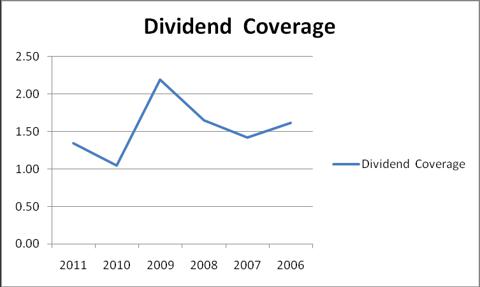 Source: Qineqt's calculations
We calculated the dividend coverage ratio to assess the sustainability of the company's dividend policy. The graph above reveals an average of 1.5x
.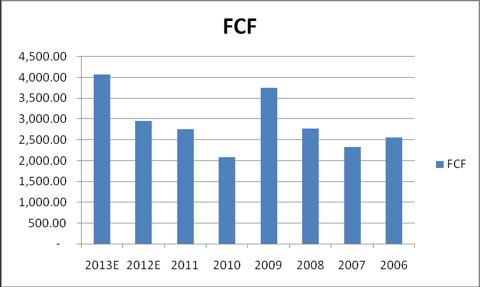 Source: Qineqt's calculations
FCFs have been encouraging over time, and are expected to increase and hit the $4b mark by 2013. These developments bode well for the company's shareholders, who should expect a steady flow of income. The debt-to-equity (mrq) ratio of 84% may seem high against the industry average of 47.25%, but its commendable interest coverage ratio of 3.35x reveals its solid financial strength to make good on its debt.
| | | | | |
| --- | --- | --- | --- | --- |
| | KFT | (NYSE:GIS) | (HNZ) | Average |
| P/E | 20x | 16x | 19x | 19x |
| Growth Rate | 10.84% | 7.42 | 6.05% | |
Kraft's current reasonable valuations, solid dividend policy and financial stability make it a valuable addition to the portfolio. Analysts expect a mean price target of $44, with a potential growth rate just shy of 11%.
Pfizer
Despite the much publicized demise of Lipitor's exclusivity worldwide, Pfizer (NYSE:PFE) has posted solid financial results and sound strategic planning, which reinforces our stance that its stellar dividend stock is one to own. It has a dividend yield of 3.71%, below only to MRK's 3.92%. Although Pfizer does not have a drug that would completely substitute Lipitor, it has promising drugs in the pipeline, which analysts expect will be successes.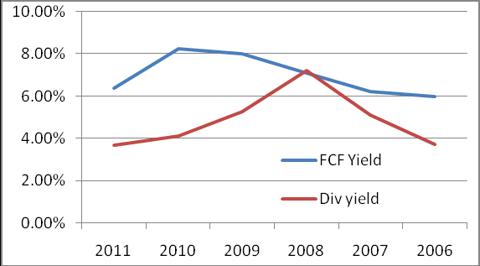 Source: Qineqt's calculations
A comparison of the FCF yield and dividend yield, given above, shows that the company has been comfortably sustaining its dividend payments. Pfizer has consistently increased its dividends for the past several years, with the only cut coming in 2009, a year which saw the acquisition of Wyeth Pharmaceuticals.
| | | | | | | |
| --- | --- | --- | --- | --- | --- | --- |
| | PFE | (NYSE:GSK) | JNJ | (NYSE:NVS) | MRK | Average |
| Forward P/E | 10x | 11x | 13x | 11x | 12x | 11x |
| Growth Rate | 2.8% | 4.9% | 4.25% | 3.85% | 4.34% | 4.3% |
| Beta | .70 | .63 | .61 | .53 | .64 | |
Pfizer seems attractively valued at 10x its forward earnings against an industry average of 11x. We also expect the cost-cutting strategies to continue, which will boost earnings in the next quarter. Analysts have estimated a mean price target of $23.34.
Disclosure: I have no positions in any stocks mentioned, and no plans to initiate any positions within the next 72 hours.
Business relationship disclosure: The article has been written by Qineqt's Analyst. Qineqt is not receiving compensation for it (other than from Seeking Alpha). Qineqt has no business relationship with any company whose stock is mentioned in this article.