Cut me, Mick. -- Rocky
This is the greatest battle of the 21st century. In the right corner, in the blue trunks, is Apple (NASDAQ:AAPL) Fundamentals. He's a heavy-weight champion, with punches as hard as concrete and very domineering in the ring. Currently, this fighter is at the head of the class and is seemingly invincible. In the left corner, in the red trunks, is Apple Technicals. This contender's punches are swift. The boxer flies like a butterfly and stings like bee, and although the behemoth that is Apple Fundamentals is quite disconcerting, Apple Technicals has no fear and the boxer's technique can destroy any opponent.
In an earlier article, "Hey SPY, Don't Vex VXX, Winter Is Coming," I articulated the role of seasonality in the broad equity market. Although Apple has the largest market capitalization, it is still a stock and its attributes remain the same as any other equity. Thus Apple will not go unscathed when winter approaches and an approximate 23% decline (see below for further details) is expected over the coming months. This view is based on the fighter Apple Technicals. Given that Apple Technicals is at overbought levels, the stock is expected to correct to the $522 support level. However, one round does not necessarily mean the fight is over and Apple Fundamentals shall win many more battles.
In the Right Corner, in the Blue Trunks, the Heavyweight Champion
On Aug. 20, 2012, Apple became the most valuable stock ever traded. In U.S. dollar terms, Apple weighs 621,708.25 million, the heaviest in its class. Almost a year ago, Apple surpassed Exxon Mobil (NYSE:XOM) as the largest market cap stock in the S&P 500 Index. On a market capitalization basis, Microsoft (NASDAQ:MSFT) and Google (NASDAQ:GOOG), Apple's main competitors, provide minimal challenges. Microsoft's market capitalization registers at $256,196.59 million and Google's comes in at $222,603.08 million. Apple also remains one of the top-performing stocks in the S&P 500 Index with a YTD return of 63.76%. The chart below compares Apple with its main competitors.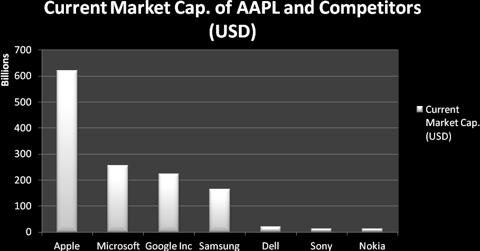 Right Jab, Left Hook
Although Apple is more expensive from a P/E perspective vs. the S&P 500 Index and the S&P Technology Index, its P/E is still lower than its high on March 28, 2012, of 17.59. Currently, Apple's P/E stands around 15.59, above its one-year average of 14.34 -- thus, the champ may be a bit overrated. The chart below displays Apple's P/E vs. the S&P 500 Index and the S&P Technology Sector Index.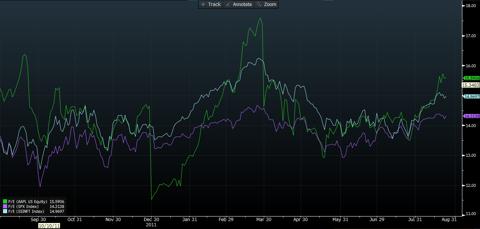 Among its peers, Apple's P/E is second to Google, as Google has a P/E of 19.93 while Apple's P/E is 15.59. Apple's dividend yield is also promising. In March 2012, Apple announced a dividend and a buyback program, being one of the few technology companies that pay dividends. Thus far, Apple's dividend yield is at 1.60%. The table below provides an equity valuation comparative analysis of Apple vs. its peers.
Apple begins to show its prowess when we observe its debt holdings, or lack thereof. Apple holds no debt vs. the average of its competitors, with total debt/total assets of 10.52%. The table below shows some of Apple's balance sheet ratios against its competitors.

Apple has a tremendous left hook. The muscles of sales growth and net income growth have the power to knock out any opponent in the ring, whether the company is in or out of the technology sector. Apple's TTM sales growth is 65.96%, with Google trailing at a paltry 29.28%. Its TTM net income growth registers at 84.99%, with Dell at a distant second with 32.52%. Apple obtains its strength from the ability to sell quality products that are produced at the cheapest costs, and maintains those margins. Apple's operating income margin rests at 31.22%, above the competitor's average of 16.95%. The table below illustrates the some profitability ratios of Apple vs. its competitors.

The statistics mentioned show that Apple remains a true champion. This large, fairly expensive, profitable company has the ability to sell its quality products all over the world. The images below speak for themselves.


Apple even won a $1 billion patent suit against Samsung, in one of the biggest cases in decades, proving that Apple can battle in any arena.
In the Left Corner, in the Red Trunks
Apparently the only opponent that can take down the champ is the champ itself. While Apple is a fundamentally strong company, the price movement of the stock -- as well as the overall U.S. equity market -- appears overextended. Apple Technicals has been able to set the fight in an environment that Apple Fundamentals may not function: winter.
Apple is in a medium-term uptrend, making higher highs and higher lows. Its most recent high was made on Aug. 21, 2012, of $674.89.The stock appears overextended, with its RSI above the 70 line, and also Apple is trading a good distance from its support trendline. This indicates that a reversion toward the trendline is imminent. The chart below is Apple's weekly chart.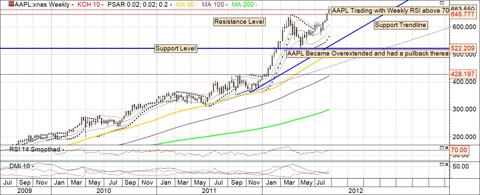 In a shorter time frame, Apple appears to be similar to the medium-term view. The stock found support at the $522 price level on May 18, 2012, and then proceeded to move upward, making higher lows and higher highs. In August, Apple became overbought, as indicated by its RSI registering above 70 on the daily chart. With Apple trading at its all-time highs, along with being extended, it is expected that the stock will correct along with the market. Expectations are for the stock to retest the levels seen in May 2012, approximately 23% from its highs. This is at the $522 price level. The chart below shows Apple's daily price movements over a one-year period.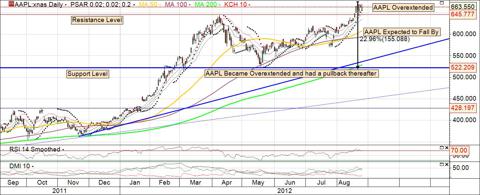 And the Winner Is
Prudence should always prevail and investors should not fall in love with their stocks. Indeed, Apple is a true champion, but it is like any company on the stock market -- its stock price ebbs and flows. Taking some chips off the table is always a wise decision, and waiting for the right time to re-enter is even better. In the short term, Apple appears to be overextended and, if my expectations are accurate, $522 appears to be a perfect time to reinvest in the champ.
Disclosure: I have no positions in any stocks mentioned, but may initiate a short position in AAPL over the next 72 hours. I wrote this article myself, and it expresses my own opinions. I am not receiving compensation for it (other than from Seeking Alpha). I have no business relationship with any company whose stock is mentioned in this article. The views expressed in this article are my own and are not necessarily the views of any companies or organizations I am affiliated. I expressly disclaim all liability in respect to actions taken based on any or all of the information in this writing.