It's that time again. HP (NYSE:HPQ) and Dell (NASDAQ:DELL) report some pretty grim PC sales numbers in the most recent quarter and give some gloomy forecasts. Naturally, acting as though this was a complete left-field surprise, a wave of analysts go ahead and downgrade shares of chipmaker Intel (NASDAQ:INTC), cutting 2012 and 2013 sales estimates on concerns over weak PC demand and Windows 8.
However, before you begin to panic and unload all of your Intel shares, it's worth considering the following argument that, well, even if Intel does warn for the current quarter, all of this doom and gloom has been and continues to be baked right in.
Valuation Speaks Louder Than Analysts
You know, it's one thing to worry about an earnings warning from companies with high valuations and a tenuous competitive "moat." If a company is priced for hardcore growth and then it comes out and lets investors know that it's actually not going to meet its exuberant estimates, then yes, as a shareholder I'd be pretty worried.
But when we're talking about a mature, high-yielding, tech staple with huge competitive advantages over pretty much every other semiconductor manufacturer, then a slight revenue miss is pretty much just noise to the long term investor.
Intel is not a company that has high growth expectations built into the share price. In fact, it is so underpriced relative to peers that I believe the negativity is already built into the stock price, leaving more room for an upside surprise than for a downside one.
With a price to earnings ratio of 10.53 as of writing, Intel trades at a significant discount to the median semiconductor P/E of roughly 15x. This is almost puzzling in light of the competitive advantages and operational strength of the company. Further, Intel pays a $0.90/share annualized dividend, coming out to 3.6% yield, among the best in the semiconductor industry.
Dividend And Buyback In Danger?
Of course, with earnings estimate cuts, it's natural that there would be concerns over the sustainability of dividend growth. Intel's current payout ratio is 36%, which is hardly excessive. Even if earnings do flat-line for a few quarters, the company certainly could expand that ratio in order to entice investors to be a little more patient in waiting for PC sales to recover and for the firm's mobile strategy to pan out. I certainly do not see a reasonable chance of a dividend cut simply due to Intel's strong operational efficiency and competitive position in the markets that it is in.
The buyback is also safe, and in fact, I expect Intel to aggressively continue the buyback in the $23 - 25 range, as we are at 5-year low valuations according to P/E, P/S, and P/B: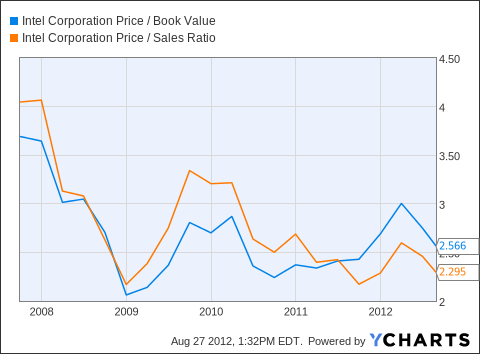 INTC Price / Book Value data by YCharts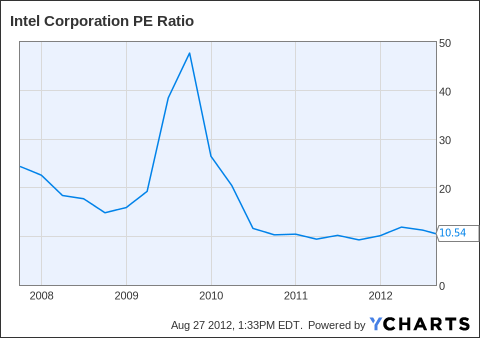 INTC PE Ratio data by YCharts
Likelihood Of Warning
All right, so while I'm convinced that a warning for the current quarter is probably mostly priced in, I believe that a lack of a warning would be cause for upside surprise. But what's the likelihood that Intel will warn?
Well, first off, analysts expected Intel to warn for Q2. Intel didn't, and even reported an in-line quarter on the top and bottom lines. However, analysts correctly noted that Intel would probably need to lower full year guidance of "high single digit" growth. Intel lowered expectations to 3-5% yearly revenue growth.
Analysts now expect that even this fairly modest guidance is unreasonable and that the company will warn on the back of the particularly weak results from Dell and HP.
However, it seems that in lowering the full year guidance, Intel had been quite aware of the issues that came more fully to light in the Dell and HP reports. While the situation could be even more dire now than it appeared back in July when Intel first issued guidance, Intel isn't typically known for either sandbagging or hyping their revenue estimates. Investors seem to be putting too much weight into the HP and Dell reports. For instance:
Lenovo had a strong quarter, posting double digit percentage revenue growth in all of its segments. This appears to be mostly due to share gains, so some of the "missing revenue" from Dell and HP went to Lenovo.
Apple (NASDAQ:AAPL), despite the hyped up claims that the company "missed" in the most recent quarter, it has been taking share from the traditional PC vendors with its MacBook and iMac line of computers. The recent MacBook Pro refresh with the retina display and the MacBook air have been successful and I suspect that until Windows 8 is released, these products will also slowly creep up in share.
ASUS: Between 2010 and 2011, ASUS managed to move its way up into the top 5 PC vendors by market share, taking 5.9% of the space. As margins become more cutthroat and consumers are looking for more bang for their buck, ASUS is in a perfect position to undercut its competitors. Why? ASUS makes optical drives and motherboards, giving them an edge when it comes to margins. They can undercut their competitors at the same feature set or offer higher quality machines at the same price points. I expect that by the end of 2012 ASUS will have gained more PC share.
Also, let's not forget that Intel has other sources of revenue than simply traditional notebooks, ultrabooks, and desktops, including:
Tablets: Despite all the hype about Intel "missing the boat" on mobile, according to the most recent call, Intel's Atom and Core processors are designed into a number of upcoming Windows 8 tablets. Customers looking for no-compromise tablet performance will go with more expensive Core based tablets. Those with less intense computing needs will find the Atom based tablets just as quick as (if not quicker than) the ARM (NASDAQ:ARMH) based Windows RT tablets while retaining full compatibility with the full edition of Windows 8.
Servers: Ultra high margin and growing sales at a 15% CAGR, the server/HPC space is another segment that will keep Intel going strong as headwinds in the PC business hit. The cloud is expanding, and as more mobile devices go online, requiring massive data processing and storage, Intel's Xeon chips will be in healthy demand. In this space, Intel does not have particularly strong competition, further solidifying Intel's position here.
Solid State Drives: Intel is actually a strong player in the solid state drive space. They have products that span the entire spectrum, from consumer SATA drives to high end enterprise PCI-E solutions. They are not the market share leaders (they are in the top 5, however), but between the sale of NAND to other drive makers such as OCZ Technology Group (NASDAQ:OCZ) and the sales of their own branded drives, the company stands to benefit from the secular growth in the flash storage space.
Conclusion
Don't get me wrong: Intel could very well warn. However, it seems unlikely that they would given that they already lowered full year outlook on the most recent conference call. It would be surprising if Intel was surprised by Dell's and HP's substandard quarter.
But even if they do warn, Intel's valuation is so incredibly low compared to its peers (despite having a very effective competitive "moat") and its dividend is so attractive even at these levels I'm not convinced that a warning would be material for long term investors. This isn't a high flier that is ready to be knocked off of its perch. It's a well managed, operationally efficient leader in its field that already trades at bargain bin valuations.
Disclosure: I am long INTC, OCZ. I wrote this article myself, and it expresses my own opinions. I am not receiving compensation for it (other than from Seeking Alpha). I have no business relationship with any company whose stock is mentioned in this article.