Unlike corporations or master limited partnerships, oil and gas royalty trusts aren't operating businesses, usually have no employees, and can't make acquisitions, take on additional commodity price hedges or invest in new growth projects. The sponsor contributes all of a trust's assets, from oil- and gas-producing acreage to hedges against fluctuating commodity prices. These investment vehicles also have a finite lifespan and will liquidate their assets at a predetermined point in the future.
Investing in a publicly traded royalty trust is akin to buying an interest in a series of oil and/or natural gas wells; you will receive a share of the proceeds from the hydrocarbons produced from these wells throughout the trust's life. The best royalty trusts offer double-digit yields and the potential for near-term growth in quarterly distributions.
But be forewarned that every trust has a unique structure: You shouldn't focus on yield alone when making your investment decision. Some trusts have outsized exposure to depressed natural gas prices; other high-yielders are slated to terminate in a few years and are suffering from declining production and distributions.
Investors should consider several factors when evaluating an oil and gas royalty trust, including the potential for near-term output growth, the trust's production mix, the amount of time remaining in its life span and the quality of its underlying assets. Furthermore, the buy target on every royalty trust I track reflects the results of a valuation model that I run after these holdings report quarterly results.
My strategy for profiting from oil and gas royalty trusts remains unchanged: Buy the stocks when they trade below my buy target to lock in an above average yield; and take profits when the unit price appreciates to frothy levels-usually when commodity prices are on the rise.
Now marks another buying opportunity to buy strong royalty trusts, especially names that will benefit from a potential increase in oil prices in the back half of 2012 and early 2013.
With this strategy in mind, here's a review of one of my favorite oil and gas trusts.
SandRidge Permian Trust (NYSE: PER) will pay a quarterly distribution of $0.574232 per unit on Aug. 29, 2012, to unit holders of record on Aug. 14, 2012. This disbursement represents investors' share of the proceeds from the trust's production in March, April and May; the distribution covering June, July and August will be paid on Nov. 30, 2012.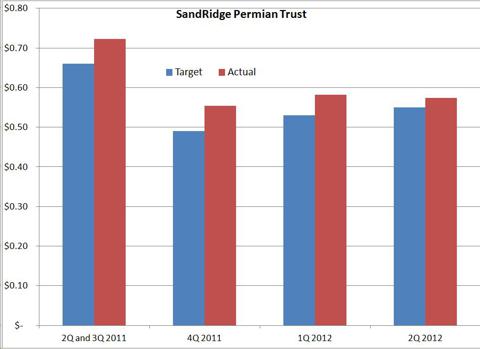 Source: Bloomberg, SandRidge Permian Trust S-1
SandRidge Permian Trust has exceeded the target distributions laid out in its S-1 registration statement with the Securities and Exchange Commission in every quarter since going public. In the most recent quarter, the trust exceeded this target by 4 percent, largely because higher-than-expected production offset lower-than-expected commodity prices.
At the time of SandRidge Permian Trust's initial public offering (NYSEARCA:IPO), the S-1 estimated that the underlying wells would produce 351,000 barrels of oil equivalent per day in the three months ended June 30, 2012. In actuality, these wells flowed 386,000 barrels of oil equivalent per day-10 percent greater than the target level. Oil output exceeded expectations by 8 percent, while the trust's sponsor lifted 30 percent more natural gas and 19 percent more natural gas liquids (NGL) than outlined in the S-1 form.
This upside stemmed from SandRidge Energy (NYSE: SD) drilling the trust's developmental wells at a faster rate than initially planned. As of March 31, 2011, the area of mutual interest (AMI) included 509 producing wells on 16,800 gross acres of land in the Permian Basin. SandRidge Energy, the trust's sponsor, had committed to drill an additional 888 developmental wells in the AMI by March 31, 2016, at the latest. In the S-1 registration statement, management estimated that the parent company would fulfill this obligation by March 31, 2015, implying a drilling schedule of 18 wells per month.
But between March 31, 2011 and May 31, 2012, SandRidge Energy had drilled 300.9 developmental wells, receiving fractional credit for some wells depending on its ownership interest and certain technical specifications. In other words, the trust's sponsor has drilled an average of 21.5 developmental wells per month. In the three months ended May 31, 2012, the firm drilled and completed an average of 27 wells per month.
Lower-than-expected commodity prices offset this accelerated drilling program, though the trust's oil-heavy production mix provided a degree of protection against these challenges. In the three months ended May 31, 2012, crude oil represented almost 86 percent of output attributable to the trust, with NGLs accounting for 9.8 percent and natural gas making up the balance.
More important, oil accounted for 94 percent of the trust's total revenue over this period. Despite dramatic declines in the price of NGLs and natural gas, these headwinds had a negligible impact on the trust's revenue and quarterly distribution.
Although the price of West Texas Intermediate (WTI) crude oil tumbled precipitously over this three-month period, the trust hedged 88 percent of its production at an average price of $102.20 per barrel, ensuring that its price realizations fell short of expectations by only 1 percent.
These hedges should likewise cushion the trust's revenue and distribution against recent weakness in the price of WTI, which has averaged $87.25 per barrel since June 1. In its S-1 registration statement, the trust had targeted a distribution of $0.58 per unit for the three months ended Aug. 31. This forecast assumes an oil price of $101.50 per barrel, about 15 percent above the average price of WTI since June 1. Investors shouldn't fret about weak oil prices eating into the trust's distribution: Management estimates that WTI prices that are 15 percent lower than the forecast outlined in the prospectus would reduce the payout by less than $0.01 per unit.
Meanwhile, NGL prices have rebounded sharply since late June, and natural gas prices have recovered to $2.82 per million British thermal units from less than $2 per million British thermal units at the end of April 2012.
I expect SandRidge energy to continue drilling wells at an accelerated pace in the short term, a strategy which should ensure that quarterly output exceeds management's production targets. At the end of May, the trust had more than 18 developmental wells that were awaiting completion.
Higher production should more than offset any shortfall in commodity prices. At the time of the trust's IPO, management estimated that a 10 percent increase in production relative to the targets laid out in the prospectus would add $0.05 to $0.06 per unit to the quarterly distribution.
The trust doesn't foot the bill for drilling or completion but does bear its share of post-production expenses, including the cost of gathering and transporting gas. These expenses exceeded management's forecast, largely because higher-than-expected output entails additional post-production costs.
I expect SandRidge Permian Trust's distributions in coming quarters to surpass the targets set out in the prospectus by about 5 percent, implying a payout of $2.50 to $2.63 per unit over the next 12 months. Moreover, I remain bullish on oil prices over the long term; when the trust's hedges expire on March 31, 2015, higher-than-forecast oil prices could result in quarterly disbursements that exceed estimates outlined in the prospectus.
I use a variation of the dividend discount model (DDM) for valuing royalty trusts. Based on SandRidge Permian Trust's recent results, I've updated my valuation model to reflect eight quarters of distributions that are 5 percent higher than targeted levels and 10 percent above target from mid-2015 through trust termination date in 2031. Accordingly, SandRidge Permian Trust remains one of my top oil and gas investments.
Disclosure: I have no positions in any stocks mentioned, and no plans to initiate any positions within the next 72 hours. I wrote this article myself, and it expresses my own opinions. I am not receiving compensation for it. I have no business relationship with any company whose stock is mentioned in this article.