In June, we analyzed and evaluated Exelon Corporation (NYSE:EXC) versus Wisconsin Energy Corporation (NYSE:WEC), one of our portfolio holdings and the only utility that we have a position in and we concluded that Wisconsin Energy was a better choice for utility investors and dividend-seeking investors than Exelon. We came to this conclusion based on a number of factors, such as WEC has grown its dividend faster than EXC, WEC has a lower payout ratio than EXC and EXC is facing the dual headwinds of lower wholesale power prices and the integration of its Constellation Energy (NYSE:CEG) acquisition.
In July, we dug deeper in our analysis of Exelon versus Wisconsin Energy and we reinforced our thesis that though Exelon offers a bigger dividend and is more recognizable than Wisconsin Energy, Wisconsin Energy offers a better risk-adjusted return prospect for investors based on the additional factors we analyzed.
Wisconsin scored higher for business friendliness than Illinois, Maryland and Pennsylvania
Wisconsin Energy (a "less-fashionable, less well-known" regulated utility) had a comparable profit margin to Exelon's well-known, high-potential power generation subsidiary
Wisconsin Energy enjoyed significantly higher profit margins than Exelon's regulated utilities
WEC generated more profit in Q1 2012 than all of EXC's regulated utilities combined
Even during the 2002-2008 multiyear boom in natural gas prices, WEC's cumulative EPS growth of 111% during that time period exceeded the 86% growth that EXC enjoyed.
Let us repeat that, even with the benefit of ridiculously high and rising natural gas prices, the well-known power generator EXC's cumulative EPS growth was less than WEC.
Wisconsin Energy lost $1 Million on its ESELCO acquisition, EXC lost $3 Billion on Unicom
Source: Constellation Energy s 2011, Exelon's 2006 and Wisconsin Energy's 2011 10-Ks
Our third report analyzed how although Exelon is better at generating favorable press and publicity for itself, Wisconsin Energy is a much more reliable performer for its customers and its shareholders. We also concluded that Exelon bulls should be more cautious with regards to their expectations for natural gas prices rising. We understand that gas prices have shot up from a low of $1.89/MMBtu in April to $3.15 earlier this month before settling down to $2.84 on August 10th. We understand the natural gas bull thesis that natural gas rigs have declined by 43% year-over-year. We also noticed that oil rigs have increased by 39% year-over-year figure. Does this mean that oil prices will decline next year? EXC bulls also point to the prospect for natural gas exports. We're surprised that people would be still talking about that, since respected businessmen like T. Boone Pickens and Donald Trump pointed out the folly of importing expensive and dirty sour crude from OPEC and exporting cheap, clean, abundant natural gas.
EXC/natural gas bulls expect gas prices to potentially rise to 2008 levels. We believe that a near 40% increase in the last 10.5 years is quite significant already considering that the US has had 2 major recessions, a slow-growing economy and hydraulic fracturing (fracking) as the new standard in producing natural gas. For those who have seen the movie Gasland and believe that fracking will be banned because of movies like that, there is the waterless fracking solution from GASFRAC.
Here we will analyze the recent performance of the business operations of these companies. We see that Wisconsin Energy smashed through the $.44 EPS consensus estimates by Wall Street and racked up $.51 in Q2 2012 while Exelon missed the $.63 adjusted EPS consensus estimates by $.02 and limped in with $.61 during the period. EXC's reported earnings were even more atrocious than the "adjusted results", as EXC's GAAP EPS during the quarter was $.33 versus $.93 in Q2 2011. "Non-recurring charges" at its Exelon Generation LLC unit accounted for nearly all of the 46% difference between EXC's adjusted EPS and its GAAP EPS. But the real concern was that its adjusted EPS of $.61 was a 42% decline from the $1.05 in adjusted EPS in Q2 2011. Or was the real concern the fact that adjustments to EPS increased to $.28 in Q2 2012 versus $.12 in Q2 2011. Or that adjusted EPS for FY 2012 are expected to decline by at least 33% versus FY 2011?
Our Comparative Evaluation of Company Business Segments
Power Generation: We previously discussed how Exelon is primarily a merchant power generation company and the largest merchant power generator in the US through ExGen. We are aware that the results of this division are heavily influenced by natural gas prices. We think that EXC's former CEO John Rowe overestimated the bullish period for natural gas prices and we think that Exelon stakeholders believe that the natural gas prices will once again reach the unsustainable highs reached in 2008. Even Travis Miller, an Exelon Bull at Chicago based Investment Research Firm Morningstar admitted that he doesn't expect to see Exelon and ExGen reach its trough earnings period until 2014. Miller has reduced his fair value estimates twice in the last year by a total of $10 per share. ExGen reported a 53% increase in Q2 2012 revenues versus Q2 2011 levels. This was due to the acquisition of Constellation Energy and the merger of ExGen with CEG's non-regulated energy generation and marketing businesses. Despite the combination of these two companies, the new ExGen saw its adjusted segment net income decline by 24% year-over-year, due to natural gas prices that were 50% lower than the prior year's period. While we aren't intending to hold this against management, we disagree with Exelon bulls who are expecting natural gas prices to immediately jump back to 2011 levels, let alone 2008 and we have explained our thesis earlier in this report installment, as well as the prior installment. Wisconsin Energy has two power generation facilities in its W.E. Power LLC power generation business, Port Washington and Oak Creek. Each facility has two power generation units and collectively saw revenue attributed to this segment increase by 1% and its operating income grew by nearly 3% in Q2 2012 versus Q2 2011. Because ExGen is a merchant power producer while W.E. Power is an in-house power generator, we are not trying to say one power subsidiary performed better than the other because each subsidiary serves a different purpose.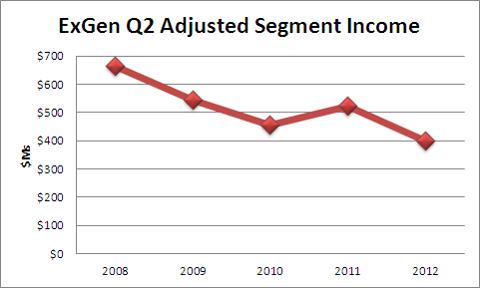 Source: Exelon's Q2 earnings releases, 2008-2012
Utility Subsidiaries: We see that Wisconsin Energy is a stronger performer in this segment versus Exelon. While Exelon is bigger than WEC in the regulated utility business due to its ownership of three large utility subsidiaries versus WEC's unitary We Energies subsidiary, we find that the performance of WEC and We Energies is electrifying and illuminating in comparison to the dim performance of Exelon's utility operations.
Commonwealth Edison generated $1.3B in revenues in Q2 2012, down 11% from Q2 2011. Even if we add back the $59M lost due to the negative impact of the 2012 distribution formula rate case, the ComEd would still have seen a 7% revenue drop. ComEd saw its adjusted business segment net income decline by 20.6% due to increased operating costs and depreciation/amortization expenses which was partially offset by lower purchased power costs. ComEd's Q2 2012 and FY 2012 profit margin was well below that of Wisconsin Energy because although ComEd had higher revenues than Wisconsin Energy, Wisconsin Energy continues to earn higher profits than ComEd.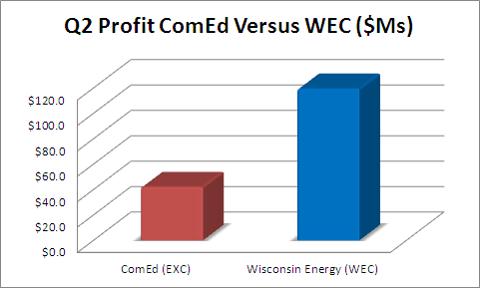 Source: Exelon and Wisconsin Energy Q2 Results
PECO Energy saw its revenue net of purchased power and fuel decline by 3.5% in Q2 2012 versus Q2 2011, which caused its adjusted operating income to decline by 3.7% for the period versus last year's levels. PECO benefited from a 9% reduction in interest expense and a 6% reduction in tax expenses and this allowed its quarterly segment net income to only decline by 1.2% versus the comparable period last year. Wisconsin Energy's FY 2011, YTD 2012 and Q2 2012 profit margins continued to exceed PECO's. Wisconsin Energy continues to generate more revenue and profit than PECO even though PECO's service area is more densely populated than WEC's areas.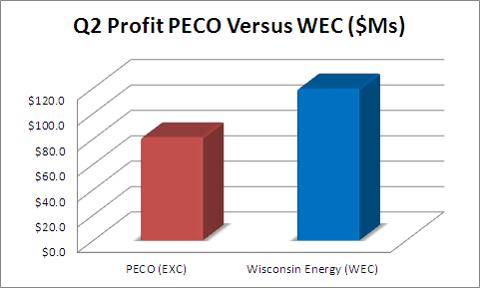 Source: Exelon and Wisconsin Energy Q2 Results
Baltimore Gas & Electric BGE's Q2 2012 gross margin declined by 1% as a $40M decline in year-over-year revenues in Q2 2012 was almost offset by a $37M reduction in cost of fuel purchased. Operating expenses were flat for the year as a slight increase in operating expenses, depreciation and excise taxes was offset by reduced merger related costs. BGE saw net division income of $14M, up from $13.3M in the prior year period. That didn't stop WEC from continuing to generate higher profit margins than BGE during this time period, as well as higher revenues and profits than BGE as well.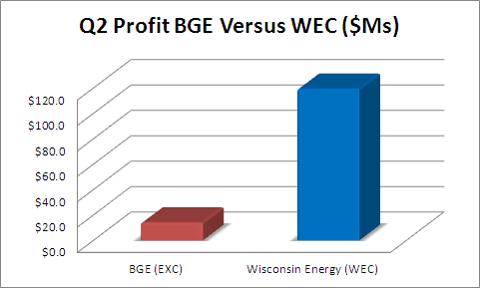 Source: Exelon and Wisconsin Energy Q2 Results
Wisconsin Energy and We Energies: WEC has one consolidated utility reporting segment and brand name "We Energies", which consists of Wisconsin Electric and Wisconsin Gas. Wisconsin Energy saw its Q2 gross margin increase by 4.64% as a significant reduction in the cost of fuel and power purchased was partially offset by reduced revenues. Wisconsin Energy's revenue reduction was narrower than each of Exelon's utility businesses. Unlike Exelon's utility businesses, Wisconsin Energy saw its gross margin actually increase. WEC's operations and maintenance expenses declined by over 10% in Q2 2012 versus Q2 2011 and by 9.5% year-to-date due to the one year amortization holiday of certain regulatory assets. This agreement was reached between WEC and the Wisconsin PSC that allowed it to freeze base electric rates in 2012. That's the one thing we wish we could change about WEC's performance, but other than that, it still generated continued growth. We also like to point out that Mike Lapides of Goldman Sachs pointed out WEC's strong track record relative to its peers managing operations and maintenance expenses. Even if we include the operations and maintenance deferred amortization as an expense in WEC's operating income without adding a similar amount to revenue, it still generated a 6.4% increase in its operating income in Q2 2012 versus Q2 2011. WEC's Q2 2012 EPS grew by nearly 25% on a continuing operations basis and by over 10% on a reported basis versus Q2 2011.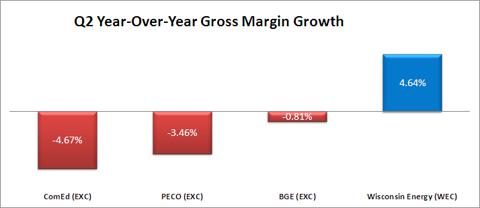 Source: Exelon and Wisconsin Energy Q2 Results and Baltimore Gas & Electric Q2 2011 10-Q
Conclusion
In conclusion, despite the fact that natural gas prices jumped from $1.89/MMBtu in April to $2.47/MMBtu in June, EXC was not able to take advantage of this during the most recent quarter in order to help the bottom line. We expect that the recent run-ups in natural gas prices will at least allow Exelon to meet its management EPS guidance of $2.55-$2.85 in adjusted earnings. Wisconsin Energy recently increased its adjusted EPS guidance from $2.24-$2.29 to $2.28-$2.32. Then again, Wisconsin Energy's adjusted EPS guidance is the same as its actual EPS guidance, since it doesn't have to take an alphabet soup of adjustment footnotes in its financial performance releases. We were surprised that even with the recent run-up in natural gas prices and even with the June downward revision in management guidance, Exelon still missed its consensus adjusted EPS target of $.63 by $.02 (3%). We compared that to Wisconsin Energy, which beat its consensus estimates of $.44 by $.07 (16%). While Exelon's previous CEO John Rowe was more visible than WEC's CEO Gale Klappa with regards to media exposure, Klappa's low-key management approach generated stronger returns for shareholders. Klappa shunned the bright lights of politicking and publicity seeking that Rowe engaged in and focused on the less glorious aspects of running a utility such as improving customer service, operational execution and capital asset management. Rowe led Exelon since its October 2000 merger combining PECO and Unicom and stepped down on March 12 when Exelon acquired Constellation. Under Rowe, EXC generated a 112% total return in his 11.5 years helming EXC. In comparison, Klappa generated over 300% total return since he assumed WEC's presidency in April 2003. Our next two reports in this series will be analyzing the following items of interest
How Commonwealth Edison became Exelon and its executive management
How it got into nuclear, expansion into "renewable energies" and its operating assets,
EXC's debt management and profitability.
The major merger integrations that took place in 2000 for EXC (PECO-Unicom) and WEC (WICOR) as well as WEC's Power the Future Program
We will also be revisiting its dividend record, natural gas, and a deeper look at the utility businesses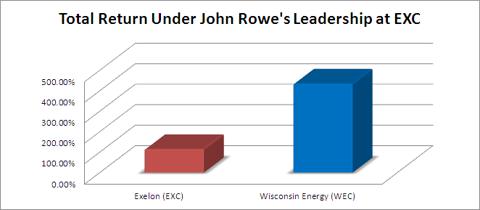 Source: Morningstar Direct (10/6/2000-3/12/2012)
Disclosure: I am long WEC. I wrote this article myself, and it expresses my own opinions. I am not receiving compensation for it (other than from Seeking Alpha). I have no business relationship with any company whose stock is mentioned in this article.
Additional disclosure: This article was written by an analyst at Saibus Research. Saibus Research has not received compensation directly or indirectly for expressing the recommendation in this article. We have no business relationship with any company whose stock is mentioned in this article. Under no circumstances must this report be considered an offer to buy, sell, subscribe for or trade securities or other instruments.