During last week, the price of oil edged down by 0.13%. United States Oil (NYSEARCA:USO) also declined by 0.75%. The price of Brent decreased 0.5%. Tropical storm Isaac caused a shut down of several oil refineries in the Gulf of Mexico. If this storm will result in an oil shortage, there are talks that the U.S will release oil from its strategic petroleum reserve. The uncertainty around the storm's ramifications is likely to keep the prices of oil high. Let's examine the recent developments in the oil market and figure out what is next for oil.
The rally for oil during August has had a positive effect on energy companies' stock such as Exxon Mobil Corporation (NYSE:XOM). During August, Exxon's stock increased by 1.7% (the company also distributed a dividend of 0.57 per share on August 9th).
Stockpiles
During last week, U.S. oil stockpiles declined again by 5.4 million barrels and reached 1,056.7 million barrels. There is a negative relation between the shifts in oil stockpiles and oil prices (the linear correlation between the two data sets was -0.29 during the last couple of years). I.e. as oil stockpiles decline, the price of oil tends to rise the following week. Since oil stockpiles decreased in the past several weeks, and since there is a negative correlation between stockpiles and prices, then oil prices (assuming all things being equal) may continue to rally during this week.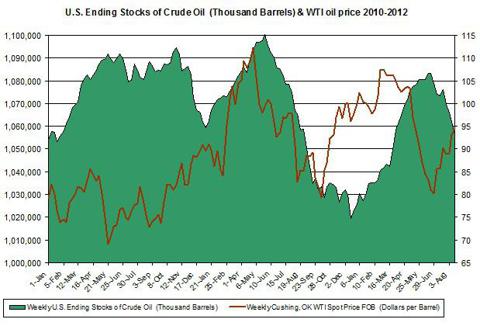 Supply
During the previous week, U.S oil production declined by 0.5% (week-over- week) but remained higher than the production level in 2011; refinery inputs also declined by 0.6%. Imports also fell by 4% compared to last week. This means the supply contracted again and could partly explain the drop in oil storage.
The recent news of Tropical Storm Isaac that has already caused a shut down in the oil production in the Gulf of Mexico may also affect the future supply of the U.S in the weeks to follow. This, in turn, could pressure up oil prices. There are speculations that the due to the storm, the U.S will announce a release of oil and petroleum from its reserves.
Only after the storm will subside, it will become clearer the level of damage, if at all, the storm had caused and how will it affect oil production and transfer. In the meantime, I guess the uncertainty is likely to keep pushing oil prices up.
The recent fire in the largest refinery in Venezuela could also cause a drop in imports to the U.S. According to the EIA, Venezuela is responsible for nearly 8% of the total oil imports to the U.S.
Demand
This week several reports will be published that could offer some perspective regarding the progress of the U.S including: consumer confidence, and second estimate of GDP for Q2. If these reports will show some improvement in the US economy then they could positively affect oil prices.
In Europe, many traders continue to wait for ECB to start its bond purchasing program; this move will help recover not only the Euro - as it lowers the EU currency risk - but also commodities prices. ECB President will give a speech on Saturday. If he refers to this program it could impact the forex and commodities markets.
What's the bottom line?
I think it's still too early to determine the ramifications of Tropical Storm Isaac. This storm might just cause a short term impediment in oil supply during the time several refineries in the Gulf of Mexico were shut down. If there will be serious damage to refineries or other oil related infrastructure then there could be a longer impact on oil prices. But even without the effects of Tropical Storm Isaac there are several other issues that could pressure up oil prices: If the ECB will act or at least hint of its intention to commence on a bond purchase program, if the tensions between Iran and Israel will reignite, if U.S oil supply will continue to dwindle, if there will be some additional signs of recovery of the U.S economy. These issues could affect the demand and supply and thus keep oil prices rising.
For further reading: Oil Prices -Outlook August 27-31
Disclosure: I have no positions in any stocks mentioned, and no plans to initiate any positions within the next 72 hours. I wrote this article myself, and it expresses my own opinions. I am not receiving compensation for it (other than from Seeking Alpha). I have no business relationship with any company whose stock is mentioned in this article.