As shown in the following 5-day chart, Ampio Pharmaceuticals (NYSEMKT:AMPE) has rocketed from a close of $2.80 on Thursday, August 23rd, to $3.25 at the time of writing, for a gain of about 20%.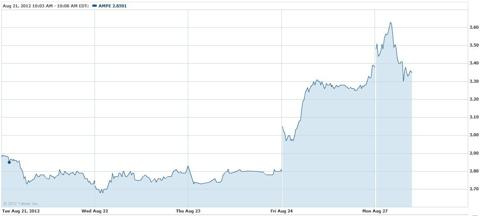 The stock's sudden jump is because of an article was written online on a popular investing website. It was written by an AMPE pumper, but was later deleted from that site. (If you would like to read the article, you can now find it here.)
This article has many fallacies in it such as talking up Ampio's pipeline and implying that a pre-IND meeting is a big deal.
Pre-IND (Investigational New Drug) Meetings
The article implies that a Pre-IND meeting with the FDA increases the chances of a drug's approval. Nothing could be further from the truth. That's like saying if a student goes to a professor's office hours, he will probably get an A in the class. In fact, the FDA is legally required to grant pre-IND meeting requests. As shown in 21CFR312.82: "To the extent FDA resources permit, agency reviewing officials will honor requests for such meetings."
Pre-IND meetings are done even before an application is sent to the FDA to conduct a trial because the company needs guidance. The FDA conducts these meetings to help the pharma company conduct trials in the proper way to prove safety and efficacy of the drug.
Ampio's Pipeline Trial Results
Zertane
In its latest 10-Q, Ampio is hoping to obtain approval for Zertane in Australia sometime in 2013. Zertane's phase III trial included 604 patients. Both the lower and higher dosage allowed a significantly higher proportion of men treated with Zertane meet the criteria of clinical benefit compared to placebo. From the trial results:
"Zertane™ at the lower dose increased the median IELT (defined as the time from vaginal penetration to ejaculation in minutes) 2.37 fold over baseline. The mean increase was 4.07 fold over baseline.
Zertane™ at the higher dose increased median IELT 2.49 fold over baseline. The mean increase was 4.26 fold over baseline."
The above results look like a solid improvement over the placebo in my opinion, and the trial had a good, large sample size. It looks like Zertane could get approved in some countries.
However, there would be a lot of problems associated with the marketing of Zertane. Patients can just use much cheaper generic tramadol as Zertane's makeup is the same. A launch also might not be commercially viable. Superstar Health Care Hedge Fund manager Martin Shkreli posted in his AMPE bearish article: "In my opinion, it simply is not economically viable to run a new clinical development program for Zertane, which we believe would cost at least $30 million (in addition to any potential upfront payment), and risk a weak product launch."
Furthermore, Ampio has a long road ahead with Zertane trials in the United States. As it says in its press release on 6/21, the Company will need to do not one, but two phase II trials, and two phase III trials. Not only that, it will be tough to recruit for those trials in the United States since Valeant Pharmaceuticals had to terminate an identical study due to "recruitment difficulties".
Another thing I noticed from the study, is although it states that the female's sexual pleasure was enhanced, it doesn't say anything about the male's sexual pleasure. If Zertane gives less pleasure to the man, then he probably won't use it. As described here, premature ejaculation is almost always a psychological problem anyways.
Ampion
It is early yet in Ampion studies, but so far the efficacy seems weak. The recent analysis on April 30 was only done with 32 patients. Also, all the results were picked retrospectively by the Company so it can report results that looked as good as possible. From the press release:
"Another relevant way to assess pain relief is the "responders vs. non- responders" to treatments at day 84. A "responder" was defined as someone who experienced a two or more points shift improvement in pain relief as measured by the numerical pain scale (scale of 1-10). In the group who received Ampion(NYSE:TM) was more than twice the percentage of those who received saline (53% vs. 24%) and this approached statistical significance (p=0.06)."
That's a pretty small improvement in pain relief in my opinion, and the results weren't quite statistically significant.
Optina
Optina studies are also too early to tell chances of approval, but it seems like a long shot. Like Ampion, all the results from the phase II study were cherry-picked retrospectively to make it look as good as possible. Only 15 subjects were used for this study.
From the study: "Using the ICD-9-CM Categories for visual acuity defined as: severe vision loss (BCVA score: 35-54); moderate vision loss (BCVA score: 55-74); and mild vision loss (BCVA score: 75-94), eight (36%) subjects improved at least one category. The placebo group had the lowest proportion of subjects with improvement at 14%, whereas 47% (7/15) of subjects treated with Optina™ improved at least one category (3.3 fold over placebo)."
This seems like a small improvement in my opinion, and with a sample size of only 15 subjects, and retrospective picked data, it could be meaningless.
Ampio's other drugs in its pipeline are in too early a stage to analyze.
Is Ampio Biting Off More Than It Can Chew?
A question that investors should ask, is why is a company with no revenues and always doing capital raises, now looking to add more drugs, and more trials? It's already conducting trials in Europe, Canada, and Australia, and is looking to add in the United States. Shouldn't it digest what it's doing now and try to grow organically for a change?
If the Company is confident in its pipeline, it should get patents for them and get them approved in the other countries first before starting trials in the US. Otherwise, the Company is just spinning its wheels and its expenses are rising.
The Company is starting new trials for Zertane, and trials for a new cancer drug. Why is the company starting new trials for a cancer drug of all kinds? Cancer drugs have the highest failure rate of them all. Each of the trials, meetings, and delays for these new drugs costs the company more money.
I think the reason why Ampio is now starting new US trials and is working on new drugs, is to keep the press releases coming. The more new and different products, the more interest it will get from various investors. The company is also spreading itself wide so it has drugs to fall back on if others fail.
With more products and more trials, the Company has more good news to send out to keep the stock from drifting lower. If the company stopped hyping itself up and just sent out legitimate news on its current products, I believe the stock would eventually drift down to $1. By attracting new investors, insiders can continue selling stock, and getting paid their large salaries.
In reality, these "good news" press releases for new drug trails is actually bad news, because the new projects cost the company more money. I have a feeling though, that investors will finally catch on to the Company's game, and its share price should dip to under $2 per share in the next few months.
Disclosure: I am short AMPE. I wrote this article myself, and it expresses my own opinions. I am not receiving compensation for it (other than from Seeking Alpha). I have no business relationship with any company whose stock is mentioned in this article.