Desjardins Security is relaunching coverage of Thompson Creek Metals Co. (TC) with a "top pick" rating, saying it expects to see the molybdenum [moly] miner's production increase to 23.9 million pounds this year and 31.4 million pounds in 2009, while prices are expected to rise thanks to higher demand and lower inventories.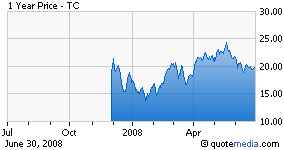 Analyst John Redstone said in a note to clients that his one-year target price on the stock of $31 is based a 8x multiple applied to his 2009 earnings estimate of $3.76 a share.  He said he expects the moly market will record a market deficit (demand outstripping supply) of 23 million pounds pounds in 2008 and 9 million pounds in 2009, while total inventories should fall from two weeks of consumption in 2008 to one week by the end of 2009.
He said:
We continue to see strength in molydenum and estimate that the price will average $35 a pound in 2008 and $40 a pound in 2009. Given the current low inventory level and limited production upside in the near term, we believe Thompson Creek is an excellent vehicle in which to invest.
Thompson Creek owns the Davidson moly deposit in British Columbia, the Thompson Creek mine and concentrator in Idaho, an interest in the Endako mine, a concentrator and roaster in British Columbia, and a stake in  ownership in the Langeloth metallurgical refinery plant in Pennsylvania.