Freeport-McMoRan (NYSE:FCX) is shaping up to be an appealing growth stock in the materials sector for 2012. Aside from stable financials, Freeport-McMoRan is effectively improving the efficacy of its operations while overcoming obstacles that hampered production throughout recent years. The situation in Indonesia that had negatively impacted revenues in the past is now contributing to a favorable macroeconomic environment for Freeport-McMoRan in the short-term. Furthermore, recent worldwide decline in copper production in conjunction with increasing demands for copper by China, emerging industrial markets, and a recovering U.S. manufacturing sector is putting significant pressures on globally constrained reserves. Though copper prices have decreased recently, the increase in demand is outpacing supply, and is expected to push the price for copper higher, which will benefit Freeport-McMoRan, the world's largest copper producer.
Freeport-McMoRan is similar to firms in the metal mining industry with diversified portfolio's such as BHP Billiton (NYSE:BHP), Vale (NYSE:VALE) and Rio Tinto (NYSE:RIO). Barrick Gold (NYSE:ABX), another peer, has recently increased its focus on copper and it is the only one of these producers located in North America along with Freeport-McMoRan. Freeport-McMoRan has the lowest market cap of these mining firms while it has the second highest price-to-earnings ratio, trailing only BHP Billiton. At around 1.99, Freeport-McMoRan has the highest beta, as well as the highest PEG ratio among these mining firms. Freeport-McMoRan also has the highest price-to-book ratio among these firms, while BHP Billiton and Barrick Gold have higher price-to-sales ratios than Freeport-McMoRan.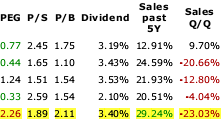 At around 3.4%, Freeport-McMoRan has a dividend yield trailing only Vale and Rio Tinto, by less than 20 bps. At around 29.24%, Freeport-McMoRan has the highest sales growth over the past five years while it has the largest sales deficit in the past quarter of 23.03% year-over-year (YOY). Freeport-McMoRan has the highest current and quick ratios alongside the lowest debt-to-equity ratio among these firms. It currently has the second lowest gross, operating and net margin among these firms. Freeport-McMoRan is the only one of these firms with positive stock performance YTD through the third week of August 2012, its price per share has increased by around 9.2% since its last earnings release.
A Freeport-McMoRan SEC filing covered the overall highlights in 2012. Second quarter net income decreased to $710 million from $1.4 billion, YOY while first half net income decreased to $1.5 billion from $2.9 billion, YOY. Operating cash flows decreased to $1.2 billion from $1.7 billion in the second quarter, YOY while the first half decreased to $2 billion from $4 billion, YOY. Capital expenditures increased to $840 million from $527 million, YOY while the first half increased to $1.5 billion from $1 billion, YOY. Freeport-McMoRan projects capital expenditures for 2012 to be around $ 4billion, with $1.5 billion allocated for sustaining capital and $2.5 billion for major projects. At the end of the 2012 first half, Freeport-McMoRan had $4.5 billion in consolidated cash and $3.5 billion in total debt. Executive management is confidence in Freeport-McMoRan's ability to increase annual copper production by 25% throughout the next three years by undertaking financially attractive brownfield investments.
According to the quarterly earnings release, results thus far in 2012 were primarily due to lower copper and gold sales volumes alongside lower realized copper prices. Mining rates in the Indonesia DOZ underground mind averaged over 45,400 metric tons of ore per day during the second quarter and should increase to 80,000 per day by the fourth quarter. Management likes its long-term outlook due to the limited supply and increasing global demand for copper. Projected sales volumes for 2012 include 3.6 billion pounds of copper and 1.1 million ounces of gold, third quarter projections are for 885 million pounds of copper and 225,000 ounces of gold.
Similar to short-term projections, limited supply and growing demand led to higher copper prices from 2006 to 2008. During the 2012 second quarter the average price per pound was $3.57. Total revue in the second quarter decreased to $4.5 billion from $5.8 billion, YOY, the decline in copper prices and volume accounted for $957 million of the differential. The lower copper sales volume due to lower ore grades in South America and Indonesia was partially offset by increased production in North America and Africa. Management is consistently working to increase production capacity in the Tenke mine in Africa and among its seven copper mines in North America. Production in North America increased 10% to 20%, YOY. Freeport-McMoRan projects 1.3 billion pounds from copper from North America for 2012.
The demand for copper is expected to increase by at least 6% in China this year, while global demand is expected to increase to 4.7% in 2013 from 1.5%, YOY. Copper prices declined by around 18% so far this year, and are expected to increase by at least 14% by the end of the year. Many analysts are predicting mine output will increase 5% in 2012 and over 7.5% in 2013. Morgan Stanley predicts global consumption will increase by 1 million tons next year. Global production costs have increased 10% as ore grade has dropped to 1.1% from 1.3% in 2000. Freeport is making positive strides in working diligently through the tumultuous strike situation Indonesia in order to meet the government's demands so it may extend its Contract of Work into the year 2041.
Freeport-McMoRan's diversified portfolio, mainly focused on copper production worldwide in places like Indonesia, North America, South America and Africa has helped to support stable financials despite international headwinds, as evident from its recent earnings release. It is also in a good position to prosper long-term from sound production management and improved revenue margins as the price for copper begins to increase. I believe shareholders should hold this stock for the long-term. I also believe now is the best time to buy Freeport-McMoRan.
Disclosure: I have no positions in any stocks mentioned, and no plans to initiate any positions within the next 72 hours. I wrote this article myself, and it expresses my own opinions. I am not receiving compensation for it (other than from Seeking Alpha). I have no business relationship with any company whose stock is mentioned in this article.