A Brief on the Chinese Economy
China, the world's second largest economy, has become the engine of global economic growth in the last few years. The Chinese economy has grown at a phenomenal pace in the last two decades. This growth has generated significant interest in China.
While China's growth model has been a success so far, some economists say that it is unsustainable. China's growth model has also faced criticism from Washington policymakers and politicians alike, with some, like Mitt Romney, wanting to brand China a "currency manipulator."
The Chinese economy has relied heavily on investments and exports to spur growth. However, reliance on exports has meant that the Chinese economy is susceptible to external shocks, as seen by the recent slowdown due to weakness in the Eurozone, one of China's biggest trading partners. Meanwhile, growth fueled by investments also has its drawbacks.
Despite the criticism and flaws, the Chinese economy is still growing at a strong pace. In fact, some China bulls say that the recent slowdown in the Chinese economy has allowed policymakers to bring inflation under control. Also, Chinese policymakers have taken measures to avoid a hard landing.
Whatever the case, China is an attractive investment destination. For U.S. investors, investing in Chinese ADRs is the easiest way to gain exposure to the world's fastest growing major economy. In this article, I am focusing on ADRs of two of the biggest Chinese companies, PetroChina Company Limited (ADR) (NYSE: PTR) and China Mobile Ltd. (ADR) (NYSE: CHL).
Both PTR and CHL have market capitalizations of more than $200 billion. However, while I believe that PTR looks a good medium-to long-term bet, CHL faces a lot of challenge.
The Bullish Case for PetroChina Company
Monetary Easing Augurs Well for PTR
PTR's year-to-date performance (-0.05%) suggests that it might not be the best Chinese ADR to invest in right now. In fact, the oil and gas giant's recent financial performance has also been disappointing.
PetroChina, which last year went past Exxon Mobil Corp. (NYSE: XOM) as the world's biggest oil producer, recently reported profit of RMB62 billion or 0.34 per share ($5.39 per ADR) in the first half of 2012. This compares to RMB66 billion, or $0.36 per share, reported in the first half of 2012. The decline was mainly due to losses in the refining and chemical business. These losses are mainly due to the weakness in the Chinese economy.
While PTR's chemical business suffered due to a slowdown in the Chinese economy, the refining business registered a loss as PTR was not able to pass on higher crude oil costs to consumers because of China's policy of controlling oil product prices to curb inflation.
However, the Chinese economy has likely bottomed out. Also, with inflation now under control, policymakers in Beijing, including the People's Bank of China, have hinted at more monetary easing. This would spur economic growth and boost domestic demand. This augurs well for PTR going forward.
Overseas Acquisition
In the first half of 2012, PTR had reported crude oil output of 452.4 million barrels. PTR's marketable natural gas output in the first half of 2012 was 1.292.4 billion cubic feet. However, overseas production accounted for less than 10% of PTR's total output. This is about to change though.
PTR has earmarked RMB100 billion (approximately $16 billion) for overseas acquisitions as the company plans to have half of its production outside China within 8 years. Zhou Jiping, the Vice Chairman and President of PetroChina, recently said that overseas development is a significant strategy for PTR.
PTR is looking to make acquisitions in Central Asia, East Africa, Australia and Canada. These overseas acquisitions will allow PTR to improve its output. The move could create significant value for shareholders in the long-term.
Valuation
PTR's ADRs are currently trading around $125. The ADRs have gained 4.43% in the last one year.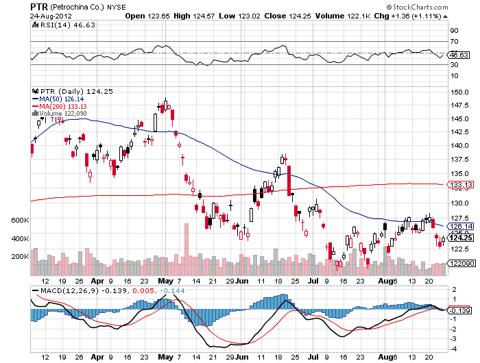 PTR ADR Performance, Source; Stockcharts.com
PTR has P/E of 11.19 (TTM as of June 30, 2012). This compares to Exxon Mobil's P/E (TTM as of June 30, 2012) of 9.28. PTR has a Forward P/E (FYE December 31, 2012)* of 8.07. This compares to XOM's Forward P/E (FYE December 31, 2013)* of 11.08.
PTR currently has a dividend yield of 4.03%, compared to XOM's 2.59%.
*Data from Thomson Reuters
TTM-Trailing Twelve Months
FYE-For Year Ending
Why I'm Bearish on China Mobile Ltd.
In contrast to PTR, China Mobile ADRs have performed well this year, gaining more than 10%. However, CHL, which is the world's biggest wireless carrier by subscribers, does face some challenges due to increasing competition.
Declining ARPU
Although CHL is the world's biggest wireless carrier by subscribers, only a tenth of them use higher-revenue third-generation (3G) technology. This is one of the reasons why CHL's ARPU fell 4.3% in the first half of 2012.
CHL is currently focusing on increasing its revenue per user by adding more 3G mobile device users. However, the company is facing intense competition from the likes of China Telecom Corporation Limited (ADR) (NYSE: CHA) and China Unicom (Hong Kong) Ltd.
CHL has raised its full-year subsidies to RMB26 billion from RMB21 billion to lure subscribers. However, the company may still struggle to attract more 3G subscribers. This is because CHL's home-grown technology, known as TD-SCDMA, does not support Apple Inc.'s (NASDAQ: AAPL) iPhone. On the other hand, CHA and China Unicom use a different 3G technology, which supports iPhone. This is a major disadvantage for the company as CHA and China Unicom are luring subscribers with the iPhone.
In order to better compete with CHA and China Unicom, CHL has increased its capital spending to invest in a fourth-generation network (4G).
Increasing Competition Costs Will Hurt Bottom Line
The intense competition, coupled with increasing costs, meant that CHL's profit in the first half of 2012 rose just 1.5%. CHL's EBITDA for the first half of 2012 fell 0.9%, indicating that the increasing competition is hurting the company's core business.
CHL's bottom-line could come under even more pressure as the company is now planning to raise handset subsidies to win subscribers.
Valuation
CHL is currently trading around $53.50. In the last one year CHL has gained 9.42%.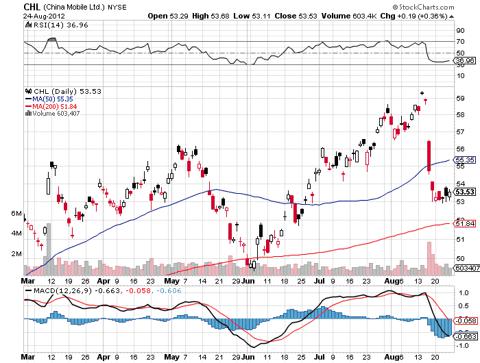 CHL ADR Performance, Source; Stockcharts.com
CHL has a P/E (TTM as of June 30, 2012) of 10.97. This compares to CHA's P/E (TTM as of June 30, 2012) of 17.82. U.S. wireless carriers Verizon Communications Inc. (NYSE: VZ) and AT&T Inc. (NYSE: T) have P/E (TTM as of June 30, 2012) of 42.78 and 49.33, respectively.
CHL's dividend yield currently stands at 4.09%.
Based on P/E and dividend yield, CHL looks attractively valued, but I believe that the challenges the company faces due to increasing competition will weigh on its earnings going forward.
Disclosure: I have no positions in any stocks mentioned, and no plans to initiate any positions within the next 72 hours. I wrote this article myself, and it expresses my own opinions. I am not receiving compensation for it (other than from Seeking Alpha). I have no business relationship with any company whose stock is mentioned in this article.